After the success of Godzilla
in 1954, Japanese filmmakers were tripping over each other to produce monster movies that would make money and entertain the masses. In 1959, United Artists of Japan teamed up with American production company Shaw-Breakston Enterprises to close out the decade with a different kind of monster movie, an American influenced B-movie classic called The Manster.
The Manster
stars Peter Dyneley (who ended up being more known for his voice acting on "Thunderbirds
") as an American journalist named Larry Stanford who journeys to the top of a volcanic mountain in Japan to interview an eccentric scientist named Dr. Suzuki (Satoshi Nakamura from Red Sun
). Dr. Suzuki is performing experiments in evolution, and claims to have found a way to speed it up through a chemical injection. Unbeknownst to Larry, Dr. Suzuki drugs him and injects him with his serum, explaining to his assistant Tara (Terri Zimmern) that he is a perfect candidate for his newest experiment. Larry wakes up and, believing he just nodded off, accepts Dr. Suzuki's invitation to stay with him and vacation for the week. Larry thinks he's just relaxing, but the Doctor and Tara are anxious to observe their guinea pig. Larry becomes a grade-A jerk, drinking and womanizing the entire time. He and Tara end up having an affair, but it is cut short when Larry's wife Linda (Jane Hylton from "The Adventures of Sir Lancelot
") shows up from America. It turns out that being caught cheating is the least of Larry's problems, as he notices a bumpy, scaly area on his shoulder where the doctor injected him. The bump soon turns into an eye, and eventually a whole head sprouts up out of his shoulder. Under the influence of his second head, Larry begins stalking Tokyo by night, killing innocent people. Larry becomes two different beings, and has to find a way to stop from fully becoming the raging murderer and return to his normal self.
The Manster is the perfect blend of east and west; it combines the classic storylines of Universal style monster movies with the insane surrealism of Japanese cinema. The combination is pure B-movie heaven, stirring up just as many laughs as screams. Written by George P. Breakston (Escape in the Sun) and Walt Sheldon ("Soldiers of Fortune
"), and directed by Breakston and Kenneth G. Crane (Monster from Green Hell
), The Manster is a loose retelling of the "Dr. Jekyll and Mr. Hyde" story, not a clear-cut tale of good and evil.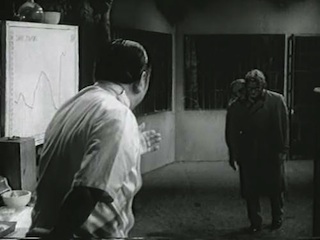 While the obvious villain in The Manster is Larry and the monster that he's becoming, the more sinister antagonist is the doctor himself. Dr. Suzuki is a charming and well spoken man, a fact which helps his cause when he's trying to get people to trust him. He's got a cage full of "failed experiments" in his basement that have trusted him in the past, but Larry still doesn't see through the good doctor's charisma. Dr. Suzuki is not a manic, crazed Dr. Frankenstein, but more of a calm, cool Hannibal Lecter.
The special effects in The Manster look primitive by today's standards, but for the time and budget, they are fairly groundbreaking. The visuals were done by actor Shinpei Takagi (who also plays a priest in the film), and he took a page right out of the old Universal book.
Larry's transformation looks just like the transformations in The Wolf Man and Dr. Jekyll and Mr. Hyde, with the stop-camera effect causing the character to go from man to monster and vice-versa. Intentional or not, Larry's second head is hilarious, looking like a stuffed ape poking out of his shoulder. You can almost hear the effects and makeup teams laughing while they're working on the film.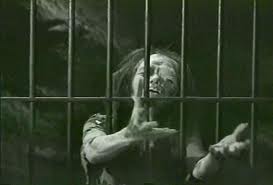 Speaking of laughing while working, another important aspect of The Manster is the music. Hirooki Ogawa's score is equal parts grand orchestral and cheesy sci-fi. Every time Larry starts doing anything monster-like, the soundtrack signals the moment with a silly theremin motif that sends the scene into space – a perfect accompaniment to an already campy situation. Ogawa is in on the joke, and he's having fun with it.
The Manster is American horror done the Japanese way. The creatures are surreal, the characters vivid and the effects creative. It's an intercontinental B-movie party, and while it's not going to send Godzilla running for the hills, it's definitely going to make him proud.