Synopsis: Co-directors Robert Rodriguez and Frank Miller reunite to bring Miller's visually stunning "Sin City" graphic novels back to the screen in Sin City: A Dame To Kill For. Weaving together two of Miller's classic stories with new tales, the town's most hard boiled citizens cross paths with some of its more reviled inhabitants.
Release Date: August 22, 2014     MPAA Rating: PG-13
Genre(s): Drama, Fantasy
Film Review

It's been almost ten years since comic book writer Frank Miller (300) teamed up with grindhouse film director Robert Rodriguez (Machete Kills) on the first Sin City movie. They decided that the time was right to go back to the old drawing board, and the resulting film is Sin City: A Dame to Kill For.
Like Sin City, Sin City: A Dame to Kill For is a collection of unrelated-yet-intertwined narratives that all take place within the same universe. First, legendary thug Marv (The Wrestler's Mickey Rourke) wakes up surrounded by dead bodies and wrecked cars, struggling to remember what happened and how he got there. Next, a gambler named Johnny (Inception's Joseph Gordon-Levitt) shows up and challenges the powerful Senator Roark (Powers Boothe from "Nashville") to a game of poker, making a ruthless enemy out of the politician when he beats him. After that, a private eye named Dwight McCarthy (Oldboy's Josh Brolin) is led into a web of intrigue and dishonesty by his ex-lover, Ava Lord (Eva Green from 300: Rise of an Empire), who asks him to help her rid herself of her husband. Finally, stripper Nancy Callhan (Jessica Alba from Fantastic Four) enlists the help of Marv to exact revenge on Senator Roark for causing the suicide of her friend, John Hartigan (Bruce Willis from The Sixth Sense). Sin City is a brutal place, and everyone has a different reason for the violence that they enact.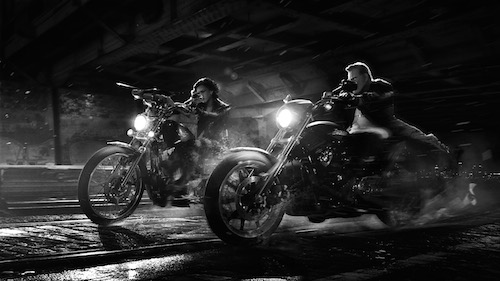 Sin City: A Dame to Kill For is very much a continuation of the Sin City saga; the look and feel of the film is exactly the same, and most of the characters carry over. That's not to say that one has to be familiar with the first film to enjoy it; although some knowledge of the characters and city wouldn't hurt, the individual tales are fairly self-contained. The stories are nothing heavy or thought provoking, but they do come with a few nice surprises and plenty of action that is punctuated by lots of violence. The film is both modern and retro; between the manufactured combination animated/live action sequences and the Raymond Chandler-esque narration descriptions (gems like "an atomic bomb went off between my legs" and "a freight train hit me right in the face"), the film has a very faux-noir feel to it. Another captivating element is the stunning juxtaposition of seeing the comic strip panel-style visuals shown through the lens of modern 3D; it sounds like a silly combination, but it looks great. Sin City: A Dame to Kill For tosses the audience right into the comic book.
At the end of the day, Sin City: A Dame to Kill For accomplishes exactly what it sets out to do. It offers the thrills and spills of a summer action movie, and shows them in a creative and inventive way, combining mediums into a cool grindhouse flick. The men are tough, the women are sexy, and the movie is, above all else, very entertaining.

The directorial duties on Sin City: A Dame to Kill For are shared between Frank Miller and Robert Rodriguez, and it appears that the pair made a conscious decision to have the film share a certain continuity with Sin City. The same flattened, comic book look is achieved, along with the same high-contrast black & white imagery with only select characters or objects being given the luxury of color. The film is a perfect visual representation of Miller's graphic novels, and the performances of the ensemble cast are as over-the-top and schlocky as anything that Robert Rodriguez has done (and, remember, he's done both Machete movies as well as Planet Terror). The two men make a great team, with Frank Miller handling the visual artistry and Robert Rodriguez taking on the cinematic duties (he also shot and edited the film). Most importantly, they understand what about the first film worked and they didn't try to unnecessarily fix it. Audiences can confidently know exactly what to expect when they enter the theater; Sin City: A Dame to Kill For is more of what viewers got in Sin City, and Miller and Rodriguez make no apologies for that fact.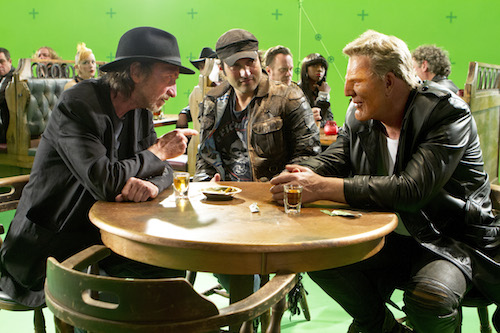 Cast and Crew
Director(s): Frank Miller
Producer(s):
Screenwriter(s): Frank Miller
Story: 
Cast: Mickey Rourke (Marv)Jessica Alba (Nancy)Josh Brolin (Dwight) Joseph Gordon-Levitt (Johnny)Rosario Dawson (Gail)Bruce Willis (Hartigan)Eva Green (Ava)Powers Boothe (Senator Roark)Dennis Haysbert (Manute)Ray Liotta (Joey)Christopher Lloyd (Kroenig)Jaime King (Goldie/Wendy)
Editor(s):
Cinematographer: Robert Rodriguez
Production Designer(s): Steve Joyner
Costume Designer: 
Casting Director(s): 
Music Score: Robert Rodriguez
Music Performed By: 
Country Of Origin: USA