Slasher movies have always been based, at least a little, in comedy. While early films like Halloween and Friday the 13th horrified audiences, the later entries into both franchises flirted with humor, recognizing the silliness of their premises. Freddy Krueger, the antagonist of the A Nightmare on Elm Street movies, is as quick with a witty remark as he is with his razor glove. In 1981, released just a few months before the legendary horror comedy Saturday the 14th, another comedy was made that satirized the slasher genre before the golden age had even gotten rolling, the aptly titled Student Bodies.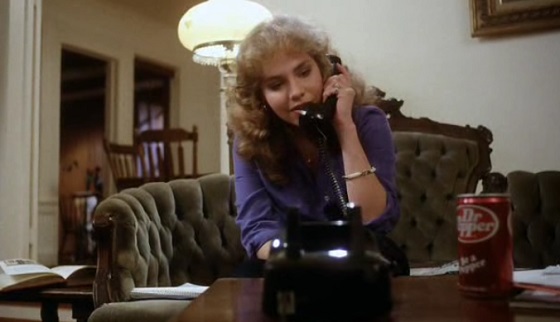 Like any self-respecting slasher, Student Bodies begins with a killer, known only as The Breather (credited as Richard Brando, but actually played by television writer Jerry Belson of "The Odd Couple" and "The Tracy Ullman Show"), stalking and killing a young woman while she baby-sits. The Breather does not stop there, however; he continues to prey upon the sex-crazed teenagers of Lamab High School, causing the paranoia of the school to rise along with his body count. All of The Breathers victims are killed while having sex, and the school administration and the town police begin to suspect a virginal girl named Toby (Kristen Riter in her only film role) of the crimes. As Principal Peters (Joe Talarowski from "Sanford") rallies the troops against Toby, the girl's best friend, Hardy (Matt Goldsby from Frances) tries to help clear her name. The more time that the authorities waste suspecting Toby, the more bodies have a chance to pile up, until the task of unmasking the real killer falls squarely upon Toby and Hardy.
Student Bodies was made during a Hollywood Writer's Guild strike, so director Michael Ritchie (Fletch, The Golden Child) asked to have his name removed from the movie and went uncredited to avoid trouble. The direction for the film ended up being credited to screenwriter Mickey Rose (one of Woody Allen's guys, having worked on Bananas and What's Up, Tiger Lily?), who apparently had no problem upsetting the union. Because of the success of slice-and-dice horror films, Student Bodies was quickly produced in an attempt to parody the genre while the iron was still hot. Rose's script includes plenty of Woody Allen-esque techniques of storytelling, such as having The Breather break the fourth wall to narrate parts of the film and the insertion of an extremely surreal ending that spoofs everything from Carrie to The Wizard of Oz. Although it was a financial failure at the time, its clever mixture of horror and comedy has helped Student Bodies gain a sizeable cult following.
If one thing can be said for Student Bodies, it's that it nails the standard slasher tropes – most of them in the first five minutes. The Breather's first victim is a babysitter who has broken the rules by inviting her boyfriend over while she works. All of the victims of The Breather are killed either while they are having sex or are about to have sex. The Breather's actions are frequently shown through POV shots that are staples of the golden age slashers. There are scenes at a football game and at the Prom which look like they could have been ripped right out of any number of other eighties high school horror films. Some of the more memorable segments even seem to predate other films, suggesting that other filmmakers looked to Student Bodies for inspiration; there are two images in particular – one of a phone drooling and another of the breather stepping on gum on a staircase – that are echoed in A Nightmare on Elm Street a few years later. A big part of what makes Student Bodies such a fantastic parody is the attention to detail that is paid in regards to making it seem like a true slasher.
It may look and act like a slasher movie, but Student Bodies is a comedy, and it never lets the viewer forget it. The film is littered with titles cards that do everything from point out stereotypical horror movie plot devices to keep track of the growing body count. The humor is silly and sophomoric, reminiscent of the type of laughs that are found in movies like Airplane! and Porky's. In one scene, Toby is crying in a counselor's office and he hands her a box of tissues, saying "sorry I'm out of tissues," as she dries her eyes with the cardboard box. In another scene, The Breather comes upon a desk full of weapons that just happen to be left out, searching for the perfect implement of death, until he finds it – a paperclip. What Student Bodies lacks in actual scares, it more than makes up for in laughs.
Because it is not a "real" horror movie, Student Bodies is very light on actual violence. In fact, there is no gore at all. The film uses its lack of onscreen bloodshed to make another joke; halfway through the film, a man at a desk randomly appears onscreen claiming that "in order to receive an R rating today, a motion picture must contain full frontal nudity, graphic violence, or an explicit reference to the sexual act." He goes on to say that, because Student Bodies has no sex or violence, and they want an R rating to add credibility to the film, he would like to take this opportunity to say "F*** You." Instantly, the MPAA R appears onscreen. It's a hysterical way to explain away the lack of gratuitous scenes in the film, and provides a good laugh at the same time.
The music is another thing that Student Bodies gets hilariously right. The score was composed by Gene Hobson (Access Code, Terminal Entry), and it's a pretty spot-on spoof of a classic horror soundtrack. As was the case with horror scores of the time, much of the soundtrack is electronic, and the score has more than its share of musical quotes and tributes to films like Halloween and Psycho. There's also plenty of organ sounding music which harkens back even further to the Universal and Hammer days. Hobson's score for Student Bodies becomes part of the gag by evoking the mood of a "real" horror film in a campy way, and it's hilarious.
In recent years, parody films like Scary Movie and A Haunted House have been successful at continuing the horror comedy approach. However, the credit for being the original slasher spoof has got to go to Student Bodies for doing what it did while the slashers were still doing what they did.