It's common knowledge that Mary Shelley's Frankenstein; or, The Modern Prometheus was the result of a friendly writing competition between herself, her future husband Percy Shelley, the poet Lord Byron, and author/physician John Polidori. While stuck indoors during the unseasonably rainy summer of 1816, the four writers took turns trying to scare each other with stories of ghosts, ghouls, and goblins. Only the four participants know for sure what happened over the course of those isolated and secluded days, but director Ken Russell (The Devils, Altered States) posits one theory in his 1986 movie Gothic.
Gothic begins with Mary Godwin (Natasha Richardson from Patty Hearst) and her soon-to-be husband, Percy Shelley (Warlock's Julian Sands), being brought to the Swiss villa of Lord Bryon (Gabriel Byrne from The Usual Suspects and Louder Than Bombs) by Mary's half-sister, Claire Clairmont (I Shot Andy Warhol's Miriam Cyr), to spend a few days with the poet and his friend, Dr. John Polidori (Rock Star's Timothy Spall). A storm keeps the quintet cooped up inside the house, so they pass the time doing drugs and trying to scare each other with spooky stories. Their vivid hallucinations coupled with the seemingly animate villa gives all of them plenty of inspiration for their terrifying tales.
The screenplay for Gothic was written by Stephen Volk (Ghostwatch, The Awakening), with Lord Byron and Percy Shelley both sharing story credit. Truth be told, there's not a whole lot of story to it; the movie is essentially a sequence of freaky and frightening imagery meant to illustrate the influences behind the horrifying stories that are dreamt up by the characters. Mary has visions of the re-animation of her stillborn child while Dr. Polidori has homosexual revelations, and both manifest their experiences in their respective stories. The whole thing is very surreal and disjointed in that directed-by-Ken-Russell way.
Gothic is a weird movie, even by Ken Russell standards. The plot, or lack thereof, takes a back seat to Russell's visuals. Lord Byron's house is filled with strange antiques and artifacts, each stranger than the one next to it, all of which feed the quirky atmosphere of the film. Throughout the movie, Russell injects odd little attempts at eroticism that wind up more comical than sexy, with anatomically correct fem-bots, suits of armor with bulging cod-pieces, and female breasts that boast eyeballs instead of nipples. Gothic is more of a bad drug trip than a horror movie, but the imagery should be disturbing enough for the tastes of any and all fright flick fans.
The cinematography of Mike Southon (Paperhouse) fits Ken Russell's warped vision to a T. Gothic is full of perfectly timed motivated zooms and pans that give the film a suitably melodramatic look. Well-placed match cuts help with the crazier segments, scenes in which, for example, a decapitated pig head turns into a decapitated human head. To keep things even more surreal, Southon alters the speed of the camera in certain segments, and even runs it backwards to make a character awkwardly slink down a staircase with a reverse effect. There's more than just light and shadows to the photography in Gothic; Mike Southon makes it look just as nutty and far-out as any film on Ken Russell's resume.
The music for Gothic was provided by British synth-pop star Thomas Dolby (of "She Blinded Me with Science" and "Hyperactive!" fame) who, the year before, began dabbling in film composition by scoring Richard Brooks' Fever Pitch. Dolby's soundtrack for Gothic is a slick mixture of electronica and classical, so the score has an almost modern romantic sound. Like the visuals, the melodies are frantic and frenetic, ominous and threatening. For most of the movie, Dolby's score takes a back seat to Russell's imagery, but when the music does take center stage, it does so with a bang.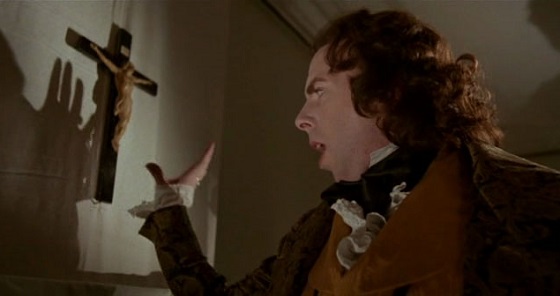 In addition to Frankenstein, that summer stay in the Swiss villa back in 1816 also gave the world John Polidori's short story "The Vampyre," so whatever happened over those few days and nights had a huge impact on all of the participants. It probably didn't happen exactly as Ken Russell speculated in Gothic, but that version of events certainly makes for a wackily entertaining movie.