Former New Orleans Saints safety Steve Gleason's football career can be defined in a single play. On September 25th, 2006, in the Saints' first home game since their city was devastated by Hurricane Katrina, Gleason blocked a punt by the Atlanta Falcons that was returned for a touchdown, the first score of a game which the Saints would go on to win. It was more than just a football play. It was a symbol of resilience, a statement about the resurgence of a city that had been nearly destroyed. Gleason provided a spark of hope which turned the city around.
Five years later, he would be diagnosed with Amyotrophic Lateral Sclerosis, more commonly known as Lou Gehrig's disease.
That is the Steve Gleason that director Clay Tweel's documentary, simply called Gleason, is about.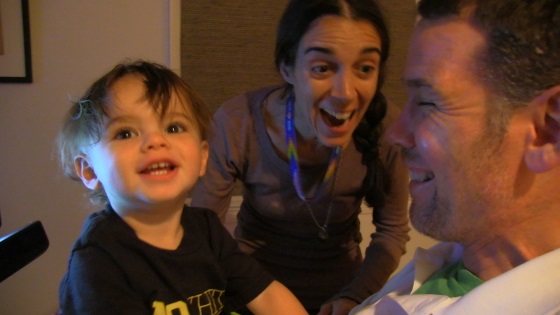 Gleason follows its title subject from his diagnosis in 2011 through present day. Six weeks after Gleason discovered that he had ALS, his wife, Michel, also found out that she was pregnant. Thus, the film serves two purposes; it acts as a public document of Gleason's illness that would raise awareness of the disease, and it functions as a time capsule for his son to get to know the father who, realistically, wouldn't live to see his child grow to adulthood. Gleason's story is told through interviews with his family and friends, but mostly, it's Gleason and his wife speaking directly to the camera. Even when Gleason loses the ability to speak, he uses a speech synthesis device to conduct his interviews and record his journals. It's his and Michel's own words. Their powerful words.
There perhaps has never been a movie more deserving of the cliché "emotional rollercoaster" than Gleason. Watching a young athlete in the prime of his life deteriorate before the audience's very eyes is crushing. Seeing Michel burst into tears while trying to be strong for her family is absolutely gut-wrenching. At one point in the movie, Gleason looks at the camera and confesses "I'm having a bad day. I'm an a-hole to people and I don't care. The last of my talking days are here…I have no hope. I want to punch something but I can't. The only thing I can do is scream." The audience feels every ounce of his frustration.
But, there's an uplifting side to the movie, too. Gleason is able to use his local celebrity status to form Team Gleason, a non-profit organization which assists in providing Augmentive Alternative Communication devices (the speech boxes) to other ALS patients. And awareness about the disease is heightened through his story; the film shows even non-athletes like Pearl Jams' Mike McCready and the Reverend Jesse Jackson touting Gleason's "No White Flags" slogan. The amount of fight Gleason displays and the number of supporters he has is inspiring.
Although some of Gleason's former teammates appear in the movie (linebacker Scott Fujita is one of the film's producers), there's not a lot of football in it. The cameras follow Gleason as he meets fans and is honored at games and events, but football takes a backseat to the real story. Perhaps the biggest NFL connection is one that didn't make it into the movie; it was Gleason's original director, Sean Pamphilon, who provided the smoking gun tape that blew the lid off of the Saints' "Bountygate" scandal of 2009-2011. Pamphilon gained access to the Saints' locker room through Gleason and recorded defensive coordinator Gregg Williams offering bonuses for causing injury to opposing players. The tape was provided to the league, and the rest is history. Gleason saw the release of the recording as a breach of trust, and that's why Pamphilon is a "former director" of the movie.
But none of that is in Gleason. What is in Gleason is an unflinching look at a horribly debilitating affliction. The amount of first-person awareness of ALS that Gleason raises is worth a thousand buckets of ice water poured over a thousand people's heads on social media. But save some of that water to wash away the tears. Because you'll get to know Steve Gleason, and you'll get to like Steve Gleason, so you'll root for Steve Gleason.