Synopsis: A bachelor party becomes a savage fight for survival when the groomsmen unwittingly unleash a fabled predator upon the festivities. A feature adaptation of the segment "Amateur Night" from the 2012 horror anthology "V/H/S."
Release Date: December 2, 2016     MPAA Rating: PG-13
Genre(s): Horror,
Film Review

Everyone who saw it has a favorite segment of V/H/S, the clever horror anthology film from 2012. Those who enjoyed the first vignette, David Bruckner's "Amateur Night," are in luck, because the story of the enigmatic "I Like You" girl continues (or does it start?) in SiREN.
SiREN is about a groom-to-be named Jonah (John Dies at the End's Chase Williamson) whose black sheep brother, Mac (Michael Aaron Milligan from Shark Lake), plans a raging bachelor party for Jonah and his friends. After a rough first stop, the guys hear about an amazing strip club in a secluded part of the area. Curious yet adventurous, the reluctant group sets off for the exclusive burlesque establishment run by an occult fanatic named Mr. Nyx (Justin Welborn from the "Dante the Great" segment of V/H/S Viral). Jonah is given the "special treatment" and taken into the back where he meets Lily (Hannah Fierman, reprising her role from V/H/S), a mysterious exotic dancer who, although she doesn't talk, feels an intense connection with Jonah. All Jonah wants to do, however, is get back to his friends and get out of there. Unfortunately, Lily and Mr. Nyx have other plans for the guys.
The screenplay for SiREN was massaged and squeezed out of the Bruckner short by Ben Collins and Luke Piotrowski (the duo behind the upcoming Super Dark Times and Stephanie). Keeping things within the V/H/S family, the film is directed by Gregg Bishop, who also directed the "Dante the Great" segment from V/H/S Viral. In a way, SiREN almost feels like its own V/H/S segment – it's got a great setup, but loses steam as it goes on, and by the ending, it seems as if the filmmakers didn't know where they wanted to go with it.
Even at less than ninety minutes, there's no reason for SiREN to be as long as it is. It's a pretty clunky and swollen story. Most of the creepy fun happens before the guys even get to Lily, so by the time our little harpy friend spreads her wings, the film has already peaked, leaving nowhere for it to go but down. Which is a shame, because Lily is a great character. Just not in this movie.
The best thing about SiREN is the fact that Hannah Fierman came back to play Lily, because honestly, she's the only actress who could do the doe-eyed succubus justice. It's not clear whether this is a sequel or an origin story, but it doesn't really matter. With a little luck, there will be another Lily movie. And, with a little more luck, it will be better than SiREN.

The visual effects in SiREN are frustrating. They're a lot of fun, but just when they show you something cool that you really want to see, such as Lily sprouting her wings and flying, the movie cuts away. It's almost as if Bishop and his crew didn't have the budget to finish the effects, but went ahead and shot the script anyway and tried to fix it in editing. Which very well could be the case – SiREN has the tone and feel of a classic low-budget feature. But, with CG effects so cheap and plentiful these days, it would have been great to see a little more of them.or, more specifically, longer scenes of them, even if it was only a few seconds longer.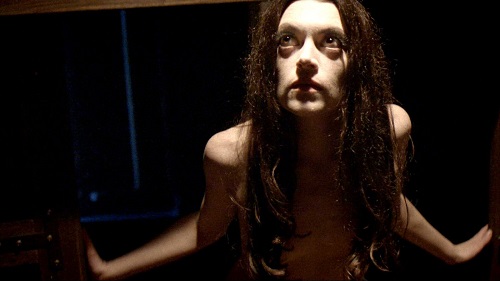 Aside from a few ineffective jump scares, there's not much to fear in SiREN. Mr. Nyx could be creepy under the right circumstances, but as he is, he's basically part carnival barker and part wannabe wizard. Lily was much more frightening in her segment of V/H/S where she was more mysterious – the repeated "I Like You" was confusingly terrifying in a ten minute found-footage short, but it gets old and tiresome as a feature. As was the case earlier this year with Lights Out, the "Amateur Night" short gimmick doesn't translate well into a feature length film.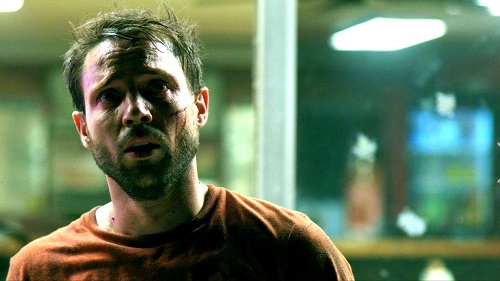 Cast and Crew
Director(s): Gregg Bishop
Producer(s): Gary BinkowJude S. Walko
Screenwriter(s): Ben CollinsLuke PiotrowskiDavid Bruckner
Story: 
Cast: Hannah Fierman (Lily)Chase Williamson (Jonah)Justin Welborn (Mr. Nyx) Michael Aaron Milligan (Mac)Hayes Mercure (Rand)Randy McDowell (Elliott)Lindsey Garrett (Eva)William Mark McCullough (The Addict)Stephen Caudill (Sheriff Boone)Elyse Dufour (Aoide)Brian F. Durkin (Officer O'Brian)Preston James Hillier (Officer Collins)
Editor(s): Gregg Bishop
Cinematographer: George Feucht
Production Designer(s):
Costume Designer: Peri Richards
Casting Director(s): Rita HarrellJen Kelley
Music Score: Kristopher Carter
Music Performed By: 
Country Of Origin: USA