Whether one considers him one of the freshest voices in modern cinema or just a hack Hitchcock imitator, there's no doubt that Brian De Palma has made some of the most important movies of the last half century. Now, fellow directors Noah Baumbach (Mistress America) and Jake Paltrow ("NYPD Blue") turn the camera around on the iconic filmmaker in the simply titled documentary De Palma.
There has quite possibly never been a more appropriately named movie ever made than De Palma. It is literally an hour and forty seven minutes of Brian De Palma recounting the history of his career in his own words. There are no other interviews, no news footage or reviews, and no talking head narrators. Aside from clips from his films, a bevy of photos, and a handful of home movies, it's all De Palma, all the time. It's a good thing he's an interesting guy with lots of cool stories to tell.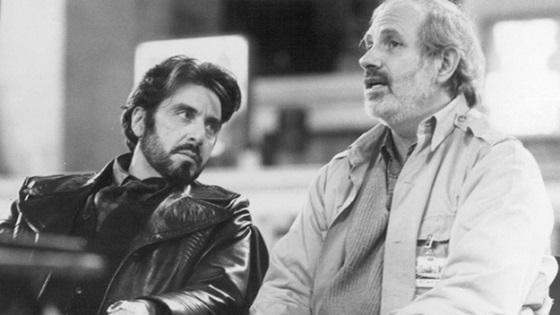 De Palma is essentially a retrospective of De Palma's life and career, starting with his early life and film school, traversing through his edgy seventies-era stuff, and going all the way through his big Hollywood days. The film spends a little bit of time with each movie, so it's a fairly well balanced affair. And it's full of stories, straight from the horse's mouth. De Palma talks about entering the industry with Marty, George, Steven, and Francis (that's Scorsese, Lucas, Spielberg, and Coppola to those outside the circle). He recounts the joint casting session that he and Lucas held for Star Wars and Carrie. He waxes on about Al Pacino and John Travolta, and even shares a few amusing anecdotes about Sean Penn and Michael J. Fox on the set of Casualties of War (although, to be fair, they're probably not very amusing to Fox).
Of course, Baumbach and Paltrow get De Palma talking about the technical aspects of his filmmaking, too. He discusses the influence of Hitchcock's Vertigo and the directors of the French New Wave on his work. He reveals his obvious fascination with diopters and split screens. And he discusses his favorite moments from each his films and details how they were made. It's a revealing look into the mind of a true auteur.
All of that said, De Palma is only going to appeal to big fans of the director. And it seems to be okay with that, as it spoils important plot points of just about every one of his movies in a way that alienates anyone else. Casual fans who haven't seen all of De Palma's films should stay away, but hardcore fans should see De Palma twice, then buy the Blu-ray.