Synopsis: The last Gunslinger, Roland Deschain, has been locked in an eternal battle with Walter O'Dim, also known as the Man in Black, determined to prevent him from toppling the Dark Tower, which holds the universe together. With the fate of the worlds at stake, good and evil will collide in the ultimate battle as only Roland can defend the Tower from the Man in Black.
Release Date: August 4, 2017     MPAA Rating: PG-13
Genre(s): Action, Adventure
Film Review

Stephen King fans have been waiting a while for a movie adaptation of The Dark Tower. The first book in the series was written in 1982, but rumors of the film started up about ten years ago. Now that the movie is finally here, the question that begs to be answered is "is it worth the wait?" No. No, it's not.
The Dark Tower is about a boy named Jake Chambers (Tom Taylor from "Doctor Foster") who is plagued by dreams of a long-standing battle between a heroic Gunslinger (Idris Elba from Prometheus) and a mysterious Man in Black (Dallas Buyers Club's Matthew McConaughey). The Man in Black kidnaps children in an effort to destroy a huge tower that holds the universe together, and the Gunslinger is tasked with stopping him. Jake finds a portal to another dimension in an abandoned house that takes him to the Gunslinger's world, where the two join forces in an attempt to defeat the Man in Black and save the universe.
And it's just as stupid as it sounds. The Dark Tower was directed by Nikolaj Arcel (A Royal Affair) from a screenplay that he adapted, with some help from Akiva Goldsman (I Am Legend), Jeff Pinkner (The 5th Wave), and Anders Thomas Jensen (The Salvation), from the Stephen King book series. In an effort to simplify and condense the sprawling epic story, the movie loses all of the character development and much of the subtlety of the books, turning it into a below-average action-adventure-fantasy with brainless dialogue and a disjointed, hole-filled plot.
There are some action scenes to smooth the rough spots, but those are disappointing as well. There's nothing that the audience hasn't seen before (except for maybe Idris Elba's awesome speed loading of his six-shooters), and what is shown is over way too soon. But that's to be expected when McConaughey's Man in Black's finishing move is literally telling his opposition to "stop breathing," which of course, because his magic is so powerful, they do.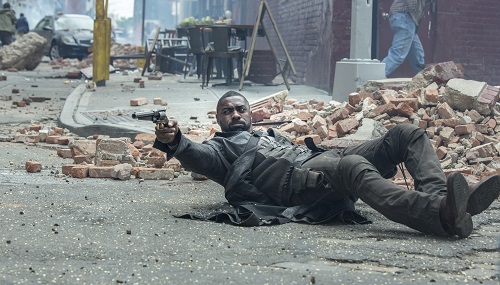 It feels a bit like the cast in The Dark Tower is slumming it. McConaughey is an Oscar winner, Elba is a Golden Globe winner, and the support cast includes such talented performers as Katheryn Winnick ("Vikings"), Jackie Earle Haley (A Nightmare on Elm Street), Dennis Haysbert (Experimenter, "24"), and Michael Barbieri (Little Men). None of these fine actors deserves to have a movie as bad as The Dark Tower casting a shadow on their resume. They're all better than this. They deserve better dialogue, more character arc, and a compelling storyline. They get none of that in The Dark Tower.
There is something to keep Stephen King fans busy in The Dark Tower, though. The film is riddled with Easter Eggs, both obvious and subtle, and spotting them is fun. Aside from that, well, King fans are getting IT in a few weeks and (hopefully) Gerald's Game by the end of the year, so The Dark Tower can just fade away like a bad memory.
Imagine cramming an eight (and a half) book series (and these are Stephen King books, so some are as big as 800 pages) into a 95 minute movie (with the last nine or ten minutes being credits), and that's The Dark Tower in a nutshell. The screenplay is way too condensed, stripping numerous characters and subplots out of the books. It's streamlined, but not in a good way. It's too point-A-to-point-B, with nothing of substance to fill in the journey. As a whole, The Dark Tower feels like a TV movie that has been culled together using scenes from a bigger mini-series or something, so it seems like it is missing major plot points and huge revelations. And when it comes to explaining those chunks, it just makes it all up on the fly with throwaway lines of dialogue.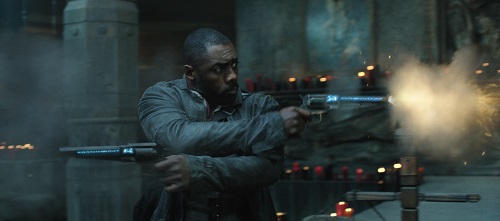 The rumor is that The Dark Tower is going to spawn a television series. That's what it is going to take to repair the cracks in the story that this movie has left. This may be the first time that I have ever said this in a review, but The Dark Tower should have been longer to flesh out a bit more of the story. It's not that it's confusing, it just doesn't make much sense.
Cast and Crew
Director(s): Nikolaj Arcel
Producer(s): Akiva GoldsmanBrian GrazerRon HowardStephen King
Screenwriter(s): Akiva GoldsmanJeff PinkerAnders Thomas Jensen
Story: Stephen King
Cast: Katheryn Winnick (Laurie Chambers)Matthew McConaughey (Man in Black)Idris Elba (Roland Deschain/The Gunslinger) Jackie Earle Haley (Sayre)Abbey Lee (Tirana)Dennis Haysbert (Steven Deschain)Alex McGregor (Susan Delgado)Nicholas Hamilton (Lucas Hanson)Claudia Kim (Arra Champignon)Fran Kranz (Pimli)José Zúñiga (Dr. Hotchkiss)Tom Taylor (Jake Chambers)
Editor(s): Alan Edward Bell
Cinematographer: Rasmus Videbæk
Production Designer(s): Oliver Scholl
Costume Designer: Trish Summerville
Casting Director(s): Marisol RoncaliMary Vernieu
Music Score: Junkie XL
Music Performed By: 
Country Of Origin: USA