Synopsis: Mr. Peabody, the most accomplished dog in the world, and his mischievous boy Sherman, use their time machine – the WABAC – to go on the most outrageous adventures known to man or dog. But when Sherman takes the WABAC out for a joyride to impress his friend Penny, they accidentally rip a hole in the universe, wreaking havoc on the most important events in world history. Before they forever alter the past, present and future, Mr. Peabody must come to their rescue, ultimately facing the most daunting challenge of any era: figuring out how to be a parent. Together, the time traveling trio will make their mark on history.
Release Date: March 7, 2014     MPAA Rating: PG-13
Genre(s): Animation, Children and Family
Film Review

Everyone knows Jay Ward. Many may not recognize the name, but they will know his creations. The writer/producer is best known for "Rocky and Bullwinkle," which was turned into a movie starring Robert De Niro and Jason Alexander in 2000. Ward created several in-show episodic segments for his flagship show that have also been given the feature film treatment, most notably George of the Jungle and Dudley Do-Right, both starring Brendan Fraser. The latest property from "The Rocky and Bullwinkle Show" to undergo a big-budget facelift, this time getting to be fully animated by none other than DreamWorks, is Mr. Peabody & Sherman.
The Mr. Peabody & Sherman in the title of the film refers to Mr. Peabody (voiced by Ty Burrell from "Modern Family"), a highly intelligent and successful inventor/scientist/musician who also happens to be a dog, and his adopted human son, Sherman (voice of Max Charles from "The Neighbors"). Mr. Peabody teaches Sherman about history by actually traveling back in time by way of a machine that he invented called the WABAC machine (pronounced "way-back"). On Sherman's first day of school, he gets in a fight with a girl named Penny (Ariel Winter from "Modern Family") and bites her. To smooth things over with her parents, Mr. Peabody invites them over for dinner. Sherman decides to show Penny the WABAC machine, and she gets stuck in ancient Egypt, engaged to be married to King Tut. Mr. Peabody and Sherman go back to rescue her, but problems with the machine send them catapulting through different eras of time on their way back to the present day. Mr. Peabody and Sherman have to figure out how to get Penny back without her parents noticing that they ever left.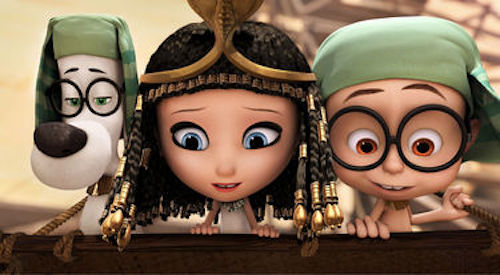 Directed by Rob Minkoff (The Lion King, Stuart Little), Mr. Peabody & Sherman is one of those rare animated films that is ostensibly made for children, but caters to adults equally as well. The screenplay, written by Craig Wright ("Six Feet Under"), has a ton of little things in it that kids will miss completely. These little winks and nods to the parents make the film not only bearable for adults, but enjoyable. As Mr. Peabody and Sherman bump and stump their way through the French Revolution, the Italian Renaissance, and Ancient Greece, there are a bunch of historical references and characters that kids just won't recognize. That's not to say that the film is a history lesson; egghead stuff aside, there is still plenty of action for viewers both young and old. Whether it's Mr. Peabody and Sherman surfing through the sewers of France on a wooden manhole cover or Sherman and Penny trying to navigate one of Leonardo da Vinci's flying machines across the skies of Italy, the gang gets in more than enough trouble to keep the film exciting. Additionally, the cast is full of recognizable voices, including Steven Colbert ("The Colbert Report"), Leslie Mann (This Is 40), Patrick Warburton ("Rules of Engagement"), Stanley Tucci (The Hunger Games), and Mel Brooks (Spaceballs). There's enough fun for Mr. Peabody & Sherman to be considered a kids' movie that is safe for adults.
In a way, Mr. Peabody & Sherman is a reboot of Bill and Ted's Excellent Adventure. Bill and Ted's Excellent Adventure was a variation of "Peabody's Improbably History" from the aforementioned "The Rocky and Bullwinkle Show." Either way, even casual viewers will notice the similarities, especially in the third act. Luckily, Bill and Ted's Excellent Adventure is an, um, excellent movie, and the feeling rubs off onto Mr. Peabody & Sherman. The film is a good time for the whole family.
One warning that must be given about Mr. Peabody & Sherman: the movie is offered in 3D, and the option isn't necessary. The 3D effects are very minor, and their absence will not affect the viewing experience at all. The movie is solid without the superfluous 3D.

The humor in Mr. Peabody & Sherman is multi-leveled. There's plenty of visual comedy to entertain the kids, but there's also quite a few bits for the grown-ups, too. Most of the verbal jokes are quick, rapid fire puns by Mr. Peabody, while much of the behavioral laughs are provided by the historical figures that are encountered along the way. A lot of the historical humor will go over the kids' heads, but that's okay; a joke about how uncomfortable Oedipus gets at family dinners is better understood by the parents anyway. The type of humor in the film is summed up in one gag that happens when the gang is in ancient Egypt; Sherman mistakenly takes hold of a mummy's hand in the dark, thinking that it belongs to Mr. Peabody. When the light shows him that he is not holding his father's hand, he drops it – and the arm falls off of the mummy. Mr. Peabody provides the punch line to the physical bit by saying "that's disarming." It's comedic genius, if only on a base level. There are plenty of chuckles like that to be had in Mr. Peabody & Sherman.
Cast and Crew
Director(s): Rob Minkoff
Producer(s):
Screenwriter(s): Craig Wright
Story: 
Cast: Ty Burrell (voice of Mr. Peabody)Max Charles (voice of Sherman)Lauri Fisher (voice of Marie Antoinette) Ariel Winter (voice of Penny Peterson)Allison Janney (voice of Ms. Grunion)Dennis Haysbert (voice of Judge)Stephen Colbert (voice of Paul Peterson)Leslie Mann (voice of Patty Peterson)Lake Bell (voice of Mona Lisa)Stanley Tucci (voice of Leonardo da Vinci)
Editor(s): Tom Finan
Cinematographer: 
Production Designer(s):
Costume Designer: 
Casting Director(s): 
Music Score: Danny Elfman
Music Performed By: 
Country Of Origin: USA