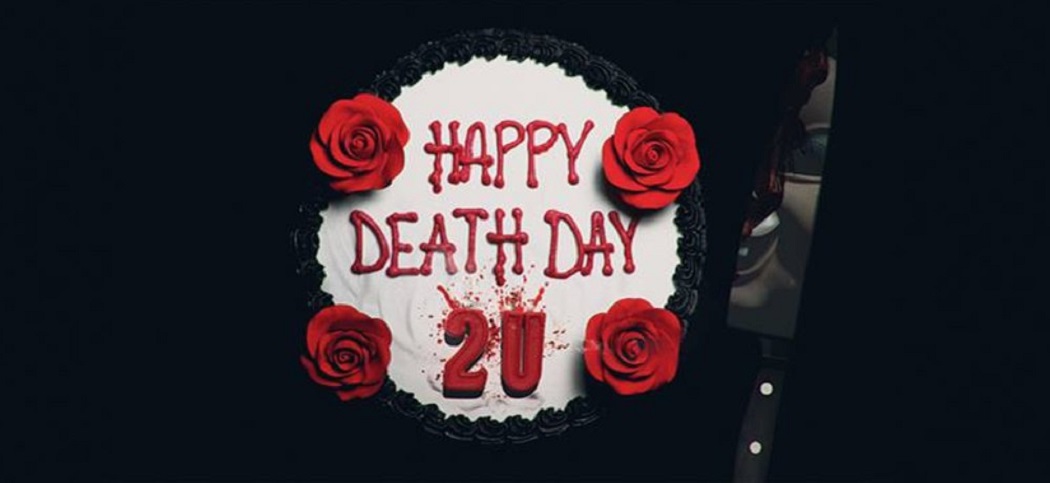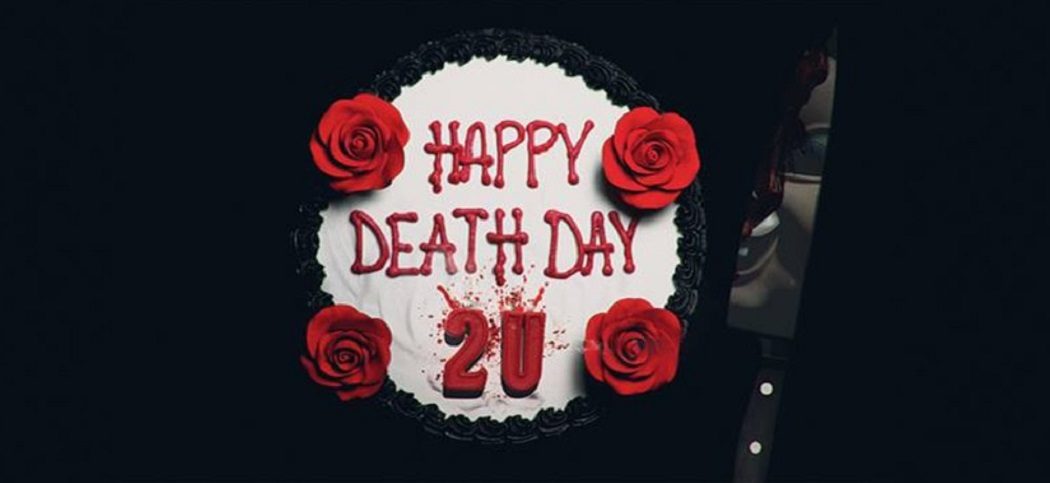 'Happy Death Day 2U' Review
Happy Death Day 2U trades the scares for laughs, but is still every bit as fun as the original.
Release Date: February 13, 2019
In Happy Death Day 2U, Tree Gelbman discovers that dying over and over was surprisingly easier than the dangers that lie ahead.
Director: Christopher Landon
Screenwriter: Christopher Landon
Producers: Jason Blum, Ryan Turek 
Cast: Jessica Rothe (Tree Gelbman), Israel Broussard (Carter Davis), Phi Vu (Ryan Phan), Ruby Modine (Lori Spengler), Rachel Matthews (Danielle Bouseman), Suraj Sharma (Samar Ghosh), Sarah Yarkin (Dre Morgan), Charles Aitken (Gregory Butler), Laura Clifton (Stephanie Butler), Steve Zissis (Dean Bronson), Rob Mello (John Tombs), Caleb Spillyards (Tim Bauer)
Editor: Ben Baudhuin
Cinematographer: Toby Oliver
Production Designer: Bill Boes
Casting Directors: Elizabeth Coulon, Sarah Domeier Lindo, Terri Taylor
Music Score: Bear McCreary

It was just a little over a year ago that Happy Death Day applied the Groundhog Day concept to the slasher genre. It was met with mixed reviews from critics, but did well enough with fans for a sequel to be quickly greenlit. That sequel – the cleverly named Happy Death Day 2U – is now here.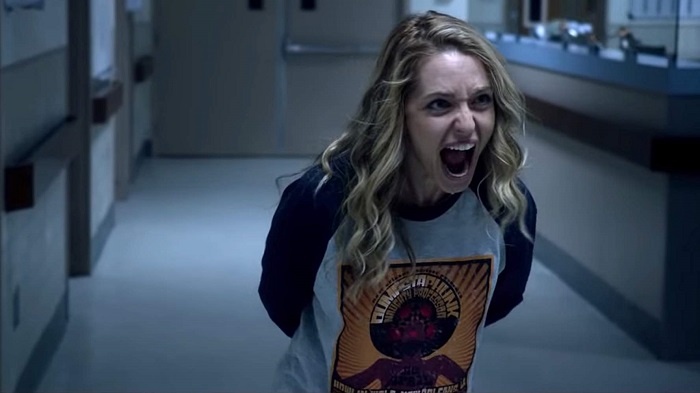 Taking place on the day after the events of the original movie, Happy Death Day 2U sees sorority girl Tree Gelbman (Jessica Rothe, reprising her role from Happy Death Day), having survived her experiences in the slasherific time loop, happily existing with new boyfriend Carter (Israel Broussard, also back from the first movie). Unfortunately, they awake to find Carter's roommate, Ryan (Phi Vu, again back for more), stuck in the loop. While trying to fix Ryan's loop, Tree gets stuck back in the loop herself. The trio also learns that he problem is much deeper than they originally realized. With the help of Ryan's science partners, Samar (Suraj Sharma from Life of Pi) and Dre (Sarah Yarkin from Eat, Brains, Love), Tree and Carter work to restore everything to normal.
Happy Death Day 2U is not the sequel to Happy Death Day that fans are going to expect it to be. Writer/director Christopher Landon (who not only directed Happy Death Day, but also wrote the middle entries in the Paranormal Activity series) keeps the time loop concept, but all but abandons the horror elements of the original story. Sure, Tree still has to die to reset each loop, but rather than have Happy Death Day 2U just become a series of slasher shorts (thus turning it into a straight rehash of Happy Death Day), Landon introduces parallel dimensions and alternate realities into the fold that shift the story more to the realm of science fiction. Oh, and Happy Death Day 2U trades most of the scares of the original in for riotous laughs. It's surprisingly funny.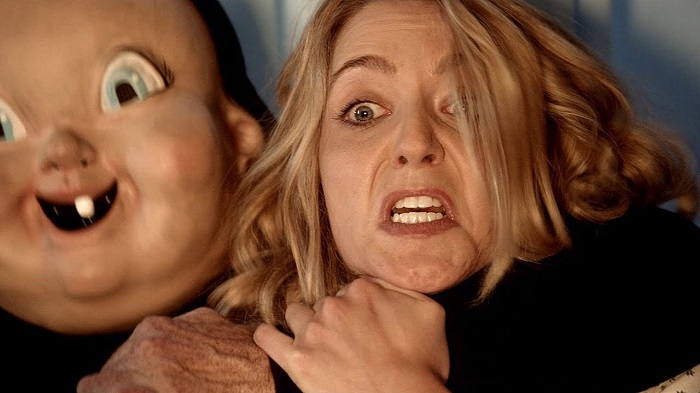 The coolest thing about Happy Death Day 2U is its detailed continuity; it picks up right where the first movie leaves off without missing a beat. Maybe it's because the sequel was made so quickly after the original, but just about all of the actors from Happy Death Day, both the high-profile and the bit part, are back, and painstaking detail has been taken to preserve the set dressing and character costuming. Aside from a few awkward pacing issues, it really does feel like Happy Death Day 2U takes place on the day after Happy Death Day.
So, Happy Death Day 2U isn't a jarring change from the first movie. Not aesthetically, anyway. In tone, it's more of a dark comedy than a fright flick, which does work in the film's favor, because as a horror concept, the Groundhog Day thing gets stale fast. But when treated with humor and wit, as Christopher Landon and company does here, it stays fresh and virile. Which is lucky for fans, because without giving anything away, there is a mid-credits scene that hints at a sequel. Apparently, Landon is not done with the time loop/multiverse/alternate dimension thing just yet. And just as long as he keeps the wacky comedy up, we should all be just fine with that.

With Happy Death Day 2U, Christopher Landon seems to have embraced the silliness of the concept and, in the process, has made a pretty funny movie. Once Tree realizes that she will die at the end of each day, she goes out of her way to find the craziest and most extreme ways to die, not by the hands of a serial killer, but by committing suicide. Of course, everyone knows that suicide is no laughing matter, but when Tree walks into a grocery store, picks a bottle of drain cleaner off the shelf, and winks to another customer before chugging it, the scene is so far-fetched that it becomes hilarious.
Similarly, when Tree decides to go skydiving in a bikini – and no parachute – while smiling and waving at the instructor as she tumbles backwards out of the plane, it's hysterical. The comedy is twisted: Not really offensive, just a bit triggering. It's the kind of humor at which you know you shouldn't laugh, but still do. A lot.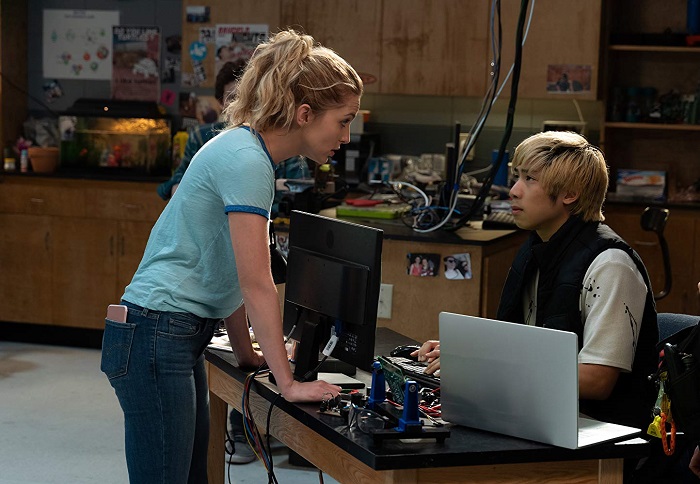 Unfortunately for the horror fans, the comedy comes at the price of the terror. Landon pitches his tent so firmly onto the comedy side of horror/comedy that he forgets to throw in any scares. The baby mask-wearing killer is back, and there are some effective scenes in which the killer is hiding in plain sight, but the killer isn't even the true threat in Happy Death Day 2U, so some of the edge is taken off of his blade.
For his part, Landon seems to be unapologetic about it for most of the movie, preferring to concentrate on the clever sci-fi plot and the teenage comedy rather than the slice-and-dice. It feels like Happy Death Day 2U makes a conscious decision to take the story in a different direction, which means leaving the horror elements behind, both for better and for worse.