Synopsis: A grieving woman pursues a couple who she suspects of killing her son in a hit-and-run.
Release Date: June 30, 2017     MPAA Rating: PG-13
Genre(s): Drama,
Film Review

Moka is about a woman named Diane Kramer (Emmanuelle Devos from Coco Before Chanel) whose son has been killed by a hit-and-run driver. Using witness accounts of the crash, she determines that the driver was a blonde woman in a mocha colored luxury sedan. With the help of a detective friend, she gets a list of matching cars and, after doing some legwork, determines that the guilty party is a makeup saleswoman named Marlène (Nathalie Baye from It's Only the End of the World). Reinventing herself as "Hélène," Diane befriends the woman while plotting her revenge, but sometimes, vengeance is not as simple as one might think.
Directed by Frédéric Mermoud (Accomplices) from a screenplay he co-wrote with Antonin Martin-Hilbert ("Zone Blanche") that was based on a novel by Tatiana De Rosnay (Sarah's Key, Boomerang), Moka is a very economic thriller. It drops the audience right into the middle of the story with very little setup, letting the viewer figure things out as it goes along. Nothing is spoon-fed, yet the vital plot points are abundantly clear, so the way the mystery slowly unfolds is not confusing in the slightest. It's a perfect blend of non-condescension that still makes sure that no one gets left behind.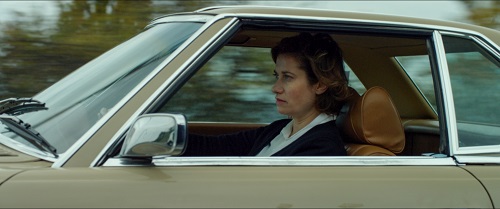 The really fascinating part of Moka is the developing relationship between Diane/Hélène and Marlène. At first, Diane goes in guns blazing to find proof of Marlène's guilt so that she can exact her revenge, but she also wants Marlène to know exactly why she's angry. It's only after making friends with Marlène and getting to know and like her that Diane realizes that, despite what she may have done in the past, Marlène is a likeable and charismatic person. And Diane struggles with her genuine feelings for Marlène versus her unquenchable thirst for justice.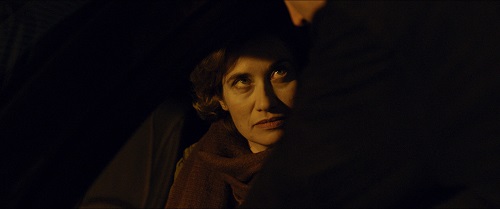 For the most part, Moka is a rather tame little revenge thriller. It simmers with suspense rather than exploding with intensity, and that decision by Mermoud works wonderfully for what the movie is. Even the attempted jaw-dropping twist (that is actually very predictable) doesn't take away from the film's low-key, haunting vibe. Moka is not exploitative like I Spit on Your Grave or Savage Streets. It's a much more subliminal and subdued revenge movie. It's a classy kind of vengeance.

Moka is completely Diane's story, so Emmanuelle Devos is onscreen for practically the entire movie. Devos suffers with grief while she boils with thoughts of revenge, and the audience feels every emotion along with her. Nathalie Baye's Marlène is a formidable counterpart to Devos' Diane (er, Hélène), acting partially as hunted prey, but mostly functioning as an ignorant bystander to Diane's calm-yet-ruthless prodding. Devos and Baye are polar opposites, Devos trying to control her seething while Baye is as polite as she can be. When they are onscreen together, the relationship is electric. Besides Isabelle Huppert, Devos and Baye may be the two preeminent French actresses working today, and seeing them together in the same movie is a lot of fun. The support cast of husbands, daughters, and other interested parties is a bit clunky, but Devos and Baye more than make up for their counterparts' limitations.
Cast and Crew
Director(s): Frédéric Mermoud
Producer(s): Damien CouvreurTonie MarshallJulien Rouch
Screenwriter(s): Frédéric MermoudAntonin Martin-Hilbert
Story: Tatiana De Rosnay
Cast: Emmanuelle Devos (Diane Roy, alias Hélène)Nathalie Baye (Marlène)David Clavel (Michel) Diane Rouxel (Elodie)Olivier Chantreau (Vincent)Samuel Labarthe (Simon)Jean-Philippe Écoffey (Le détective)Marion Reymond (Adrienne)Paulin Jaccoud (Luc)Sakir Uyar (L'homme)Ophélie Koering (La femme hydrojet)
Editor(s): Sarah Anderson
Cinematographer: Irina Lubtchansky
Production Designer(s):
Costume Designer: Françoise Nicolet
Casting Director(s): 
Music Score: Christian Garcia
Music Performed By: 
Country Of Origin: SwitzerlandFrance