Synopsis: Famous symbologist Robert Langdon (Tom Hanks) follows a trail of clues tied to Dante, the great medieval poet. When Langdon wakes up in an Italian hospital with amnesia, he teams up with Sienna Brooks (Felicity Jones), a doctor he hopes will help him recover his memories. Together, they race across Europe and against the clock to stop a madman (Ben Foster) from unleashing a virus that could wipe out half of the world's population.
Release Date: October 28, 2016     MPAA Rating: PG-13
Genre(s): Drama, Action
Film Review

Robert Langdon (Tom Hanks from Sully) is back to solve yet another puzzle in Inferno, and this time, he's journeying through the depths of hell. Okay, not literally through hell (this is not a Greek period piece), but with Dante's "Inferno" as the key to solving the puzzle that has been placed before Langdon, the imagery throughout the movie paints a picture of hell.
Inferno finds Langdon in Italy (naturally), where he wakes up with temporary amnesia and a nasty head womb in a Florence hospital. He can't remember how he got there, or even simple things like what that brown stuff people drink to wake up is called, but before long he realizes that what he's been up to the past two days is far from the standard tourist fare. Langdon has been trying to save the world from a deadly disease that will wipe out a great deal of the population. Created by American billionaire Bertrand Zobrist (Ben Foster from Warcraft), who believes overpopulation will lead to the extinction of the human race and the only way to stop that is global mass murder, this new plague has been hidden somewhere in the world with a date and time set when it will be released. Once that happens, there is no hope for humanity.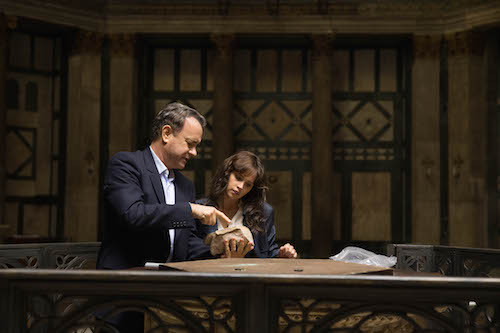 How exactly Langdon got mixed up in saving the world from what can only be viewed as a new Black Plague is part of the mystery that lies in Inferno, so explaining it here would be ruining part of the fun–and Inferno is very fun. With a new, younger sidekick to help him on his journey, child prodigy Dr. Sienna Brooks (Felicity Jones from True Story), Langdon is up for the challenge. His foe is the virus, but it also may be the World Health Organization (WHO). As is expected, you can't trust anyone or any group. As for Brooks, she is a smart, well-educated woman who knows her way around history, and, not surprisingly, Dante, making her a perfect match for Langdon. Together, they embark on an adventure to save the world, and every moment is full of thrills, uncertain predicaments, and most importantly, suspense. You can't go wrong with Inferno, even with its mild inconsistencies and certain predictable tropes it relies heavily upon. The movie is just too much fun to fault, and the mystery a great melding of history, science, and the unpredictability of the future.

Screenwriter David Koepp (Angels & Demons, Premium Rush) has successfully captured the entertaining mystery and tragic themes of Dan Brown's "Inferno" in the movie adaptation. Inferno is fast-paced and mostly consistent, even when it overemphasizes the need for explanatory mumblings on history, and why mass murder is a problem. That is, of course, what makes Brown's stories so entertaining–the weaving of myths, historical facts, and science to create a fascinating puzzle. Inferno does just that, and it doesn't sacrifice character development in order to deliver action–it knows a strong balance is needed in order to succeed. And succeed it does; the clues laid out for Langdon are carefully constructed so that the viewer realizes their complexity but can also see the possibility in solving them. To make it too difficult or complicated would alienate a viewer who seeks to understand the story, while following along with an action-filled plot. Inferno manages to do both, and Koepp, along with Director Ron Howard (Rush), deserves credit.
Cast and Crew
Director(s): Ron Howard
Producer(s):
Screenwriter(s): David Koepp
Story: 
Cast: Tom Hanks (Robert Langdon)Felicity Jones (Dr. Sienna Brooks)Sidse Babett Knudsen (Dr. Elizabeth Sinskey) Ben Foster (Bertrand Zobrist)Ana Ularu (Vayentha)Irrfan Khan (Harry Sims 'The Provost')Omar Sy (Christoph Bruder)
Editor(s): Tom Elkins
Cinematographer: Salvatore Totino
Production Designer(s):
Costume Designer: 
Casting Director(s): 
Music Score: Hans Zimmer
Music Performed By: 
Country Of Origin: USA