Even the slimiest of schlock filmmakers grows up eventually. Aside from Drag Me to Hell, Sam Raimi hasn't looked back towards his Evil Dead days since The Quick and the Dead. Wes Craven took a break from making slasher movies to make his passion project Music of the Heart (with Meryl Streep and Angels Bassett, no less). John Carpenter also put away the scary stuff long enough in the mid-eighties to direct Starman. Even the goopiest of the goop directors, David Cronenberg, turned a corner and started making Oscar bait movies. For Cronenberg, the transition film between the weird eXistenZ and the brilliant A History of Violence came in 2002 with his somewhere-in-between movie Spider.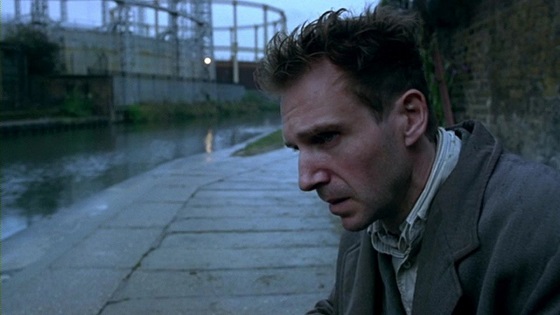 Spider stars Ralph Fiennes (Voldemort himself from the Harry Potter movies) as a man, nicknamed Spider due to his nervous habit of weaving string into web-like nets, who is released from a mental institution and finds a room in a halfway house run by a woman named Mrs. Wilkinson (Lynn Redgrave from Gods and Monsters). He's not quite cured, however, and he is plagued by memories of his mother (The Crying Game's Miranda Richardson) and father (Gabriel Byrne from Gothic and Louder Than Bombs), most notably how his drunkenly abusive father killed his mother and quickly got remarried to a prostitute named Yvonne (also played by Richardson). As Spider comes to grips with his past, he begins to realize that his memories can't be entirely trusted.
Screenwriter Patrick McGrath (Gentlemen Don't Eat Poets), adapted his own novel into the screenplay for Spider. It's a true psychological thriller along the lines of The Silence of the Lambs and Frailty, which was, at the time, a very different kind of movie for David Cronenberg. Spider is a long way from his early Scanners/Videodrome days, but still seems a step or two away from his later Eastern Promises/A Dangerous Method fare. For Cronenberg, Spider is the missing link between schlock and serious.
There are two different types of dual roles in Spider. First off, Miranda Richardson shows off her versatility as an actress by playing both Spider's mother and his step-mother. The mother is brunette, clean, and well-spoken, while the step-mother is blonde, crass, and loud-mouthed. The arrival of such a different mother figure in his life is shocking for the boy, and the substitution is quite a reversal for both the actress Richardson and the character of Spider. But, without spoiling anything, there's a reason why Richardson plays both roles.
Conversely, the character of Spider is played by two different actors. Ralph Fiennes plays the grow-up Spider, while Bradley Hall (Far From the Madding Crowd, Dunkirk) plays him as a child in the flashbacks. The flashbacks are handled in a very creative way, with the events of Spider's memory unfolding while his adult self stands off to a side or in a corner, his family (and younger self) oblivious to his presence. This allows the adult Spider to be able to observe everything like a fly on the wall, making it clear to the audience that the events that they are seeing are from Spider's memory, and not necessarily how they actually occurred in the past.
For the photography on Spiders, David Cronenberg enlisted the help of his usual cinematographer Peter Suschitzky, who shot Cronenberg movies like Crash and Dead Ringers, but is better known for his work on resume-builders like The Rocky Horror Picture Show and Star Wars: Episode V – The Empire Strikes Back. Spiders is a very neutral looking film, shot with plenty of browns, beiges, and greys, so that when something does happen and there's some blood red, it hits the viewer like a Technicolor hammer. Suschitzky makes up for the absence of fun colors with a penchant for cool camera angles, frequently either looking up or down on characters to show the different points of view, the changing trust levels, and the shifting balances of power. There's nothing too tricky about Suschitzky's cinematography in Spiders; the photography does just enough to tell the story without drawing attention to itself.
Cronenberg relied on another one of his old friends, composer Howard Shore, for the musical score to Spider. Like Suschitzky, Shore worked on most of Cronenberg's movies, from The Brood to Cosmopolis, but made his pile doing the music for the Twilight and The Hobbit movies. Shore's score for Spider is stripped down, consisting mostly of haunting piano and melancholy string arrangements with just a touch of flute and woodwind. The minimalistic approach works well for feeding the eerie and unsettling mood of the movie. It's a skeletal score for a skeletal movie.
David Cronenberg's career trajectory is a fascinating one to trace. Watching him go from the film-school roots of Stereo to the Hollywood excesses of Maps to the Stars is a lot of fun. And right there in the middle of it all, there's Spider, his true transitional film.