Synopsis: A couple going through a divorce must team up to find their son who has disappeared during one of their bitter arguments.
Release Date: March 16, 2018     MPAA Rating: PG-13
Genre(s): Drama,
Film Review

Even a couple of weeks after the Oscars, the Best Foreign Language nominees are still trickling into American theaters. Last week, we saw the winner, Chile's A Fantastic Woman. Now, we get the Russian nominee, Loveless.
Loveless is the story of a family that is embroiled in a bitter divorce. The father, Boris (Aleksey Rozin from Elena), is worried about what the impending separation will do to his career, while the mother, Zhenya (Maryana Spivak from "Vasiliy Stalin"), is more preoccupied with her iPhone that her failing marriage. Neither parent wants to take custody of their son, Alyosha (Matvey Novikov in his first role). So, one day, on his way home from school, Alyosha disappears. At first, his parents don't even notice, each assuming that he is with the other. But soon, the couple must put aside their bitterness and work together – along with the police and the search parties – to find their son.if he's still alive.
As you can probably assess from that synopsis, Loveless is not a feel-good movie. The fact is, it's as cold as the Russian landscape in which it's set. The film was written and directed by Andrey Zvyagintsev and co-written by Oleg Negin (the pair was also nominated for the Foreign Language Oscar in 2015 for Leviathan), and it's a heart-wrenching, gut-punching, tear-jerking powerhouse of a movie. Like many Russian movies, it's glacially paced, but that just serves to let the sadness and melancholy sink in deeper with the audience. It's a movie about mourning before there's anything to mourn.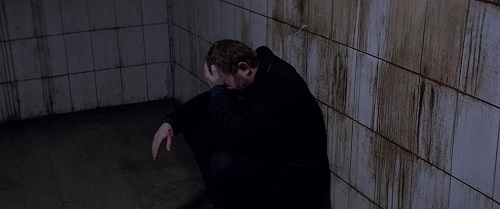 Interestingly enough, it's not the ambiguous fate of Alyosha that is at the root of the depression in Loveless. It's the failing relationship, not only between Boris and Zhenya, but between the parents and their son, that really drives the movie. Alyosha disappears fairly early on, but his spirit (figurative, not literal) is everywhere in the movie. He's the reason for his parents' uneasy alliance, and the reason for the lack of closure in their divorce. However, as much as they have to work together, nothing about Alyosha's disappearance brings his parents closer. They seem to want to find him just so that they can get on with their separation, as if his absence is an annoyance or an inconvenience instead of a tragedy. There's a reason that the movie is called Loveless.
Be careful with a movie like Loveless. It's a hauntingly beautiful movie, but it's not one for which you can just turn off your emotions. And honestly, you wouldn't want to. With a movie like Loveless, you want to feel it.

Zvyagintsev's usual director of photography, Mikhail Krichman (who has not only shot Leviathan, but also Zvyagintsev's first feature The Return as well), shot Loveless, and Krichman's cinematography helps tell Zvyagintsev's story in more ways than just making the viewer feel that same chill as the characters. Krichman adopts a cinéma vérité style of photography, essentially just setting his camera up and letting it run so that the actors can let loose with long, conversational takes. This technique also furthers the glacial pacing of the film that was mentioned earlier, but it really allows the audience to see into the souls of the characters in a way that is not corrupted by editing. Now, it's not all wide and two-shots; Krichman does get to have some fun making frames interesting with angles and mirrors and such. However, even the unique shots are long and unbroken so as not to interrupt the rhythm of the movie. Sometimes, Krichman does more than just let the camera roll in Loveless, but he never lets the cinematography get in the way of the actors or the story itself.
Cast and Crew
Director(s): Andrey Zvyagintsev
Producer(s): Gleb FetisovSergey MelkumovAlexander Rodnyansky
Screenwriter(s): Oleg NeginAndrey Zvyagintsev
Story: 
Cast: Maryana Spivak (Zhenya)Aleksey Rozin (Boris)Matvey Novikov (Alyosha) Marina Vasileva (Masha)Andris Keiss (Anton)Aleksey Fateev (Ivan)Natalya Potapova (Mat Zheni)Anna Gulyarenko (Mat Mashi)
Editor(s): Anna Mass
Cinematographer: Mikhail Krichman
Production Designer(s):
Costume Designer: 
Casting Director(s): Maria Loyter
Music Score: Evgeniy & Sasha Galperin
Music Performed By: 
Country Of Origin: RussiaFrance