What a confusing year 2014 has been for the horror world. Home video and VOD releases dominated the scene, and those fans who did leave the comfort of their own couch ended up at the local art house theater instead of the multiplex. While the big studios disappointed, the indies really picked up the slack. Here are one fan's opinions as to the top-ten horror movies of 2014.
10. The Town that Dreaded Sundown
The Town that Dreaded Sundown isn't really a sequel or a remake of the 1976 movie of the same name, it's actually an ingeniously meta continuation of the mythology – think Book of Shadows: Blair Witch 2, but better. It's about a copycat killer that stalks the same town as the original killer, 65 years later. It's awesome because the first movie exists in this movie's universe, and the town actually embraces it, so when the copycat strikes, everyone knows exactly what is coming but can't do anything about it. It's a cool modern slasher.
9. Under the Skin
Although an argument could be made that Under the Skin is more sci-fi than horror, there is more than enough frightening imagery in this one to warrant its inclusion on this list. It's also one of the most memorable movies of the year. Scarlett Johansson (yes, THE Scarlett Johansson) plays an alien who abducts and seduces random men on the streets of Scotland. Director Jonathan Glazer takes a hyper-realistic approach to the narrative, and it ends up as an almost Kubrickian exercise in filmmaking. This one will require a little bit of thinking on the part of the viewer, but it is well worth the effort. Yes, this is the movie in which ScarJo gets naked, but no, it's not what you think it is.
8. Stage Fright
Maybe it's the musical theater dork in me, but I believe that Stage Fright is one of the most purely fun movies of the year. It's basically a standard slasher; it even takes place at a camp (musical theater camp, of course). It's pretty much an operatic musical, with most (if not all) of the dialogue sung by the characters, but don't let that scare you off – Stage Fright has some gruesome kills orchestrated by a hilarious murderer (who sings his parts in a King Diamond-esque metal falsetto). This is like "Glee" meets Sleepaway Camp. Huge plus: Meat Loaf is in it.
7. Enemy
When I first left the theater after seeing Enemy, I was trying to figure out what the hell I had just seen. The more I thought about it, the more I grew to love it – and I thought about it literally for weeks after. The film stars Jake Gyllenhaal as a history teacher who meets his doppelganger, an actor (also played by Gyllenhaal), and the two can't decide whether to leave each other alone or to mess up each other's lives. This one moves a little slowly and requires a little bit of patience to get to the end, but what an ending it is!
6. Grand Piano
Elijah Wood is sure becoming a cornerstone of the horror scene. He made this list last year with the Maniac remake, and this year he was busy with Cooties and Open Windows. His best movie of 2014, however, was released towards the beginning of the year – Grand Piano. Grand Piano stars Wood as a pianist who sits down to perform a very difficult piece at a concert only to find a message on his sheet music that says "play one wrong note and you die." It's a clever variation on Phone Booth or Getaway, with director Eugenio Mira doing his best early De Palma impression. Another fun fact: the screenplay was written by Damien Chazelle, who was also busy this year writing and directing one of 2014's best non-horror movies, Whiplash.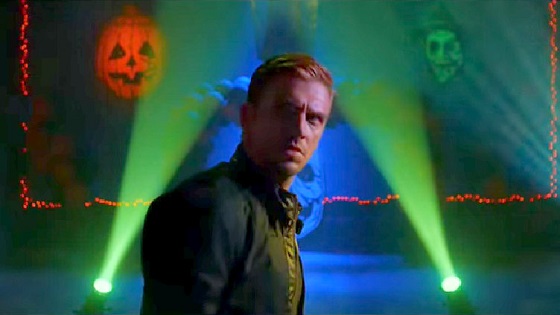 5. The Guest
From Adam Wingard and Simon Barrett, the guys behind last year's You're Next, The Guest is about a stranger who shows up on a family's doorstep claiming to be an army buddy of the son whom they lost in the War in Afghanistan. They soon discover that the titular Guest is not who he claims to be. This one features what should be a star-making performance from Dan Stevens and an awesome soundtrack. The Guest is smart, unpredictable, and just plain fun. Oh, and keep your eyes peeled for tons of cool horror movie references…they're everywhere.
4. Oculus
Directed by Mike Flanagan, Oculus is a good old fashioned haunted mirror movie. The film is about a young woman who tries to clear her brother of the charges of murdering their parents by proving that a cursed mirror is responsible. Oculus slips effortlessly between different time periods and mental states, seamlessly mixing the character's past and present while walking the line between the real and the imaginary. It sounds complicated, but Flanagan pulls it off nicely. There are a couple of really good scares, too. Brenton Thwaites, Kaylie Russell, and Katee Sackhoff star in it, which makes the movie that much better.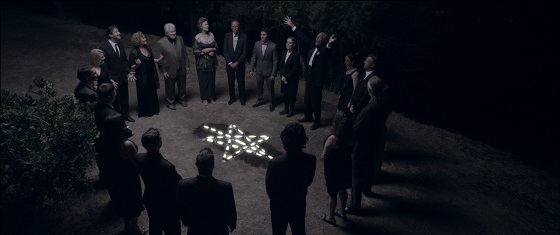 3. Starry Eyes
Starry Eyes is a crazy Faustian tale about the movie industry in L.A. that is part satanic cult film, part golden-age slasher, and part Cronenbergian body horror. It all adds up to one of the most creative and entertaining movies of the year…not to mention scary. The movie is about a struggling actress who is offered a life-changing role…but at a startling cost. Starry Eyes is well written, well directed, and features a breakout performance by Alexandra Essoe in the lead role. Full of cringe-worthy, watch-through-your-fingers moments, this little ode-to-L.A. is a must-see for horror fans.
2. The Babadook
By far the scariest movie of the year, The Babadook is about a young mother who reads a children's book to her troubled son. The subject of the book is a creepy character called Mr. Babadook, and the child soon begins to think that the villain is coming after him. Soon enough, the mother realizes that her son might be right. The Babadook is a simple-yet-effective film that features great performances from Essie Davis and Noah Wiseman as the mother and son, respectively. Director Jennifer Kent is definitely one to watch out for in the horror world.
1. Nightcrawler
Not only is Nightcrawler the best horror movie of the year, it's the best movie of the year period. Never mind that it's not a traditional horror film; it's terrifying in the same way as One Hour Photo. Jake Gyllenhaal stars as a freelancer news photographer who gets a little too close to his work, and things get messy. Gyllenhaal plays the role with the perfect combination of Christian Bale in American Psycho and Robert DeNiro in Taxi Driver, honestly giving the performance of the year. This one is dark, dreadful, and very creepy. Oh, yeah, and Los Angeles co-stars as itself.
Just missed the cut: Cheap Thrills, Honeymoon, Godzilla, Only Lovers Left Alive, A Girl Walks Home Alone at Night
Special mention (because it's a documentary but it's still awesome): Jodorowsky's Dune