That is a fantastic headline to be able to write. For one reason or another, since LACMA's series ten years or so ago, fans of German director Rainer Werner Fassbinder have had few chances to see much of his work on the big screen. Now, to mark the thirtieth anniversary of his death (June 10), the American Cinematheque in Los Angeles is celebrating this most individual of film-makers in suitably expansive style, with a series of 16 first-rate titles, between May 31 and June 14, 2012.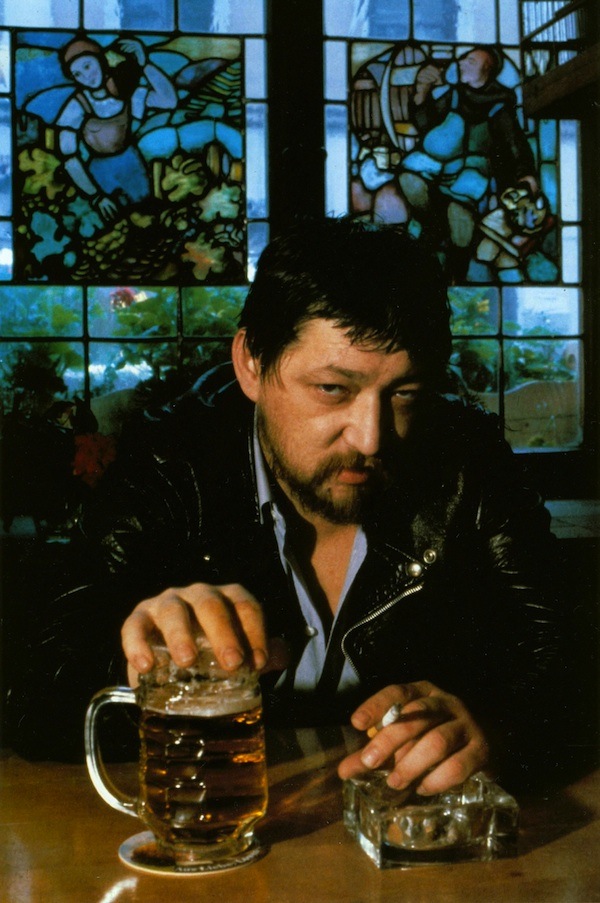 That is a fantastic headline to be able to write. For one reason or another, since LACMA's series ten years or so ago, fans of German director Rainer Werner Fassbinder have had few chances to see much of his work on the big screen. Now, to mark the thirtieth anniversary of his death (June 10), the American Cinematheque in Los Angeles is celebrating this most individual of film-makers in suitably expansive style, with a series of 16 first-rate titles, between May 31 and June 14, 2012.
Fassbinder was intense and prolific. Over 13 years (1969-1982) he directed 34 feature films for cinema and television, as well as a couple of documentaries, a remarkably naked omnibus contribution, and four multi-part television films, culminating in the majestic, 15-hour Berlin Alexanderplatz (1980). He also enjoyed an outsized personal reputation, as a fiercely intelligent, manipulative, drug-addicted workaholic, with a lurid gay love-life, and an entourage/commune/circus of collaborators/lovers/victims, who recur in the credits of film after film. He died in his sleep aged 37, from a combination of cocaine abuse, punishing work-rate and, perhaps, despair.
A surprising number of Fassbinder's films have at one time or another surfaced for home viewing, but it's not the same. Albeit several were made for TV, Fassbinder rarely made a distinction between the two media, save for the vastly increased audience television afforded him. His visual sense of composition, gaze, movement, and décor was so acute and complex, that the full power of these aspects is realized only on the big screen. Recent restorations of Berlin Alexanderplatz, Despair (1977) and World on a Wire (1973) have shown this clearly. The selection presented by the American Cinematheque is so rich that it is able to do without these recently-screened titles, and offers an unmissable chance just to dive right in.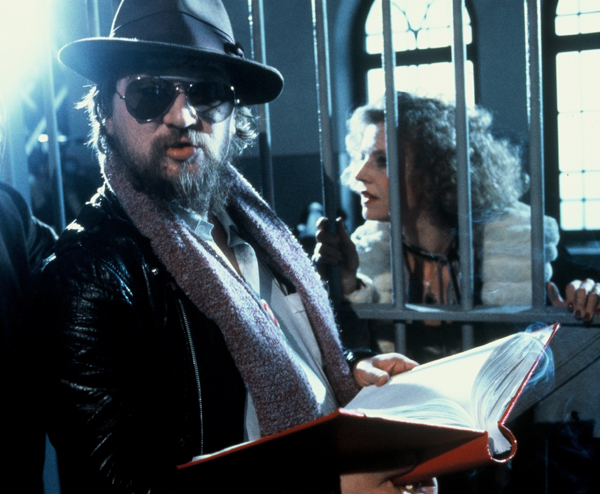 On set, Berlin Alexanderplatz
Thanks partly to long-standing partnerships with three cinematographers, many of the films have a common and distinctive look. Fassbinder was a rigorous visual film-maker, with a dramatic blocking style, and fascinated by a number of distinctive devices (framing, mirrors). The camera is very much driven by his consistent preoccupations: exploitation of emotion, both in personal relationships, and in the individual's relationship to a hierarchical, usually capitalist society; whether to conform to (and be sheltered by) the rules imposed by society, family or a lover, or to escape (to what?). The films give countless, relentless examples of how these power relationships work, dissecting them without mercy, but withholding empathy from none of his characters. Most of these people are forced into corners; most of the films are excoriating. Look, faces, themes and so forth come swiftly on one another. The oeuvre intimidates for its density, a mass of German vehemence and hysteria, but the beauty is that the whole coheres, into a house of many rooms, as the man himself put it. If it seems to have no obvious entrance, the answer really is just to take the plunge – they're all terrific.
Fassbinder's career splits quite neatly into three phases, so one can pick and choose according to taste. To start with, he alternated bourgeois, or domestic films, with gangster films, shot in a rather stylized, frequently static manner, to recreate Brechtian theatrical effects for the cinema, initially under the influence of his mentor Straub (Fassbinder described staging his plays like movies, and his movies like plays, but they remain fully cinematic). Many of the stories are presented as case studies, either of domestic situations, or of the boundaries of genre convention, and by the time of Beware of the Holy Whore (1970), his tenth feature, Fassbinder was turning the insect-glass on his own company. Screening on Friday, June 1 at the Egyptian, this is his most self-reflexively bitter work (there are several other contenders). With the addition of Eddie Constantine, Lou Castel and a couple of others, the company loosely recreates the recent circumstances of being on location in Spain to shoot the bratwurst western/domestic drama Whity. Fassbinder strands them in a hotel and lets them go at one another, with himself bearing the brunt (as the production manager, rather than director). Playing the same night is Fox and his Friends (1974). This is from the melodrama stage of Fassbinder's career, and again he gives himself the victim's role: the title character, a gay carny who wins the lottery, is taken up by a wealthy industrialist, and fleeced.
Fox and his Friends (1974)
Beyond his teens, Fassbinder was rarely the victim in life, unless he felt like it. Of unprepossessing physical appearance, usually with some sort of scraggly facial hair, he was a powerful, magnetic individual. He manipulated friends, lovers and colleagues to stick around (or leave), and subjected them frequently to emotional humiliations on and off screen. He thrived on it, and it fed directly into his work. He had attendant sloughs of self-doubt, however: the primary figure of identification was born loser Franz Biberkopf, from Berlin Alexanderplatz. Hence the name of Fassbinder's character (and many later) Franz, the schmuck just out of jail, in his first feature, Love is Colder Than Death (Thursday, June 7 at the Egyptian). A formally austere gangster film photographed in crisp black and white in the summer of 1969, it has a surprising amount of deadpan humour, and a striking shoot-out climax. It also has the beautiful Ulli Lommel and Hanna Schygulla, both of whom would become familiar faces in Fassbinder world; Schygulla in particular, who played his muse for over ten years.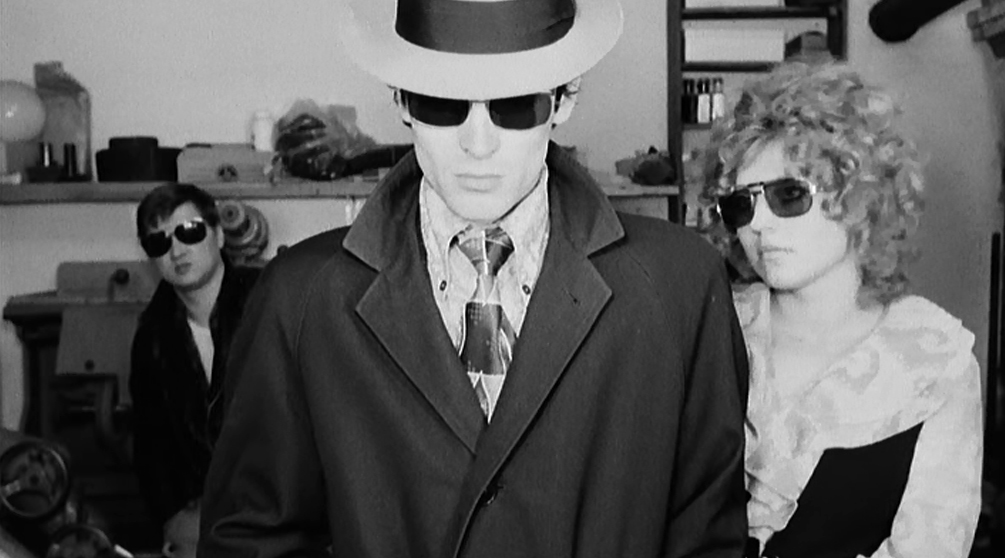 Love is Colder Than Death
Fassbinder capped the gangster trilogy eight films later with The American Soldier, which screens the same night. This is the dark tale of a hitman, corruption, and close male friendship – another Alexanderplatz inspiration, and a recurrent theme. Fassbinder takes the Reinhold role, and engineers a terrific ending. The middle installment came right after his second film, Katzelmacher (1969), had brought in a deal of prize-money, increasing Fassbinder's ability, and chutzpah: Gods of the Plague (1969) screens at the Aero on Friday, June 8. It is a virtual remake of the first film's set-up, but with added panache, and the wonderful Harry Baer as Franz the schlub. The whole cast is wonderful in fact, with Schygulla reprising her glamour role, and Fassbinder's then-lover, Günther Kaufmann, as the third corner of the triangle. Kaufmann and Baer were amongst the most appealing of the whole acting troupe; and Schygulla was a star from the moment he filmed her, so intent was he to make her so.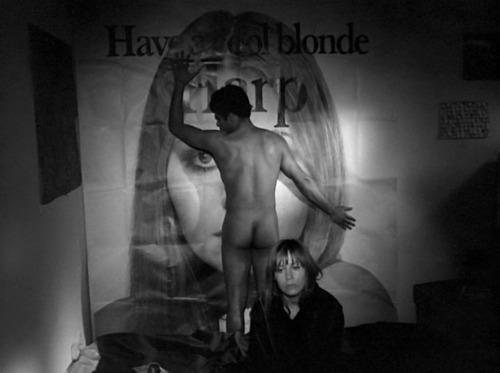 Gods of the Plague (1969)
In early 1971, Fassbinder attended a Douglas Sirk retrospective. The experience was artistically life-changing. After making 11 features in less than 18 months, he took half a year off from the cinema and kept to the theater; when he returned, he had determined to reach a wider audience, through story-telling techniques like the ones used by Sirk. These involved recognizable, contemporary settings and situations, presented without off-putting formal devices, but with a great deal of careful mise-en-scène that carried a great deal of savage irony. Fassbinder referred to these films as his melodramas: the first of them, The Merchant of the Four Seasons (1971), plays with Gods of the Plague at the Aero on Friday, June 8. With a brilliant, one-off central performance from Hans Hirschmuller, Fassbinder tells the spell-binding tale of a fruit-cart merchant who, through the logical course of events both socio-economic and personal (and they're rarely separate in his films), experiences some measure of success, and struggle, and a terrible amount of failure.
Ali Fear Eats the Soul (1973)
Fassbinder's most famous melodrama is, quite deservedly, Ali: Fear Eats the Soul (1973). Taking Sirk's masterpiece All That Heaven Allows (1955) as a template, he recasts the lovers as a dumpy old charwoman, and a hulking North African guest-worker. Even more caustic than Sirk's film, it's brilliant, not least because of the leads: another of the director's lovers, El Hedi ben Salem, and the delightful Birgitta Mira. Ali is screening twice: on Thursday, May 31 at the Aero, it plays with another fantastic lead for Mira, in Mother Küsters Goes to Heaven (1975). Here she must contend with manipulation from all sides, but mostly from a band of all-too-familiar revolutionaries, following the suicide of her husband at work. Once again her old lady demeanor will tug at your heartstrings, but it conceals an iron, sometimes selfish, core as Fassbinder lays out the inexorable workings of her fate.
Chinese Roulette (1976)
The second screening of Ali is on Thursday, June 14 at the Egyptian, paired this time with Chinese Roulette (1976), one of Fassbinder's most hysterical films, in humor and pitch, a pitch-black farce. The title is a personality-based parlor game, played when a couple unexpectedly find themselves brought together with their respective lovers in their country house, as engineered by their bitter, crippled daughter. Things get savage. Mira returns as part of the awesome ensemble cast alongside Lommel and, in a one-off for Fassbinder, Anna Karina. It's also a chance to see the towering Margit Carstensen in action: with a brittle, skeletal appearance and insect-like presence, she is perhaps Fassbinder's greatest actress, and he used her only slightly less often than Schygulla, as a fragile victim or, more frequently, as a grotesque monster.
The Bitter Tears of Petra von Kant (1972)
The Bitter Tears of Petra von Kant (1972) is a showcase for Carstensen, and another of Fassbinder's greatest films. With renewed creative vigor, this came hot on the heels of The Merchant of Four Seasons, adapted from his own stage play. A virtual two-hander with Schygulla, in a single, sumptuous bedroom set, what Fassbinder does with this space, his tiny cast, and a web of emotional relationships, is amazing. It's also worth remembering that it's very funny – particularly when he used Carstensen, Fassbinder's depictions of selfishness and manipulation deliberately shade into the ridiculous: caricature sometimes, but always human. This is just one of many ways in which the viewer's investment in the films is complicated. None of the characters are either all bad or all good and, exaggerated or not, most of their behavior is all-too recognizable.
Fear of Fear (1975)
Carstensen leads another one of the great melodramas in Fear of Fear (1975), on Wednesday, June 6 at the Aero. Here she is a victim, a housewife going terrifyingly insane, for what reason she does not know. It is relentless, frightening, and also very funny, depending on how much you want to get involved. Carstensen is spell-binding, and the film features regular supporting player, production designer, and much put-upon former lover, Kurt Raab as the vision of what complete insanity might look like. He gets to do it again in the other half of this evening's double bill, Satan's Brew (1976). Raab is consistently hilarious, from his existential crisis in Why Does Herr R. Run Amok? (1969) to the exaggerated tragedy of Bolweiser (1976). Here they have a riot of a time, Raab as a high-strung poet being driven insane, surrounded by grotesques and retards, and Carstensen as his simpering admirer.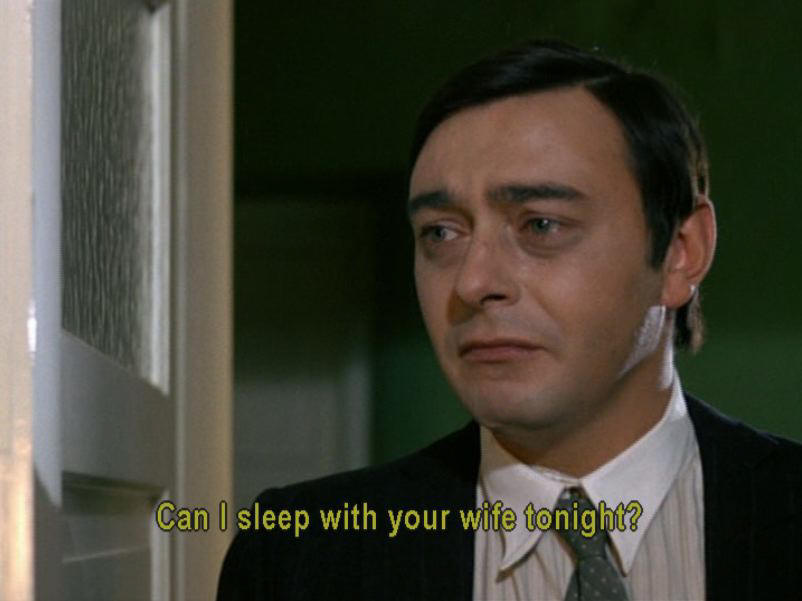 Satan's Brew (1976)
It was about this time, eight years and thirty films into his career, that Fassbinder was starting to get famous, and he liked it. His final pictures (two significant titles aside) were more or less large, lavish productions of greater narrative and historical scope. He launched the offensive with Despair in 1977, his first international, English-language production, featuring a Tom Stoppard script from the Nabokov novel, and Dirk Bogarde in the lead. It's an intricate film, but hard to describe as a success. The follow-up was a hit, however. Fassbinder didn't even want to make it, and outraged everyone with his drug-habit, and systematic humiliation of long-time producer Michael Fengler, but The Marriage of Maria Braun (1978) sealed his reputation as a world-class director. After five years of banishment, Schygulla was wooed back to give an iconic lead performance. The film is hers, as the war widow of a one-night stand, who learns to fend for herself in the new socio-economic climate, before the emotional pressure-cooker explodes.
The Marriage of Maria Braun (1978)
The Marriage of Maria Braun plays at the Egyptian with Petra von Kant on Saturday, June 2. The remainder of Fassbinder's BRD Trilogy, Lola and Veronika Voss (both 1981) are also playing at the Egyptian, on the following Saturday, June 9. Again, an old-school, starry female role is at the center of a piercing look at Germany's post-war climate (as the Bundesrepublik Deutschland) . Neither actress has Schygulla's wattage, but Barbara Sukowa and Rosel Zech in the respective title roles are both intriguingly queer fish, and filmed for maximum luminosity. Lola is a close relative of the Blue Angel prototype, her inamorata here played with unsettlingly banal evil by Armin Mueller-Stahl, beneficiary of the economic miracle, and deeply embroiled in civic corruption. Voss on the other hand, is an ageing war-time movie star, now hopelessly in thrall to the nefarious doctor who controls her drug supply. Both films are shot in Fassbinder's new, sumptuous style, the lavish sets and glittering lights as headily gilded cages for protagonists imprisoned by the selfishness of others, by the constraints of society, and by their own weaknesses.
Veronika Voss (1981)
Veronika Voss is shot in alternately clinical and noirish black and white, a medium to which Fassbinder periodically returned. He had also used it for a mid-career anomaly, Effi Briest (1974), which plays unaccompanied at the Aero on Sunday, June 3. With Fontane's masterful novel, Fassbinder set out just to film the book, and was strikingly successful, in part because the thematic concerns align so closely with his own. Fontane wrote a sort of sardonic alternative to "Mme Bovary", wherein Effi doesn't actually have an affair, and her individuality is swiftly quashed by the inviolable structures of late nineteenth-century family and society. Schygulla is mesmerizing once again in the lead, amid beautiful period design, understandably in a tizz over Ulli Lommel.
This wonderful series was put together by Cinematheque programmer Beth Hanna, who explains that it had been on the cards for a couple of years, but that until now had been unfeasible. One reason that Fassbinder's films have been scarce in the theaters is that most of the material, including the English-subtitled prints, is administered from a single source, the Fassbinder Foundation, run by his widow and mother, with occasional controversy. They do a fine job as custodians, and given Fassbinder's rambunctious business habits, it can't be easy; but the rental rates are high, too much so for a (highly-deserving) non-profit like the Cinematheque. These sixteen prints, however, recently became available in the US. It may be that this was because the reels were labeled to be of middling to worse quality; on checking the prints, therefore, Hanna and her colleagues were amazed to find that most of the material to be shown is in gorgeous condition.
A Little Chaos (1967)
This is an unmissable series. Co-presenting is the Goethe Institut, who are rumoured to be screening on their own premises the recent documentary on El Hedi ben Salem, Ali im Paradies – My Name is not Ali (Viola Shafik, 2011). This will be fascinating, not least for his intense (and murderous) love affair with Fassbinder. But Salem is just one of the family: mention should also be made of Peer Raben, whose wonderful music graced almost every single film Fassbinder made; and aside from the stars, there are countless supporting players whom it's a pleasure to see again and again, from misused, hatchet-faced Irm Herrman, to slatternly Barbara Valentin and lovely Ingrid Caven, post-Peeping Tom Karlheinz Böhm, and Fassbinder's own mother, Lilo Pempeit. Come and get to know them all.
Cruelly, Madly, Deeply: The Films of Rainer Werner Fassbinder is presented by the American Cinematheque at the Egyptian and Aero Theaters, May 31 – June 14. Tickets may be purchased for the event at the American Cinematheque website, in-person at the box office, or online via Fandango.com.
Film Review, Tom von Logue Newth, 2012, Classic Films, Foreign Film, Retrospective, Film Preservation, Events, American Cinematheque, Auteur Focus