Synopsis: The ultimate X-Men ensemble fights a war for the survival of the species across two time periods in
X-Men: Days of Future Past. The beloved characters from the original X-Men film trilogy join forces with their younger selves from the past, X-Men: First Class,"" in order to change a major historical event and fight in an epic battle that could save our future.
Release Date: May 23, 2014     MPAA Rating: PG-13
Genre(s): Action, Fantasy
Film Review

Time travel isn't easy.
The perils of a time travel film can oftentimes lead to disaster right out of the gate, as screenwriters try helplessly to balance a growing number of paradoxes before everything eventually falls apart at the seams. X-Men: Days of Future Past seems well aware of those perils and embraces the challenge, knowing full well that, as a comic book movie, there will be a generous amount of leeway given.
Without giving too much away, X-Men: Days of Future Past's story paints a dire future for Bryan Singer's X-Men, led by Professor Charles Xavier (Patrick Stewart). After years of conflict between mutants and humans, and mutants and mutants, the whole of civilization is on the brink of extinction. Giant Sentinels are hunting the last members of the X-Men, and while the group has found success in running, they realize the futility of their actions. But, there exists one last ditch effort that could save the X-Men: send Wolverine's (Hugh Jackman) consciousness back in time to the year 1973 so he can stop a specific event from taking place. And so, as Wolverine heads back in time he also bridges the gap between the former X-Men franchise, and the current X-Men: First Class franchise. Now in the past, Wolverine must reunite with the younger versions of Xavier (James McAvoy) and Magneto (Michael Fassbender) to try to rewrite the future.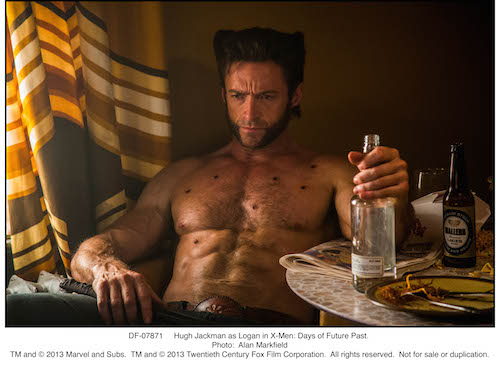 While many will be sold on the opportunity of revisiting the original X-Men film's cast of characters, it's important to note that, first and foremost, X-Men: Days of Future Past is a follow-up to the X-Men: First Class storyline. Sure, it uses time travel to unite those two franchises, and has some truly great moments for fans of the entire brand, but the film's core is still McAvoy's Xavier, Fassbender's Magneto, and Jennifer Lawrence as Mystique – with a little of Jackman's Wolverine thrown in for good measure. In fact, you could argue that Mystique is the main character of X-Men: Days of Future Past, as Lawrence's character not only has the biggest arc in the film but gets to kick the most ass.
From a story perspective, X-Men: Days of Future Past is the most mature of any of the X-Men films. Simon Kinberg's script finds a nice balance between highlighting the extraordinary qualities of these familiar characters and using them to comment on familiar issues. It's also not afraid to let these characters have a little fun on-screen either, embracing the same sense of humor established in prior films. But most of all, the story in X-Men: Days of Future Past is deeply engaging, both for its ramifications for the future versions of X-Men characters, and also as an expansion of the storylines explored in X-Men: First Class. In other words, if you were hoping for a film that falls in line with and then builds on the tone and action of X-Men: First Class, you will feel right at home with this sequel.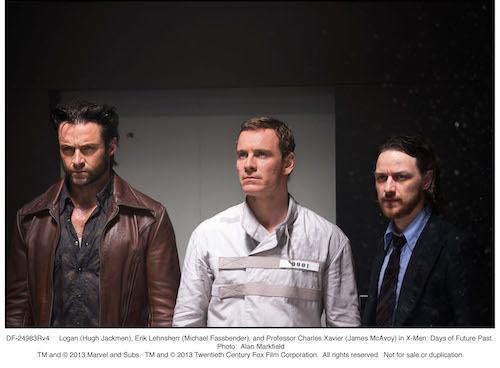 Although balancing an ensemble cast and a wealth of differing expectations must have been an almost insurmountable task for director Bryan Singer, he somehow pulls it off. His choice of a time travel storyline – based on an iconic arc from the X-Men comics – does result in a few unanswered questions and logical leaps in continuity, but as an X-Men adventure, Days of Future Past hits all the right notes. A stellar cast, a great story, and thrilling action have been the foundation of every good X-Men film, and that is once again true here. What makes the film stand above some of its predecessors, however, is its ability to tell an engaging story that works on its own, and then tie that into the larger universe. X-Men: Days of Future Past successfully unites both franchises in what is sure to become a fan favorite for the entire brand.

With a cast that includes Jennifer Lawrence, Michael Fassbender, Hugh Jackman, and James McAvoy, it's almost a given that X-Men: Days of Future Past would shine in the acting category. There's a comfortability here, with each actor settling into their respective roles and fleshing out their characters on a deeper level. But while Fassbender and McAvoy are great at Magneto and Xavier, the real star here is Jennifer Lawrence. She not only serves as the emotional center of the film, but she has some of the best fight scenes.
Even the smaller role players, like Patrick Stewart and Ian McKellen as the older Professor X and Magneto, respectively, find room to bring gravitas to what are largely bit parts. All around, X-Men: Days of Future Past boasts an extremely talented cast who can make even dialogue-heavy scenes exciting.

While X-Men: Days of Future Past might not offer the best X-Men action, it still packs plenty of impressive moments. From the big set pieces in the future, which feature plenty of ultra slick CG trickery, to Mystique's more intimate fight sequences, X-Men: Days of Future Past knows when to rein it in and when to give audiences their "WOW" moment. The film's action also smartly finds the right balance, tonally – giving its characters plenty of room to shine, and letting them have fun when appropriate. Of particular note is a sequence featuring the fast-moving mutant Quicksilver that not only impresses from a technical perspective, but also highlights the character's fun-loving personality.
More importantly, X-Men: Days of Future Past's action works because it is an extension of its story. Obligation never enters into the equation when it comes to the film's set pieces. These are sequences that always feel essential, and with a 2-hour film boasting a dozen or so major characters that's an accomplishment in and of itself.
Cast and Crew
Director(s): Bryan Singer
Producer(s):
Screenwriter(s): Simon Kinberg
Story: 
Cast: Hugh Jackman (Logan/Wolverine)James McAvoy (Charles Xavier)Michael Fassbender (Erik Lehnsherr) Jennifer Lawrence (Raven/Mystique)Halle Berry (Storm)Nicholas Hoult (Hank/Beast)Anna Paquin (Rogue)Ellen Page (Kitty Pryde)Peter Dinklage (Dr. Bolivar Trask)
Editor(s):
Cinematographer: Newton Thomas Sigel
Production Designer(s):
Costume Designer: 
Casting Director(s): 
Music Score: John Ottman
Music Performed By: 
Country Of Origin: USA