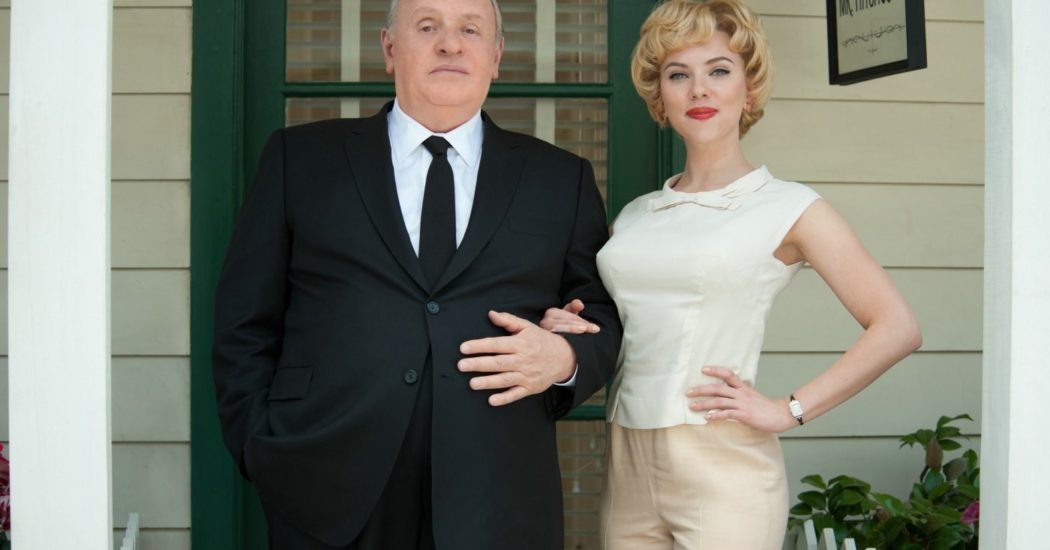 'Hitchcock' Review
A good look into the relationship between Alfred Hitchcock and his wife Alma Reville during the making of 'Psycho.'
Release Date: November 23, 2012
HITCHCOCK is a love story about one of the most influential filmmakers of the last century, Alfred Hitchcock and his wife and partner Alma Reville. The film takes place during the making of Hitchcock's seminal movie Psycho.
| | |
| --- | --- |
| Director | |
| Screenwriter | |
| Cast | |
|   | |
|   | |
|   | |
|   | |
|   | |
|   | |
|   | |
| Editor | |
| Cinematographer | |
| Music Score | |

The master of suspense, Mr. Alfred Hitchcock, was a tad bit cooky, a mad genius, in a creative way, and as any highly talented man in history there was a woman in the shadows to help him. In Hitch's case (call him Hitch, forget the cock), it was his wife Alma. Hitchcocktells two parts of Hitch's story while making the movie Psycho, the hard road to get the picture made and the marital woes he experienced with Alma during production. The latter is not as strong of a story, even if it shows the immense bond between Alma and Hitch and how she took care of him professionally and personally. Hitchcock was a creative genius, and it was Alma who assisted him in realizing his creativity. In Hitchcock their relationship falls quickly to the wayside, a storyline that is neither wholly interesting or full of any bit of suspense or mystery. The real fun in Hitchcock is taking a peak inside the man's head, and the uphill battle he took to get one of his most famous and inventive pictures made, Psycho(1960).
Hitchcock opens at the farmhouse of Ed Gein in 1944, the serial murderer who had Mommy issues, to say the least, and who was the inspiration for Anthony Perkins' Norman Bates in Psycho. With a teacup in hand, as is proper for Mr. Hitchcock, he addresses the audience about the scene that has just taken place between Ed Gein and an unlucky friend; Hitch states "we wouldn't have our little movie would we?", had it not been for the unfortunate series of events in Ed Gein's life, and those who came in contact with him. The film version of Psycho was loosely based on Gein's life, and the chronicling of it in the book of the same name, "Psycho
" by Robert Bloch. 
After the disastrous reception to Vertigo and the praise for North by Northwest, Hitch was on the lookout for his next project, and it had to be great–something that would shake things up being that he was 60 years old and as the film comments early on…perhaps looking at retirement? The novel "Psycho" was just the type of thing Hitch was looking for, but Paramount, whom he owed one more movie for under contract, was not enthused by the idea of a horror movie of this sort. The solution it would seem, and a decision made by Alma and Hitch, was to finance the film themselves, all $800,000 dollars of it, and solely strike a deal with Paramount to distribute it–with Hitch having final cut, of course. Thus begins the independent filmmaking story of the making of Psycho, and what will inevitably be the engrossing part of the movie Hitchcock.
The story behind the making of Psycho is fascinating for a movie buff, and perhaps not so much for a typical moviegoer. Alfred Hitchcock is a legend, an enigma unto himself as common in his pictures, and anyone obsessed with movies inevitably has an obsession with Mr. Hitchcock, some greater than others to be fair. Without him we would never have had the Auteur theory as written by Andrew Sarris from the ideas in film theory and criticism of the Cahiers du cinéma; and, let's face it, some of the greatest suspense filled movies ever made. Hitchcock was a man of many devices, who did not entirely exist in a normal state of being as concocted by others. Hitchcock manages to show his quirks, his offbeat sense of humor, and his deep insecurities incredibly well. Even the hallucinations and nightmares involving Hitch and Ed Gein discussing matters, as much as they break up the narrative quite often and feel nearly ridiculous, somehow manage to work overall because they shed light on the internal workings of the mind of a genius.
His obsession with his leading ladies, and anger over the ones who deny him his libations, bring laughter to a Hitchcock scholar–to the rest of the viewing audience the jokes may easily get lost. A simple thing to know is that Hitchcock loved blondes, fixated on them, and his leading ladies (whom were nearly all blondes) became more than just actors playing a part for him. Hitchcock dives into his ways with the leading ladies and also shows Alma's reaction–and that is nothing to be shocked about, just typical jealousy and melodramatics. Again, the addition of Alma in the picture as a problematic wife goes sour on the viewer. Now Hitch is a character to follow along, witness and learn from, and for the obsessive fan revel in the delight of seeing Anthony Hopkins bring to life one of the greatest filmmakers that ever lived.
With Hitchcock you get a fun jaunt of a movie. The personality of Alfred Hitchcock sells the entire film, as does the look inside how a movie like Psycho was made and marketed, and how it changed film distribution forever–no rolling starts for the movie, everyone must see it from the beginning. Not to mention you get to see how the shower scene was filmed, and how editing and music played a key role in creating the horror the movie possesses. While the marital woes portion of the film is tiresome, and comes off as more of a nag than anything else–it also throws in a will-she-or-won't-she dilemma for Alma that, if you really look at it, was never a question to be begin with, yet another let down for that storyline–you can survive through it knowing that soon enough you will be experiencing life on the set of Psycho again, and a Mummy in the dressing room.
Based on the book "Alfred Hitchcock and the Making of Psycho" by Stephen Rebello, Hitchcock is a conundrum of sorts when it comes to its story. Part romance, partly a look into the making of one of Hitchcock's most famous films, Psycho, it attempts to layer the two together in order to show the personal and professional life of the man behind the camera. The interest is there, in both Hitch and his wife Alma's story of their home life and how she was an integral part of his work, but the greater interest lies in the making of his horror masterpiece Psycho. This is the unfortunate consequence of making a film about Alfred Hitchcock making movies, you, as a viewer, want to know more about how the decisions were made to cut the shower scene perfectly, cast the leading ladies, and work around the production code sensors. Not to mention the fascination over Hitch's obsession with his leading ladies, in this case Janet Leigh and his tempestuous relationship with Vera Miles.
Alma was, to her and the script's credit, an integral part in the making of Psycho but that isn't what the film focuses on with her character, at least not entirely nor nearly enough. Alma is forced to be seen through Hitch's jealousy over her relationship with screenwriter Whitfield Cook (Danny Huston) and possible affair, of which teeters on boredom for the viewer; caring about whether Alma will in fact have an affair is of little consequence. The majority of the second act is devoted to Hitch and Alma's marital woes, resulting in a severe slack in the plot. Getting back to the making of Psycho is what one desires to experience, not the melodramatic beats the script forces on its viewer. Luckily the film redeems itself in the third act, showcasing a rousing good time of finding out how Hitchcock was able to salvage Psycho, turning it into the cinematic masterpiece it became. Watching Alfred Hitchcock rejoice at the first audience's reaction to the film is hilarious, as is the sly marketing campaign created for the film–a first for a movie during this era and a perfect hook to grab the viewer's attention. The rest is all history of course, as everyone knows that Psycho was and is an unforgettable film the first time around–even the 65th as well.
It is understandable that screenwriter John J. McLaughlin wanted to create a story about Alfred Hitchcock that showed the influence of his home life on his work, and vice versa. Hitchcock does manage to display the independent filmmaking choices he had to make to get the film produced, the strong impact it had on his personal psyche and his marriage with Alma, as well as his obsessive nature with his leading ladies. The disinterest in his marital problems with Alma is the only weak link in the script, albeit a large one, and that is simply because Alma is not a fully fleshed out and interesting character. She is, to be quite blunt, no match for the man himself on screen. Had Alma been given a greater presence, aside from being a jealous wife and under appreciated, and uncredited, work partner it would have made for a stronger story overall with Hitchcock. But you take what you get with the movie, and when it comes to Alfred Hitchcock, Hitchcock plays up his quirks, twisted genius, or madness, with great prowess. Hitchcock is a fun movie to watch, because Hitchcock was a great character all in himself; sometimes that is all you need.

All eyes are on Anthony Hopkins in Hitchcock. He has the stature of the man down, the tilting back when he stands so his rotund stomach stuck out a tad too far. The way he held his teacup or drank his liquor down in one gulp, as best to not get caught by Alma and be quick about it. He also manages the dry witty humor, and the piercing glare. Not to mention the mood swings and creative pits and falls. But the one thing that has to be mastered to pull off the role of Alfred Hitchcock is the voice, the voice millions of people have heard introduce "Alfred Hitchcock Presents" for tens of years. Antony Hopkins nearly nails it, to the point that you easily accept him as Alfred Hitchcock early on in the film and forgive the moments when he slips back into Hopkins' voice for the briefest of moments. The make-up helped transform Hopkins face into Hitchcock but it is the voice and mannerisms that sell the picture, and the performance–well done Mr. Hopkins, well done indeed.
The other main character is Alma, played by Helen Mirren. Without much to go on as to what Alma was like, besides that she always wore large glasses, she was a character Mirren could create for an audience. All Helen Mirren seems to have done is to play Alma as Helen Mirren in [insert other Mirren movie character name here]. She is not impressive in her performance but merely as good as she always is in any movie. Helen Mirren is a talented actress and manages Alma very well but she does not break Alma out as a character to be remembered. Toni Collette as Hitchcock's very patient assistant Peggy is more exciting to watch than Alma during most scenes, perhaps because of the way she manages to express every word with her face.
The final two ladies of importance in Hitchcock are the leading ladies of Psycho, Janet Leigh (Scarlet Johannson) and Vera Miles (Jessica Biel). It is understandable if the casting of these two actresses immediately casts a damper on your wanting to see Hitchcock; they are not the most talented duo. But, and with great relief, Johansson and Biel are both very good in their roles. Biel is perfect as the bitchy Miles, who has a turbulent relationship with Hitch because of what happened with Vertigo years prior. As for Janet Leigh –the sweet Janet Leigh who carried candy in her car and was married to Tony Curtis at the time– Johansson portrays the sweet yet seductive actress easily. A great smile and an eagerness to please everyone comes naturally to Johansson in the character. Biel and Johansson manage to save the movie from disaster by not being complete disasters in their roles–you can't make a movie about the making of Psycho without having all of the right components in place, an Alfred Hitchcock, a Janet Leigh, and a Vera Miles, plus an effeminate Anthony Perkins, and James D'Arcy handles him just fine.