Synopsis: A struggling comedy writer, fresh off a breakup and in the midst of the worst year of his life, returns to Sacramento to care for his dying mother.
Release Date: September 9, 2016     MPAA Rating: PG-13
Genre(s): Drama,
Film Review

One of the most surprisingly funny movies to hit theaters last year was the festival darling Me and Earl and the Dying Girl, in which "Saturday Night Live" alum Molly Shannon played the mother of the titular girl who spends the entirety of the film dying of cancer. Now, it's Shannon's turn to face the deadly disease in Other People.
Other People is about a struggling television comedy writer named David (Jesse Plemons from Black Mass) who moves back in with his family in order to help care for his cancer-stricken mother, Joanne (Shannon). On top of taking care of his mom, David also has to deal with a failed television pilot, the recent break up with his longtime boyfriend, Paul (Zach Woods from "The Office"), and the disapproval of his homosexual lifestyle from his father, Norman (Bradley Whitford from The Cabin in the Woods). Between insecurities over his own life and having to keep it together for his mother's sake, cracks start to show in David's outer facade.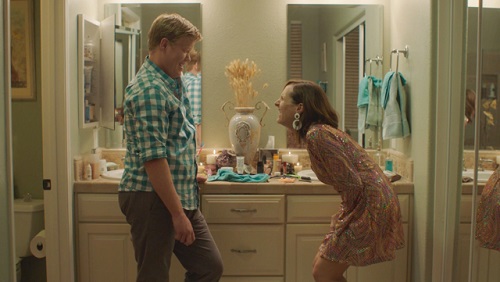 Other People is a very personal film for writer/director Chris Kelly, who cut his teeth writing for "The Onion News Network" and "Funny or Die" before landing a dream gig as a supervising writer on "Saturday Night Live." Kelly seems to have put a lot of himself in David; he's a comedy writer, he's homosexual, and he did, in fact, move in with his mother to take care of her when she was diagnosed with cancer. Any college professor will tell you to "write what you know," and that's exactly what Kelly did for his debut feature film.
That's why Other People is so raw and honest. There really isn't a whole lot of plot to the film, it's essentially the day-to-day activities of David as he fumbles his way through both his own life and his mother's. However, Other People is so genuine that it's bound to strike a chord with just about any viewer. You may not be thoroughly entertained by what's going on, but you can't help but like the characters, and you can't help but relate to the universal themes of love, loss, and the frustration that comes with both.
Thanks to some wonderful performances from Molly Shannon, Jesse Plemons, and Zach Woods, Other People is both heartwarming and heart-wrenching. It may make you laugh, it may make you cry, or it may do both. But, in the end, you'll definitely feel something.

Although it can't really be considered a comedy, the fact that it was written by a comedy writer means that Other People can't help but have some funny moments. Most of the humor is provided by secondary characters, like a supermarket clerk who offers to rent a DVD for David's mom, or a fast-food worker who David recognizes from his masturbation videos on the internet. There are also quite a few fun little word gags, such as when David passingly says to his long-time friend "I never realized your dad's name is actually Rod Stewart," to which the friend replies "yeah, it's been very hard for him." Of course, you can't have Molly Shannon in a movie without letting her do a little comedy; even playing a cancer patient, she finds time to be hilarious in the obligatory scene where she tries medicinal marijuana for the first time. And finally, there's a hysterical little twelve-year-old kid named Justin (J.J. Totah from "Glee") who steals every scene he's in with his flamboyantly humorous personality. Other People is hardly a comedy, but that doesn't mean that it doesn't have its share of laughs.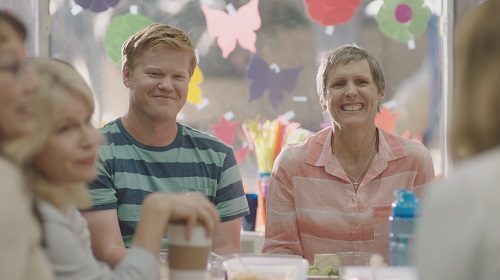 Cast and Crew
Director(s): Chris Kelly
Producer(s): Sam BisbeeAdam ScottNaomi Scott
Screenwriter(s): Chris Kelly
Story: 
Cast: Jesse Plemons (David)Molly Shannon (Joanne)Bradley Whitford (Norman) Maude Apatow (Alexandra)Retta (Nina)Zach Woods (Paul)June Squibb (Ruth-Anne)Kerri Kenney (Aunt Lynne)Paul Dooley (Ronnie)J.J. Totah (Justin)Madisen Beaty (Rebeccah)Alison Rich (Melanie)
Editor(s): Patrick Colman
Cinematographer: Brian Burgoyne
Production Designer(s):
Costume Designer: Kerry Hennessy
Casting Director(s): 
Music Score: Julian Wass
Music Performed By: 
Country Of Origin: USA