Hollywood lost yet another legend last week when special effects makeup guru Dick Smith passed away at the age of 92. Smith was behind the effects makeup of some of the most important films in cinematic history, including The Godfather (and The Godfather: Part II), The Exorcist, and Taxi Driver. Unlike many unsung makeup artists, Smith was highly recognized for his talent, winning an Academy Award for his work on Amadeus as well as receiving a lifetime achievement Oscar in 2011. In spite of all of his big-name credits, Smith still did plenty of small budget movies; he was behind the effects on horror classics like Ghost Story, Spasms, and The Sentinel. While balancing his time between Oscar bait films and schlock b-movies, Smith contributed one of the most jaw-dropping moments in horror history with his work on David Cronenberg's influential 1981 sci-fi thriller Scanners.
In the film, Scanners are people with special telepathic powers that enable them to affect and control the minds and bodies of other people. A government agency called ConSec, led by Dr. Paul Ruth (Patrick McGoohan from Escape from Alcatraz), tracks and studies scanners, but have lost contact with all of their subjects; a renegade named Darryl Revok (Michael Ironside from Visiting Hours) has been recruiting his fellow scanners to form a powerful army with which he plans to start a revolution and take over the world – those who refuse to join, he kills. Dr. Ruth stumbles across Cameron Vale (Steven Lack from Dead Ringers), a talented yet unrefined scanner whom he hopes can help stop Revok. Vale enlists the help of another one of Dr. Ruth's loyalists, a scanner named Kim Obrist (The Psychic's Jennifer O'Neill), in order to track and eradicate Revok, but in the end it will come down to Vale and Revok, with Vale hoping that his natural ability is strong enough to defeat his experienced and cunning foe.
Written and directed by David Cronenberg right between The Brood and Videodrome when he was at the height of his gory, splattery sci-fi phase, Scanners is one of those movies that, although everyone is familiar with a handful of the higher-profile scenes, not so many people can remember actually having seen the entire film. It's a trademark Cronenberg film, the clever combination of sci-fi and horror that typifies his early work. In many ways, the film doesn't hold up very well to a modern viewing; some of the acting is spotty, much of the dialogue feels waterlogged, the onscreen technology is comically outdated, and there are plot holes that test even a sci-fi fan's suspension of disbelief. However, Cronenberg's direction pulls it together remarkably well, and it's easy to see why Scanners helped put him on the map in the horror world, paving the way for the big Hollywood films that he would make later on in his career.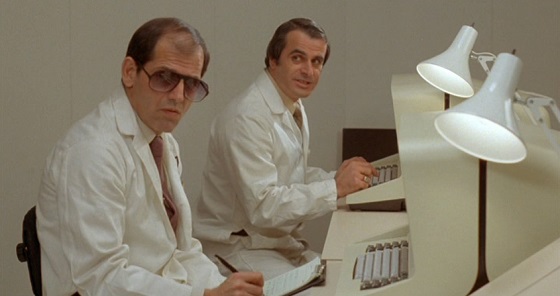 The most memorable scene in Scanners occurs towards the beginning of the film, and it is one that is well-known even to those who haven't seen the whole film. In it, a scanner is giving a public demonstration of his powers, and picks a member of the audience to scan. Not realizing that Revok is a scanner as well, the demonstrator picks him. As the man tries to read Revok's mind, Revok fights back and makes the man's head explode. The segment is legendary, combining the shock of the unexpected head explosion with the visceral thrill of the splattering brains. The resourceful Dick Smith pulled off the effect by filling a latex head with fake blood and guts and shooting it with a shotgun, causing the gore to fly everywhere. It seems like an overbearing solution, but it looks great on camera. It's a startling effect, and it has become the iconic image by which Scanners is instantly recognizable.
While it may be the most famous scene in the film, the head explosion is not Dick Smith's only work in Scanners. There are plenty of other fun special effects peppered throughout the film. The coolest scenes occur when the scanners are dueling with each other, their concentration so intense that high-pressured blood pulses through swollen veins that bulge out of the sides of their heads. The effect is another testament to Smith's ingenuity; it's done with simple latex and fluid pumps, and it looks like a much more complicated effect than it actually is. The final showdown between Vale and Revok sees Smith teaming up with special effects technician Gary Zeller (Dawn of the Dead, Amityville II: The Possession) to create a tense, electric battle of wills that rivals the head explosion scene as far as suspense and thrills go. Dick Smith's makeup effects and Gary Zeller's pyrotechnics combine to provide Scanners with an incendiary conclusion that is one of the coolest climactic fights in horror history and, the best part, it's all performed without any CGI.
The cinematography for Scanners was done by Mark Irwin (who went on to shoot Scream and the remake of The Blob), the director of photography who handled the splatter portion of David Cronenberg's career, up to and including The Fly. There's a distinct look to Cronenberg's early films; they are some of the most beautifully lit dark films ever made, and Irwin deserves much of the credit. Scanners is one of the best looking of them. Irwin has a good eye for what Cronenberg wants the audience to see; his camera uses creative framing and selective focus to show what's important, and it lets the viewer guess the rest. Scanners is definitely a Cronenberg film, and Mark Irwin's photography is a big part of it.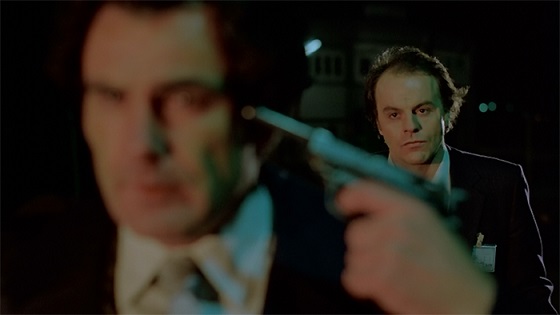 Another longtime Cronenberg associate, sound editor Peter Burgess (who also did other classic sci-fi/horror films like Rawhead Rex and Curtains), did the audio design for Scanners, and his work is remarkable. To illustrate the psychic bombardment that plagues inexperienced scanners, Burgess layers dozens of human voices together, both normal and backmasked, warped and filtered, in a confusing and overwhelming sonic tapestry, putting the viewer into the head of the person who is unconsciously reading too many minds at once. While the scanners are scanning, Burgess' sound design works hand-in-hand with the film's sporadic music, an electronic sounding score composed by Howard Shore (who not only has done most of Cronenberg's movies, but many of the films of David Fincher and Peter Jackson as well), creating a thick, synthesized soundtrack. The effect is both stirring and abrasive; it's not a wholly unpleasant sound, but it irritates in the same way that a car alarm does – it's pulsating, pounding, and just plain loud. Burgess' sound effects coupled with Shore's musical score make the soundtrack to Scanners an integral part of the film.
Dick Smith was a rare artist in Hollywood; he did the projects that he wanted to do, whether it was aging Marlon Brando for Coppola or creating splatter effects for the television show "Monsters." At the time of his death, he was retired, having not done a movie in several years, but his influence never left the industry; his legacy will continue to live on through his unforgettable work in films like Scanners.