Driving can be such a repetitive and menial chore – unless the driver happens to be in a horror film.  Because of the loneliness and isolation, long stretches of roadway make great settings for movies, whether the action takes place during the day or night.  From Steven Spielberg's Duel to Victor Salva's Jeepers Creepers, drivers are never safe as long as they're on the road.  This message was delivered loud and clear in a 1977 television movie called Night Terror.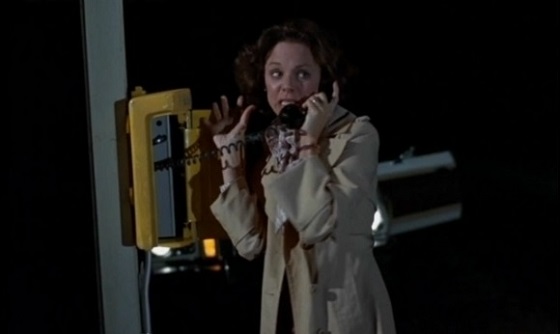 Night Terror begins in Phoenix, Arizona, where Carol Turney (television stalwart Valerie Harper from "Mary Tyler Moore" and "Rhoda") is preparing to move her family to Denver, Colorado.  The kids have flown to Denver ahead of time with Carol's sister, and Carol plans to drive to the new city with her husband, Walter (Michael Tolan from Presumed Innocent), once he returns from a business trip.  When Carol's son gets sick and has to have emergency surgery in Denver, Carol has trouble booking a flight and decides to drive instead.  Along the way, Carol runs low on fuel and stops to ask a police officer for directions to the nearest gas station.  Unfortunately, the cop has a car pulled over at the time and gets distracted by Carol, allowing the other driver to pull out a shotgun and kill him.  Carol flees, but The Killer (Richard Romanus from "Strike Force") follows her, knowing that he can't leave any witnesses to his crime.  As the night progresses, Carol and The Killer play a dangerous game of cat and mouse, but every time Carol thinks she has lost him, The Killer shows up in her rear-view mirror again.
Night Terror first aired on the NBC network in 1977, a year which also saw the release of another killer car movie, The Car.  Like Duel before it, The Car was a faceless entity, more machine than man, so Night Terror and its human killer has more in common with other road horror movies like The Hitcher or Breakdown.  Night Terror is the only writing credit for the team of Richard DeNeut and Carl Gabler, and the movie-of-the-week was directed by E.W. Swackhamer, a filmmaker with extensive television credits that included directing episodes of "The Outcasts" and "The Rookies."  For its time, Night Terror was a surprisingly scary offering, especially for a network television movie; its name would later be changed to Night Drive, but taking the terror out of the title didn't make the movie any less terrifying.
The performance of Valerie Harper as the damsel-in-distress Carol is the tentpole of Night Terror.  Although there's a substantial revolving door cast in the film, Harper is onscreen for a majority of the running time, and she proves that she's up for the task.  By 1977, Harper was already well known to viewers as the sassy Rhoda Morgenstern, but the actress also possessed a wholesome quality that made her relatable, so audiences really wanted to root for her.  Although Night Terror was Harper's first foray into horror, it wouldn't be the last; she would go on to star in the television thrillers Don't Go to Sleep and The People Across the Lake in between her stints on weekly network series.  Valerie Harper is a versatile actress, and one thing she does very well is look scared.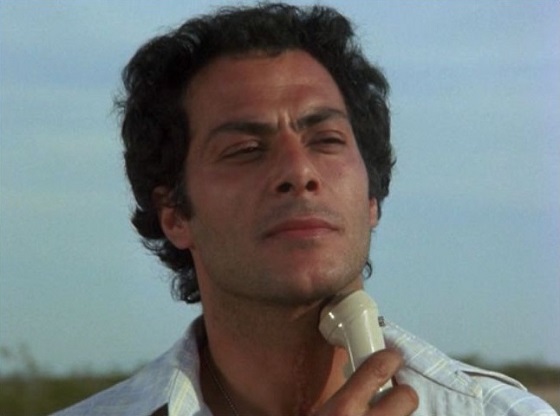 Of course, a good final girl is only as good as the psycho killer who is pursuing her, and Richard Romanus' portrayal of The Killer in Night Terror (referred to in the credits only as "The Killer") is suitably creepy.  There's not a whole lot of backstory devoted to the character of The Killer, so his motives for what he does are never really made clear aside from the fact that he's just a psychopath.  The Killer is mysterious and cunning, made even more enigmatic by the fact that he can only talk with the aid of an electrolarynx (like the thing that Ned uses on "South Park") that gives him a menacing robotic voice.  He doesn't use it all that much, though, preferring to remain silent and let his actions do the talking for him.  Romanus' Killer is just as charismatic as Rutger Hauer's John Ryder in The Hitcher, but Romanus uses far fewer words to get his eeriness across.  Richard Romanus never actually became a household name or anything like that (aside from being the big brother of Robert Romanus, better known as Damone from Fast Times at Ridgemont High), but he does a pretty good job of stalking Valerie Harper in Night Terror.
The cinematography for Night Terror was done by two directors of photography: Frank Beascoechea (Buck Rogers in the 25th Century) and Vilis Lapenieks (The Hellstrom Chronicle).  It's possible (even probable) that the load was divided up, with one man taking the chase scenes while the other did the dialogue, or one man shooting at night while the other shot the days, but credit is shared so it's unclear as to who shot what.  And that's a shame, because the film looks great, and each cinematographer should get proper respect for the work that he did.  The nighttime shots are particularly well done, with light coming from creative yet motivated sources such as headlights, street lamps, or dashboard illumination.  The car chase scenes are equally effective, with cameras set up in POV positions inside cars as well as outside the vehicles.  During both day and night, the film's photography takes full advantage of the beautiful stretches of isolated desert roads that run between Phoenix and Denver, giving the film a true sense of loneliness and desperation.  Whether Beascoechea and Lapenieks worked separately or as a team, one thing is for certain; Night Terror is a very well-shot television movie.
These days, cars are not seen as transportation devices for individual people, but as metal boxes that occupy space in between a driver and their destination.  This is why car chases are so frightening; one never knows who's behind the wheel of the other car.  Although it's hardly ever thought of as being on par with the great road horror movies, Night Terror deserves to be in the discussion, if not near the top of the list.