While William Castle may not be a household name outside of the horror genre, his films most certainly are. The director has been behind some of the most gimmicky and fun horror movies ever made, including House on Haunted Hill, 13 Ghosts and The Tingler
. Castle has often said that his personal favorite film of his own was the ghoulish 1961 tale Mr. Sardonicus, about a man with a strange affliction and the doctor who tries to help him.
Set in the nineteenth century, Mr. Sardonicus
stars Ronald Lewis (Scream of Fear) as Sir Robert Cargrave, a successful doctor who receives a desperate letter from an old lover, a woman known as Baroness Maude Sardonicus (Audrey Dalton from The Monster That Challenged the World
), who begs him to come to a small European country called Gorslava (don't search for it on a map; it's made up) to help her husband. Sir Robert makes the trek from London to be met at the train station by the Baron's servant, Krull (I Remember Mama's Oskar Homolka), who takes him the rest of the way to the house by carriage.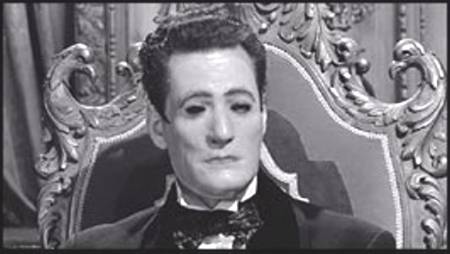 Once there, Robert is greeted by the sight of a woman with leeches all over her face. After saving the woman, Robert finally gets to see Maude and meet Baron Sardonicus (Guy Rolfe, who went on to horror fame as Andre Toulon in the Puppet Master
movies), a man who never takes off an expressionless face mask. The Baron tells his story to Robert; while trying to recover a winning lottery ticket from his dead father's grave, he caught a glimpse of the corpse's face, drawn into a death grin. The sight shocked him so badly that his face froze in the same grimace, and he has spent years covering his secret with the mask. After several failed experiments of his own (hence the leeches), the cruel Sardonicus blackmails Robert into helping him by saying that he will harm his wife, Maude – Robert's love – if he doesn't comply. Robert agrees, but even he is unsure if he can help the man, even with the high stakes.
Originally published as a novella in Playboy magazine, Mr. Sardonicus
was adapted to a screenplay by its original writer, Ray Russell. Thanks to the creepy story, expert direction and a standout performance by Guy Rolfe in the title role, Russell's script was turned into one of William Castle's most genuinely frightening productions.
As Baron Sardonicus, Guy Rolfe spends almost the entire film behind a plain, dull human mask. Even when the mask is removed and his face is revealed, the special effects makeup of the ear-to-ear smile does not allow him to move his mouth or chin.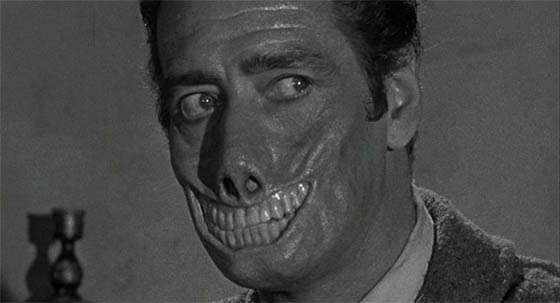 Without his facial expressions, Rolfe has to rely on his voice and mannerisms for his performance, and he rises to the challenge admirably. What most actors would see as a limitation, Rolfe embraces and uses the mystery behind his costuming to play the role as eerily as possible. Actors generally only have two things to work with – their appearance and their talent. Guy Rolfe takes a huge risk in giving up one of them, and, in doing so, creates one of the freakiest horror villains in history.
The most memorable scene in Mr. Sardonicus is easily the graveyard scene – a flashback remembrance where Sardonicus tells of how he came to see his father's deathly face. Castle and experienced cinematographer Burnett Guffey (From Here to Eternity
) knew exactly what to do to generate scares, and they execute it perfectly.
The dimly lit cemetery, the shadow of the digging man, and the final reveal of the corpse's face all build up to the sound of the Baron's terrified screaming and wailing. Sprinkle in a typically horrifying score by Castle's right-hand composer Von Dexter and the scene becomes the stuff of which nightmares are made.
As a filmmaker, William Castle loved gimmicks, from the "Percepto" seat buzzers that he dreamed up for The Tingler to his "Illusion-O" ghost viewers that he developed for 13 Ghosts. Mr. Sardonicus
was no exception, and Castle came up with the "Punishment Poll."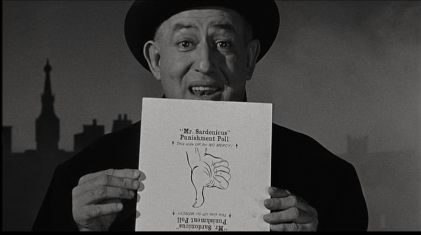 Audience members were given glow-in-the-dark cards with a picture of a hand on them when they entered the theater, and right before the final scene in the film Castle appears onscreen asking the audience to hold the cards up. He instructs the viewers to hold the card thumbs up if they thought Sardonicus had paid a great enough penalty or thumbs down if they thought he needed more of a reprimand. Castle must have been pretty confident that no audience would show his villain mercy, as a more lenient print of the film has never been found and Sardonicus took the heavier sentence at every showing.
Because of his love of low budget filmmaking and sensational gimmicks, William Castle is not taken as seriously as a director as he should be. Mr. Sardonicus
is proof that he can make a horrifying movie, but still throw in his gimmick, because he is, after all, William Castle.