Synopsis: In Colombia, a young surfer meets the woman of his dreams – and then he meets her uncle, Pablo Escobar.
Release Date: June 26, 2015     MPAA Rating: PG-13
Genre(s): Romance, Thriller
Film Review

Pablo Escobar was one of the most feared and respected drug kingpins in South America, if not the world. He was known as a cruel and ruthless killer, but he was, in fact, human as well. Escobar: Paradise Lost explores the human side of the monster.
Escobar: Paradise Lost is about a young Canadian man named Nick (Josh Hutcherson from The Hunger Games) who, while building a surf camp in Colombia, meets the girl of his dreams, a young local named Maria (Claudia Traisac from The 7th Day). When Nick meets Maria's family, he learns that her uncle is the notorious drug lord Pablo Escobar (Traffic's Benicio Del Toro). Because of his relationship with Escobar's niece, Nick becomes one of the kingpin's trusted associates. Nick figures out that he is in over his head when Uncle Pablo gives him an assignment for which he is not ready, but how do you say no to the leader of the biggest drug cartel in the world?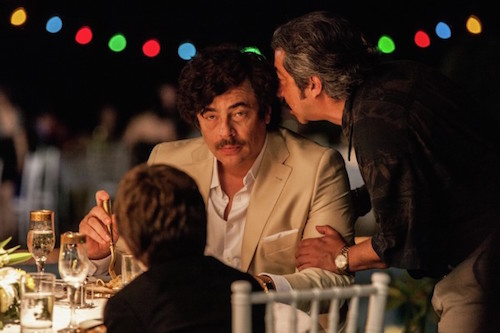 As far as biopics go, Escobar: Paradise Lost is an interesting one. Director Andrea Di Stefano (who is better known as an actor, with roles in Life of Pi and Eat Pray Love), who wrote the script with Francesca Marciano (I'm Not Scared, Don't Tell), chose to tell the story of real-life historical figure Pablo Escobar through the eyes of the fictional character Nick. This basically means that Pablo Escobar is not the main character in his own movie. Nick's side of the story isn't the brutal drug cartel movie that one would think it would be, it's more of a romance that gets sidetracked by a little illegal activity.
Maybe it's because the movie isn't completely Escobar's story, but Escobar: Paradise Lost isn't incredibly engaging. It starts off interestingly enough, with Pablo giving Nick his questionable mission, but then the timeline shifts around in a way that isn't so much confusing as it is annoying. The film has its share of intrigue, with double crosses and surprise twists falling into Nick's path frequently, but the whole thing starts getting a little long in the tooth around the 2/3rds mark. Sure, the audience feels sorry for Nick because of the terrible things that keep happening to him, but the violence and treachery is so white-washed that it just becomes boring. Maybe Escobar: Paradise Lost would have been a better movie if Pablo Escobar was in more of it?

Escobar: Paradise Lost is the story of Pablo Escobar and Nick, and both Benicio Del Toro and Josh Hutcherson turn in great performances. Del Toro plays Escobar in a unique way, bringing out the compassion and humanity in the man, yet still portraying him as a ruthless murderer. Hutcherson's Nick is the anti-Escobar, a wide-eyed kid from Canada who repeatedly wonders what he has gotten himself into as he's blinded by his love for Maria. When the two characters are onscreen together, there's real electricity; Del Toro's Escobar is sensitive to Nick's feelings, and Hutcherson's Nick is in turn affected by Escobar's attitudes and actions. The other actors in the film, like Claudia Traisac as Maria and Brady Corbet (Melancholia, Simon Killer) as Nick's brother, are hit-and-miss, but that's okay; Escobar: Paradise Lost is Del Toro and Hutcherson's movie, and they manage to carry it. It's almost a shame that a couple of masterful performances are wasted on such a mediocre movie.
Cast and Crew
Director(s): Andrea Di Stefano
Producer(s): Dimitri Rassam
Screenwriter(s): Andrea Di StefanoFrancesca Marciano
Story: 
Cast: Josh HutchersonBenicio Del ToroClaudia Traisac Brady CorbetCarlos BardemAna GirardotLaura LondoñoMicke Moreno
Editor(s): David Brenner
Cinematographer: Luis David Sansans
Production Designer(s):
Costume Designer: Marylin Fitoussi
Casting Director(s): Pascale BéraudAntonia DauphinYiniva Cardenas
Music Score: Max Richter
Music Performed By: 
Country Of Origin: FranceSpain