Synopsis: "Although hundreds of disturbing paranormal events occur every year, most of these chilling encounters go unreported – until now. Bear witness as hapless victims experience the unspeakable terror of confronting demonic forces, murderous poltergeists and other evil entities that are dead set on claiming their souls. Descend into an abyss of waking nightmares as these bloodthirsty, malevolent spirits seek to possess their prey and drag them-kicking and screaming-down to hell."
Release Date: October 6, 2015     MPAA Rating: PG-13
Genre(s): Horror,
Film Review

In the interest of full disclosure, before I get into a review of The Invoking 2, I have to admit that I've never seen the first The Invoking. However, after watching the sequel, it's pretty clear that it doesn't matter if you've seen the first one or not.
The Invoking 2 is a series of six short vignettes about supernatural and paranormal occurrences (the movie is actually subtitled Paranormal Events). First up is "U-Turn," about a late night driver who picks up a hitchhiker with predictably spooky results. Next is "Insane," the story of a county employee who is showing a filmmaker around an abandoned hospital that is supposedly haunted by the ghost of an old patient. "Alone" is about a young woman who is afraid to be alone in her apartment – and we soon learn why. This leads us to "Do Not Disturb," a tale of a murderer who is hiding out in a hotel room when he starts to receive notes slid under the door from someone who knows who he is. "Natal" introduces us to two young couples who venture out to a secluded lake home, and nothing good ever happens to young couples when they go to secluded lake homes. Finally, the movie wraps up with "Melissa," a segment about a teenage girl who sees a suspicious character on her lawn and places a phone call for help.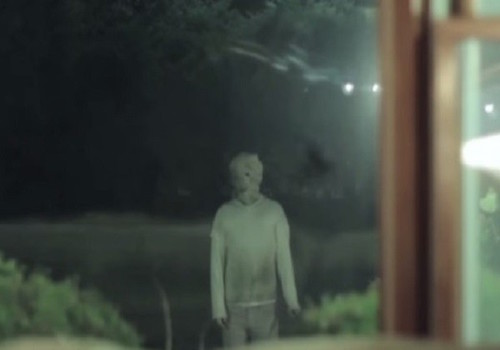 As with any anthology movie, the segments in The Invoking 2 are hit-and-miss. Unfortunately, there are more misses than hits here. The best story is the last, "Melissa," but it's much too short; it's literally over before it even gets rolling. The worst is "Natal," mostly because it feels unfinished, like there's more to the story than the filmmaker had time to tell (it also loses points for all of the bad emo-pop music contained therein). The technical quality of the different segments varies greatly as well; some look like student films, while others have more professional production values to them. It's a mixed bag.
Watching The Invoking 2 is a bit like attending a horror short film festival. In fact, I'm convinced that that's kind of what the movie is – just a compilation of otherwise unrelated short films – a conclusion that was solidified in my mind by the closing credits, which basically consist of the credits to each film chopped off of the end of each short and tacked all together onto the end of the assemblage. As far as anthology films go, the presentation of The Invoking 2 is lazy; there's no wraparound story that ties everything together aside from an opening title card that says that they are all "paranormal events," and the shorts just run one after the other with no pomp and circumstance. Which is cool if you just want to watch a bunch of short horror films, because that's what you'll get. But if you want a single cohesive anthology, The Invoking 2 isn't it.

The amount of scares provided by the different segments in The Invoking 2 varies just as greatly as their quality. While none of the shorts are going to give anyone any nightmares, many of them do have their moments. The scariest is "Melissa," partially because it's just plain scary and partially because of the shock of it being over so quickly. "Insane" provides some good scares as well, mostly due to the creepy mood that sets up the payoff. "Do Not Disturb" has more gross-out potential than actual scares, but "U-Turn" and "Alone" could both raise some goosebumps in the right environment. The least scary segment is "Natal," and that's solely because there's nothing there that hasn't been done before. The Invoking 2 isn't the most frightening compilation of horror shorts ever assembled, but there are some good scares hidden in there for those who look hard enough.
Cast and Crew
Director(s): Jamie DeWolfPatrick ReaJamie Root
Producer(s):
Screenwriter(s): Jesse Baget (Anthology Concept)Matt Medisch (Anthology Concept)
Story: 
Cast: Andrew FlemingJessica FratusChara Victoria Gannett Allen LowmanMeghan McNicolErik MoodyAndrew Sawyer
Editor(s): Corey Norman
Cinematographer: Ken Gonneville
Production Designer(s):
Costume Designer: 
Casting Director(s): 
Music Score: Richard DeCosta
Music Performed By: 
Country Of Origin: USA