I was recently at dinner with a couple who had been told I write about movies. It came as no surprise when they asked me, "What were the best movies you saw this year?" I hate that question, just as much as I hate when someone asks what my favorite film is, or what movie is the greatest ever made. If you're thinking that's an easy question to answer, it's Citizen Kane, I hope we never meet
FilmFracture's James Jay Edwards did an excellent job at picking 10 of the best films of 2015, and it got me thinking, "What could I contribute?" Well, I find myself unable to remember most of the films I watch, for various reasons. So what movies do I remember seeing in 2015, and why? I'm about to tell you.
Here are 10 movies I remember watching in 2015, in no specific order:
1. Creed
It's Sunday. You're flipping through the channels and come across Rocky; or Rocky IV. What do you do? The answer is obvious, you watch the movie, regardless of what point in the film you've stumbled into. Creed will make you do the same thing in ten years. It's that good. Not only does it bring back Rocky Balboa, with a performance by Sylvester Stallone that is remarkably heartbreaking, but it has the same spirit of the good Rocky movies.
It manages to re-create the hope, the charisma, the humor, and most of all the excitement these films did oh so long ago. Just when you think all hope is lost in Hollywood, a movie like Creed is released. The script is nearly perfect and the performances are superb. If you have not seen Creed, go to the cinema now. Everyone needs to experience this film.
2. Pixels
A 12-hour plane ride makes a person do crazy things, and I am not talking about the horrors found on Passenger Shaming. I am refferring to what you are willing to watch to keep yourself occupied as the hours tick by and you cannot sleep. For me, it was Pixels. I'm stil in shock that I chose to watch it, but I must admit it was not as terrible as I thought it would be. It was actually quite nostalgic for me, as I grew up playing many of the games featured in the film.
I enjoyed seeing Pac Man wreak havoc, Donkey Kong becoming larger than life, and even laughed on occasion at the manner in which the president, played by Kevin James, was mocked throughout. Do I think anyone should see Pixels? Not exactly. Do I stand behind what I have said before, that Adam Sandler needs to retire? Definitely. But on that plane ride, Pixels managed to entertain me…that's something.
3. Bridge of Spies
I owe Steven Spielberg a great big thank you for making Bridge of Spies. Not because it is any good, quite the opposite really, but because it put me to sleep. I have suffered from insomnia for as long as I can remember, and am always looking for a non-medicinal remedy. "Hannibal" always came through for me before. Now my go-to sleep aid is going to be Bridge of Spies. Within 20 mintes of watching the film I was out cold. Perfect! Spielberg, thank you for keeping me off of sleep medication, and for the dinosaurs–I never have thanked you for that, and I should.
4. Therapy For A Vampire
My biggest regret from the 2015 Edinburgh International Film Festival is that I neglected to write a review of Therapy for a Vampire. The film is, by far, one of the funniest movies I have ever seen. It is very much influenced by French cinema and executed perfectly with the style of humor us film lovers have come to expect from such. The story is about a vampire who visits Freud because he is having an existential crisis, while his wife is depressed because she cannot see her reflection, and a couple of young lovers are having troubles, too. It is a comedy, full of slapstick and banter that will have you giggling with mirth. I adore it and hope it finds distribution in the states.
5. The Intern
Why does writer/director Nancy Meyers hate woman? I don't think she always hated women but based on The Intern and It's Complicated I am convinced she does now. In It's Complicated, she created one of the most pathetic, weak, and morally bankrupt female characters, ever. In The Intern, it takes a man to get a woman to see that she can be a success; a daddy-figure to be exact. Because, of course, we all need our daddy's to help us make decisions because we can't do it ourselves. Seriously?
I would have been happier if Jules (Anne Hathaway) and senior-citizen Ben (Robert De Niro) dated. Then there is the husband. He has an affair and she forgives him as easily as one would a dog who ate their slipper. I ask again, why does Nancy Meyers hate woman? Why can she not develop a female character that is empowering? At what point when she is writing a script does she decide that she'll make her lead female character absolutely one whom all women will, and should, hate? Someone they will not want their daughters to aspire to be, nor take advice from? Nancy Meyers, you are a female writer/director who actually gets Big Studio money to make movies. Why are you wasting it? Better yet, why are they wasting it on you?
6. Dracula Untold
Hot damn, Dracula is back! Okay, Dracula has never really left movies, but it has been far too long since he appeared in one that is downright awesome. I did not see the film in a theatre, and that usually means I pause it, go do something else, come back a day later, maybe a week, maybe never. Not with Dracula Untold. I hit play and did not move until the credits rolled. I don't even think I spoke the entire time. It was that good. And it was bloody, just as a vampire flick should be. I've watched it four times since, and I think I may have to again later. All hail the Prince of Darkness.
7. Spotlight
I was in Rome, Italy, on Christmas morning. It only made sense then that I would go hear Pope Francis speak at the Vatican; his annual Christmas blessing is held in St. Peter's Square at noon. I went to hear his speech and then realized I had to balance out my day. What better way to do that than to watch a movie about uncovering sexual abuse by Catholic priests. Yeah, I'm a tad twisted, and I should also mention not at all religious. Don't tell my mother.
Spotlight was good, for a movie about a topic that has been beaten to death in the press. I expected greater things than what it provided, but that may be due to my knowing the story. For those who don't, it will definitely pack a greater punch. It's also a fantastic display of journalism, and so you should see it in order to fully appreciate what real journalists do, and the flaws in their story.
8. Mad Max: Fury Road
There were only four people in the theatre opening night when I went to see Mad Max: Fury Road. I was in Denmark, so maybe George Miller does not pack them in there. Or it could be that it was a Thursday evening at 6:00 pm and well, people have jobs. Regardless, I sat myself down and expected to be angry when the credits rolled. I have a tendency to clench my teeth during films and have a bitch-face that could rival the best. Especially during movies that are venturing into sacred territory. I consider the Mad Max trilogy to be sacred, as should you.
Mad Max: Fury Road actually made me smile. It's not a comedy, although there are comedic moments throughout. Oh no, I smiled because I was so damn happy about what I was watching. It was perfect. I'm still in awe at how Miller managed to keep the basic tone of Mad Max while modernizing it so it felt fresh and new. If I had to pick the best film of 2015, I'd pick Mad Max: Fury Road. It made me smile, and that is never easy.
9. The Martian
How dare you, Ridley Scott! I've never liked Matt Damon as an actor. There, I said it. But Scott is top of my list. I cannot put into words how his work has influenced me, or just made me so very happy.
Then he made The Martian one long f***king montage.
I may never forgive Scott for this movie, especially considering how fantastic the source material is, thanks to its author Andy Weir. The sequel to Prometheus may put Scott back on my good side…we'll see in 2017.
10. Jurassic World
I love dinosaurs. You can sit me in front of the TV with the worst dino movie on any station and I will watch it. I don't care, I just love dinosaurs in movies. Jurassic Park is one of my favorite films. I watch it all the time, and I even like the sequels–birds! When Jurassic World was announced I felt equally apprehensive and Christmas-morning excited. The sacred ground thing again. I saw it with a packed house opening day in Edinburgh, Scotland. You could feel the excitement in the air and the minute the score picked up cheers came from the audience. No joke; other people love dinosaurs just as much as me. Jurassic World did not disappoint.
It was fun, if not far from what I would have liked to see. I accepted the change in tone, the tongue-in-cheek style, and the complete disregard for continuity on many occasions. I just sat back and watched dinos wreak havoc at Disneyland. It's not really Disneyland, obviously, but it's the same idea. John Hammond, I would like to apologize on behalf of the studio for the blatant use of product placement and for turning your park into a sick capitalist venture. But the birds! Yes, the minute the birds started attacking people I knew no matter how hard I tried, I could never hate Jurassic World. And I don't. They seriously need a different costume designer for the sequel, though. I've been to Costa Rica, you don't dress that way there unless you enjoy punishment.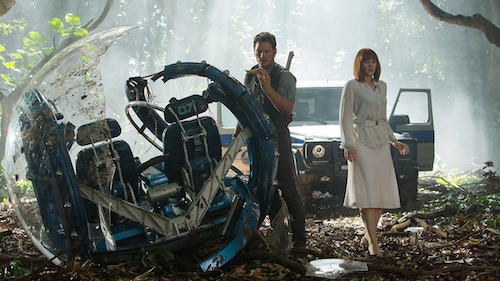 There you have it, the 10 films I remember watching in 2015. If I try hard enough I can think of a few others, but that was not the point. Until 2017, when I think back on what 2016 films my brain has refused to discard for other information.