What's in a name? Well, when it comes to horror movies, quite a bit. If you go too generic, you won't pique peoples' interest. If you're too specific, you risk giving away plot points or, worse, including inside jokes in your title. But let's face it; there are only so many good titles to go around, and some movies are going to end up with the same name, especially when that name is a very general term. For instance, there have been at least three different movies called Maniac over the last eighty years or so, not counting short films and reboots. Over the next few weeks, Cinema Fearité will take a look at the three most popular ones, starting with the earliest: a 1934 exploitation film called, of course, Maniac.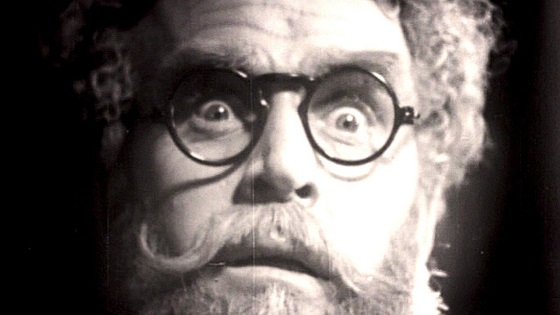 Maniac is about a mad scientist named Dr. Meirschultz (Horace B. Carpenter from Ghost House and The Ghost Breaker) who is working on a serum that will bring the dead back to life. Meirschultz plans to have his assistant, an ex-vaudeville actor named Don Maxwell (Marihuana's Bill Woods), impersonate a coroner so that they can steal a freshly dead corpse on which to perform their experiment. When the plan fails, Meirschultz comes up with another idea; he asks Maxwell to kill himself so that he can bring him back. Maxwell refuses, and when Meirschultz fights with him, the doctor is accidentally killed. Maxwell decides to cut his hair, attach a fake beard, and don Meirschultz's glasses to impersonate the man in an attempt to cover up the murder. With the doctor's body sealed up within the walls of the basement below, Maxwell goes about treating Meirschultz's patients, with predictably horrifying results.
Also released under the name Sex Maniac, Maniac was directed by Dwain Esper and written by his wife, Hildegarde Stadie. Together, Esper and Stadie made a handful of exploitation movies in the thirties with names like Narcotic and Sex Madness that, indicative of their time period, were passed off as educational films. Maniac is one of these quick and dirty flicks. Esper became known as kind of the pre-Ed Wood king of bad filmmaking, so the production values on Maniac are a bit dubious, but the movie stands as an often hilarious, and sometimes chilling, time capsule of non-Universal Studios 1930s horror.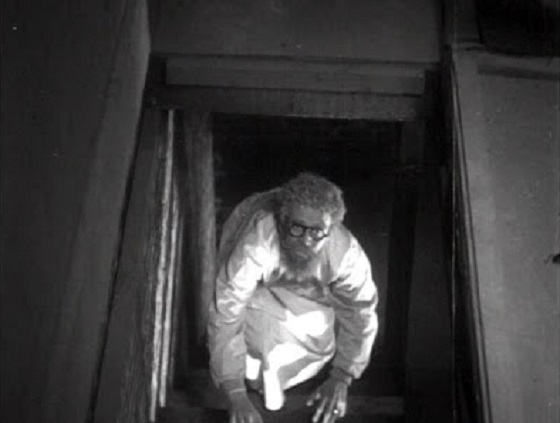 The promotional poster for Maniac proudly proclaims that it is "based on a story by Edgar Allan Poe." Indeed, it is a loose retelling of Poe's The Black Cat, but the similarities to the short story are confined to a subplot (the holing up of the corpse in the basement walls) while the bulk of the movie plays out as its own unique narrative. Aside from a cursory wink-wink mention of "The Murders in the Rue Morgue," the walled-in corpse is the only real Poe to be found in Maniac.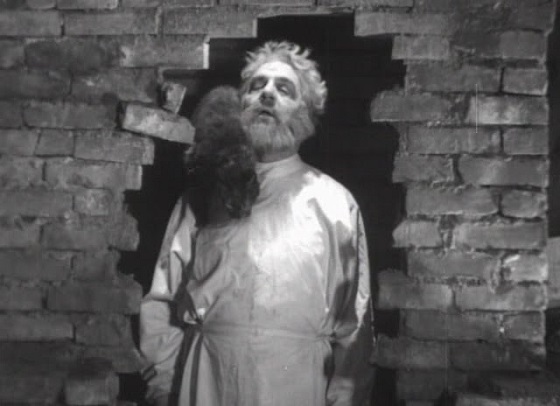 There is a scene in Maniac that includes the titular Black Cat from the Poe story that, until one knows the backstory, is horrifying to watch. As Meirschultz, Maxwell grabs the cat and squeezes its head until an eye pops out. The cat that was used actually only had one eye, and a glass prop was used for the popping effect – no cat was harmed during the making of the film. The knowledge of the simple visual effect process turns a scene of despicable feline cruelty into a laughably executed farce.
Because it pretends to be an educational film, Maniac opens with a cautionary warning about fear and psychosis from one Dr. Wm. S. Sadler, Director of the Chicago Institute of Research and Diagnosis. The lengthy diatribe claims that "Fear is a psychic disease which is highly contagious and extraordinarily infectious." The prelude goes on to tell about a survey that was conducted on 40,000 convicted criminals found that they all suffered from some form of mental disease – not some, but all of them! The narrative starts there, but every act break returns to the lecture series by showing and defining a different psychological disorder term, words like DEMENTIA PRAECOX, APARESIS, PARANOIAC, and MANIC DEPRESSIVE PSYCHOSES – of course, all in CAPITAL LETTERS! It may seem silly and campy by today's standards, but this was just a couple of years before Reefer Madness, and the public took these movies seriously in their day. That's the scariest thing about Maniac – the fact that anyone could believe it was a docudrama.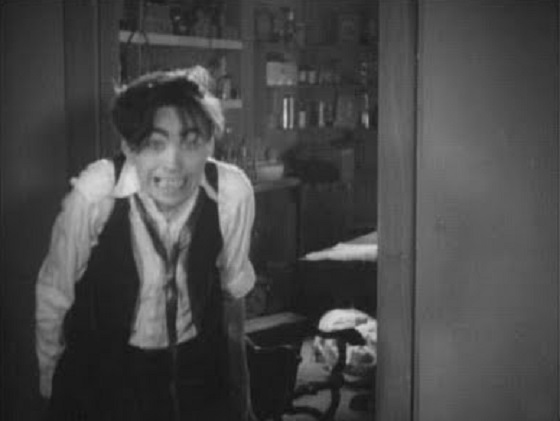 The acting in Maniac is awesomely over-the-top. The film was made at the tail end of the transition from silent movies to talkies, and the actor's mannerisms reflect that. Bill Woods' Maxwell is a great madman, and mad he does go, shouting and screaming his plans to the empty room every chance he gets. One of Dr. Meirschultz's patients whom Maxwell treats, a man named Buckley (the only screen credit for Ted Edwards) who is mistakenly injected with the re-animation serum while alive, goes absolutely insane, laughing and carrying on like only a crazy man would. In another scene, a group of women, one being Maxwell's ex-wife, are standing around talking, and their conversation manifests itself in physical gags as well. The girls dance and exercise while they talk in awkward attempts to give their bodies something to do as their voices converse. The overacting of the cast does not help Maniac shed its corny exploitative shell.
The technical aspects are exploitative as well, but they're a bit easier to look at. The film was shot by cinematographer William C. Thompson (who would end up becoming one of Ed Wood's guys, with credits that include Plan 9 from Outer Space and Night of the Ghouls) in a way that is a textbook example of film school scene construction. Every scene is captured in a master shot which basically shows the entire conversation or encounter in one wide take. Inserts are then spliced in, sometimes a little awkwardly, by editor William Austen (The Bat, Panic in Year Zero!) to break up the monotony. When Maxwell's madness really starts unfolding, Esper and Austen overlay and fade in spooky occult scenes from a couple of older silent foreign films (Häxan: Withcraft Through the Ages and Die Nibelengen: Siegfried for those who are keeping track at home) that illustrate the devil inside that is taking over the leading man's mind. Even if the film falls short in other areas, the technical elements of Maniac are creative and well done.
As we'll see over the next few weeks, the name Maniac would go on to be used by more popular (and better made) movies in the decades that followed Dwain Esper's movie. But Esper's was made first, so we have profiled it first. Next week, Cinema Fearité will delve into the mind of a different kind of Maniac with Hammer Films' 1963 crime thriller. Until then, be afraid…be very afraid…