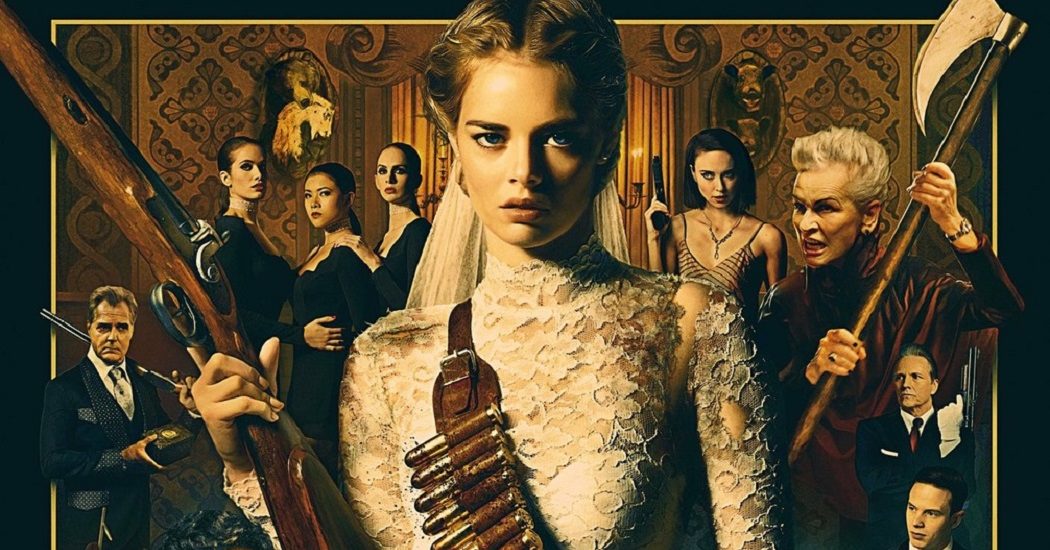 Ready or Not Review
Samara Weaving plays the game to win in 'Ready or Not.'
Release Date: August 21, 2019
A bride's wedding night takes a sinister turn when her eccentric new in-laws force her to take part in a terrifying game.
Director: Matt Bettinelli-Olpin, Tyler Gillett
Screenwriters: Guy Busick, R. Christopher Murphy
Producers: Bradley J. Fischer, William Sherak, James Vanderbilt, Tripp Vinson
Cast: Samara Weaving (Grace), Mark O'Brien (Alex), Adam Brody (Daniel), Andie MacDowell (Becky), Henry Czerny (Tony Le Domas), Melanie Scrofano (Emilie), Kristian Bruun (Fitch), Nicky Guadagni (Aunt Helene), Elyse Levesque (Charity), John Ralston (Stevens), Liam MacDonald (Georgie), Ethan Tavares (Gabe), Hanneke Talbot (Clara), Celine Tsai (Tina), Daniela Barbosa (Dora) 
Editor: Terel Gibson
Cinematographer: Brett Jutkiewicz
Production Designer: Andrew M. Stearn 
Casting Directors: John Buchan, Jason Knight, Yesi Ramirez
Music Score: Brian Tyler

Matt Bettinelli-Olpin and Tyler Gillett, two-thirds of the filmmaking collective Radio Silence, were given a raw deal with their feature film debut Devil's Due. Radio Silence was responsible for some of the more memorable segments of the anthologies V/H/S and Southbound, but Devil's Due suffered hard from a mediocre script. Well, Bettinelli and Gillett have bounced back with a vengeance. Their newest movie (with fellow Radio Silencer Chad Villella serving as executive producer), Ready or Not, is a blast.
Ready or Not is about a young woman named Grace (Mayhem's Samara Weaving) who, after growing up poor in foster homes, marries into a wealthy family. Immediately after the wedding, her new husband, Alex (Mark O'Brien from Bad Times at the El Royale), brings her to a strange ceremony with the rest of her new family. Grace is told that it is a family tradition that she picks a card, and everyone will play whatever game is named on the card.
Sounds simple enough, but things get dark when Grace pulls a card that says "Hide and Seek." She is told to hide for the night and avoid detection until morning. What she isn't told, or at least not immediately, is that the rest of the family will be hunting her down and trying to kill her. Some of the family, like matriarch Aunt Helene (Nicky Guadagni from Cube and Crash) and mother-in-law Becky (Groundhog Day's Andie MacDowell) are ruthless in their pursuits, but others, like brother-in-law Daniel (Adam Brody from Scream 4), seem like allies. Grace has to stay hidden until morning to survive the game.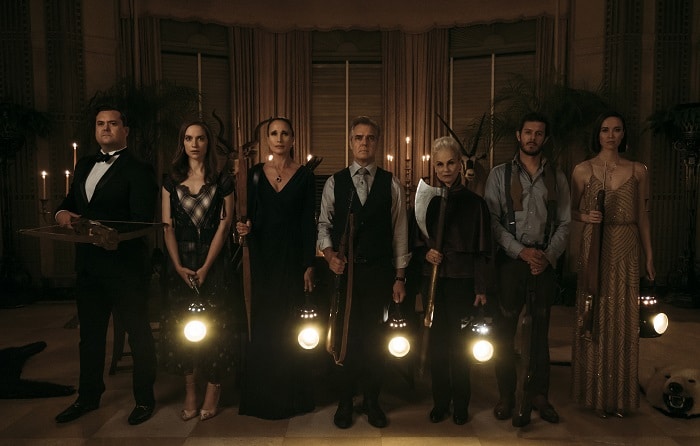 The screenplay for Ready or Not was penned by short film writer R. Christopher Murphy (The Mill at Calder's End) and television scribe Guy Busick ("Stan Against Evil," "Watch Over Me"). It's a slick and clever marriage (see what I did there?) between The Most Dangerous Game and You're Next, pitting a young and able newcomer against a group of fearsome (if sometime less-than-competent) killers. Sure, hunting the underdog is a story that we've all seen before, but Murphy and Busick provide enough unique twists and takes to keep it fresh. This allows Matt Bettinelli-Olpin and Tyler Gillett to lean into the tongue-in-cheek camp of the scenario and make a really fun movie.
There's an interesting tonal shift that happens in Ready or Not, and it happens almost before the movie itself begins. The expected Battle Royale­-esque violent sport tale immediately gives way to a more surreal, fantastical story of cunning and survival, sort of like a darkened version of Clue. Throughout the course of her high-stakes night, Grace encounters the different family members and their servants (all with different antique weapons), and while her panicked instinct is to fight, not all of them are entirely hostile towards her. And she's a good person who doesn't want to hurt anyone, so she's tasked with figuring out who she can and cannot trust, all within the blink of an eye. And Ready or Not is at its strongest when she's wrong.
In some ways, Ready or Not is exactly the movie it pretends to be, and in others, it's completely different. The plot and character arcs are always shifting and developing, so the viewer never quite knows what to expect. And that's the idea. Ready or Not is an unpredictable game that makes an even more unpredictable movie.

Ready or Not is surprisingly funny. The concept of the game lends itself perfectly to the sardonic wit that flows freely throughout the entire movie. Some of the family members are more gung-ho than others about their mission, and the less-experienced "killers" are the most humorous. For example, one in-law, a nervous, coked-up young lady named Emilie (Melanie Scrofano from Nurse 3d), is completely hapless, and as much as she wants to fit in with the family tradition, she has no killer instinct. She is, however, a complete klutz, which unexpectedly (and hysterically) gives her the highest kill count in the movie. The hilarious accidents coupled with some of the absurd turns that are taken in the third act makes Ready or Not a hilarious horror comedy.

There are very few genuine scares in Ready or Not. To its credit, the movie does not rely on cheap jump scares to get its point across, but the overall scariness of the movie suffers a little because of it. There are plenty of cringeworthy injuries and gruesome kills, and everything in the movie seems to end up covered in blood and viscera, so gore hounds will love it. And some parts of Grace's run from the family just drip with tension and suspense. But as far as true scares go, Ready or Not is lacking. It's still an extremely fun movie. It's just a bit light on the fright.