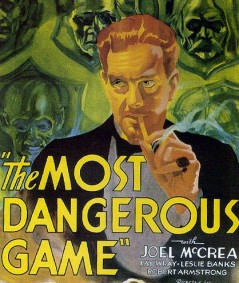 When RKO Pictures began production on King Kong in 1932, the always economical studio decided to double dip, using the same skull island set, much of the same crew and two of the lead actors to simultaneously shoot a smaller budget film based on a short story by Richard Connell called "The Most Dangerous Game"
. Costing less than $250,000 to make, The Most Dangerous Game
not only ended up having a bigger profit-to-cost percentage than King Kong
, but it also wound up being a horror classic, inspiring everything from an episode of "Gilligan's Island" to the upcoming film The Hunger Games and influencing both the sport of paintball and the Zodiac Killer.
The Most Dangerous Game begins with a famous big game hunter named Bob Rainsford (Foreign Correspondent's Joel McCrea) being shipwrecked on a tiny island. Bob finds out that the island is inhabited by its owner, another hunter named Count Zaroff (Leslie Banks from The Man Who Knew Too Much
), who is thrilled to have a respected fellow hunter such as Bob for a guest. Bob is shown to a room with a group of other castaways, including the lovely Eve Trowbridge and her brother Martin (Fay Wray and Robert Armstrong, both from King Kong).
Bob gets a bad feeling from Zaroff from the start, and when Martin disappears, he and Eve get suspicious. While snooping around, Bob and Eve enter Zaroff's trophy room, and are horrified by what they find there – Zaroff's "trophies" are human heads mounted on the wall. Zaroff bursts in and informs Bob that he purposely crashes ships on his island and plays a game with the survivors – hunting them like animals. If they can survive the night, Zaroff will let them go, but, as Zaroff emphasizes, he has never been beaten. Bob and Eve are then sent out, running into the night with Zaroff in pursuit, tracking and hunting them. The couple must evade Zaroff until dawn, or die trying.
King Kong screenwriter James Ashmore Creelman and director Ernest B. Schoedsack, along with non-Kong director Irving Pichel (Destination Moon
), adapted Connell's original story, added a female lead (because it was Hollywood and they had access to Fay Wray), and hastily shot The Most Dangerous Game during King Kong's downtime. Although The Most Dangerous Game looks like it was made quickly, that does not mean it is poorly done. To the contrary, the film is a textbook example of suspense, with both buildup and payoff expertly done. The well-written script and near-perfect performances from the cast cause the audience to forgive any technical misgivings and concentrate on the meat of the movie.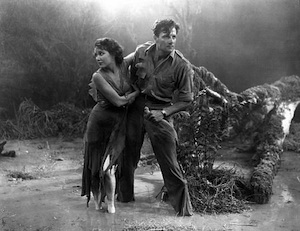 The Most Dangerous Game
was photographed by cinematographer Henry W. Gerrard (Of Human Bondage
), and it appears as though he had a lot of fun with the job. Gerrard uses long sweeping zooms that accentuate the eccentricity of Leslie Banks' Zaroff, and the effect is not quite B-Movie camp, but close. Banks overacts the part perfectly, and Gerrard captures the action, making Zaroff seem larger-than-life, and much more villainous. The hunt is shot similarly, the camera alternately switching between a tight shot on Zaroff's serious face as he trudges through the trees and a point-of-view shot with leaves smacking the lens. Banks' Zaroff is a very surreal character, and Gerrard's photography reinforces the quality. Gerrard makes Zaroff look exactly like the evil madman that he is.
The Most Dangerous Game also features a fantastic score by another King Kong moonlighter, the legendary Max Steiner (who scored, among hundreds of others, Casablanca
and Gone With the Wind). Steiner's score is both subtle and grand, and it goes hand-in-hand with Gerrard's camera work. The ambitious orchestral score builds and falls with the action, complimenting the rich visuals nicely.
While, at the time, it may have been simply an opportunistic attempt to inexpensively bolster the studio's output, RKO's decision to pump out The Most Dangerous Game ended up being a good one. The finished film made money, impressed critics and thrilled audiences enough to continue to influence cinema to this day.