Synopsis: A philosophy teacher soldiers through the death of her mother, getting fired from her job, and dealing with a husband who is cheating on her.
Release Date: December 9, 2016     MPAA Rating: PG-13
Genre(s): Drama,
Film Review

Earlier this year, French actress Isabelle Huppert lit up screens as easily the best element in Paul Verhoeven's Elle. Huppert is having quite a year; aside from Natalie Portman's portrayal of Jaqueline Kennedy in Jackie, Huppert's biggest awards competition comes from herself in Things to Come.
Things to Come stars Huppert as a philosophy teacher named Nathalie Chazeaux who seems to have it all together. She's got a secure teaching job, a side gig as a textbook author, and a loving family to come home to every day. However, when her husband of twenty-five years suddenly announces that he is leaving her for another woman, the pieces of Nathalie's idyllic life start to crumble, and she has to decide whether she wants to put them back together, or just start building anew all over again.
Writer/director Mia Hansen-Løve (All is Forgiven) loosely based Nathalie on her own mother, and wrote the screenplay with Huppert in mind to play the role. In essence, Things to Come is a character study of a strong woman whose fortitude is tested. Not in a physical way; it's not that kind of movie. The film is a portrait of a middle-aged woman who is forced to re-evaluate her life under heartbreaking circumstances.
There's very little action in Things to Come. There's a little more dialogue, but even that is sparse and purposeful. Hansen-Løve is a master of textural silences, a strength which goes hand-in-hand with Huppert's effortless way of communicating with her eyes and expressions. So, despite how it may seem, there's a lot that goes on in Things to Come. A whole lot.
Things to Come is not going to be for everyone. It moves at a slow pace, but it's a steady one, and although there's not much intrigue and suspense, it's never boring. In a lot of ways, it's a typical modern French movie. It's just a slice of life picture of the worst week in one particular woman's life. Nothing more, nothing less.

It should be obvious from the above that Things to Come is a deeply character-driven movie, and as such, it is anchored by Isabelle Huppert. Huppert is absolutely brilliant, even if the role doesn't seem like much of a stretch for her. Huppert nails all of the little things, details like eye movements and voice quivers, that make her portrayal of the confident woman who's been shaken to the core a convincing one. Huppert makes her craft look effortless, solidifying her place as one of the premiere French actresses of her generation.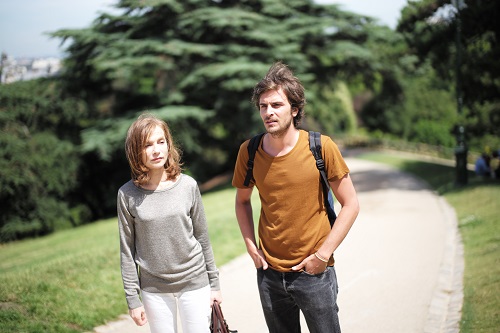 Although Things to Come is Isabelle Huppert's movie, she is surrounded by a competent supporting cast that includes André Marcon (Marguerite) as her callous husband, Roman Kolinka (Eden) as her tempting ex-student, and the legendary Edith Scob (Eyes Without a Face) as her needy mother. While none of these characters put a dent into Huppert's performance, the other actors do build her up and give her plenty to play against and off of. Things to Come is by no means an ensemble movie, but Huppert is not in it on her own.
Cast and Crew
Director(s): Mia Hansen-Løve
Producer(s): Charles Gillibert
Screenwriter(s): Mia Hansen-Løve
Story: 
Cast: Isabelle Huppert (Nathalie Chazeaux)André Marcon (Heinz)Roman Kolinka (Fabien) Edith Scob (Yvette Lavastre)Sarah Le Picard (Chloé)Solal Forte (Johann)Elise Lhomeau (Elsa)Lionel Dray-Rabotnik (Hugo)Grégoire Montana-Haroche (Simon)Lina Benzerti (Antonia)Yves Heck (Daniel)Rachel Arditi (Amélie)
Editor(s): Marion Monnier
Cinematographer: Denis Lenoir
Production Designer(s):
Costume Designer: Rachel Raoult
Casting Director(s): Elsa Pharaon
Music Score: 
Music Performed By: 
Country Of Origin: FranceGermany