When it comes to movies, sometimes the lines between genres are not entirely black and white. This fact is never as clear as it is when discussing the horror world. Sure, there are obvious horror movies, like Halloween, Friday the 13th, and The Texas Chain Saw Massacre, but there are also grey-area films that straddle the genre line like Deliverance, Taxi Driver, and last year's amazing Nightcrawler. Another of these "fringe horror" classics is 1966's Seconds.
Seconds is the story of an unhappy middle-aged man named Arthur Hamilton (John Randolph from Serpico) who is living an unsatisfying life as an investment banker. One day, Arthur is introduced to an organization known only as "The Company" that promises to fake his death and create an entirely new identity for him. Arthur agrees, and after reconstructive surgery, he emerges as artistic painter Tony Wilson (Giant's Rock Hudson). Wilson is moved into a house in California and given a staff of people to look after him by the Company. Wilson eventually settles into his new life and friends, even meeting a woman named Nora (Salome Jens from "Star Trek: Deep Space Nine") with whom he starts a relationship, but soon realizes that everything he thinks he knows is a lie. Arthur Hamilton/Tony Wilson has second thoughts about his second life, but it may be too late to do anything about it.
The screenplay for Seconds was adapted from a novel by David Ely (who also wrote for "Night Gallery") by Lewis John Carlino (The Mechanic, The Great Santini). The film is skillfully directed by John Frankenheimer (The Manchurian Candidate, Prophecy) who, like Alfred Hitchcock did with Psycho before and David Lynch with Eraserhead after, made a conscious choice to shoot the movie in black and white despite the availability of color film technologies. The black and white photography gives Seconds a classic sci-fi feel, which is perfect for the story that it tells.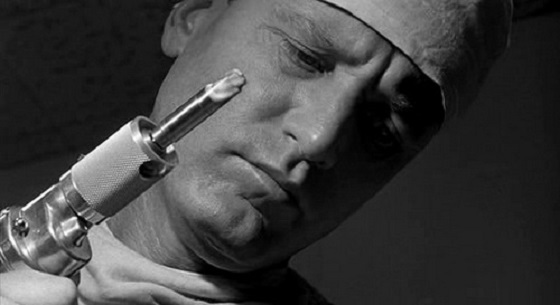 Seconds is a tough film to categorize. It's not an overt horror film, but it definitely has the look and feel of one. There are no ghosts or monsters in Seconds; the threat is more ambiguous and vacuous, making the film more philosophically scary than anything else, like a long episode of "The Twilight Zone" or "The Outer Limits." It has its share of horrific scenes; the hospital scenes during which Arthur Hamilton is transformed into Tony Wilson in a Face/Off-type of procedure are shockingly frightening, and another scene that occurs when Wilson gets to California that involves a wine grape-squashing orgy is surrealistically terrifying. Even with the few nightmare scenes, it's not necessarily Seconds itself that's scary, but the ideas that are contained within its storyline.
Cinematographer James Wong Howe (Hud, The Rose Tattoo) was nominated for an Oscar for his work on Seconds, and it's easy to see why. Howe's photography catches the viewer's eye right from the opening credits with a series of weird and surreal images that appear to have been ripped right out of a carnival hall-of-mirrors. These images not only foreshadow much of what the audience is about to see, but the inclusion of similar shots at the conclusion of the film helps to bookend the entire work. For much of the film, Howe attaches his camera to characters or objects that are moving, creating a type of camera motion that keeps the objects in the foreground stationary while the rest of the image moves around dizzily. Speaking of objects in the foreground, Howe is a master of deep-focus cinematography, and Seconds uses the technique liberally, with Howe playing with extreme focal planes by placing action in the foreground and background and leaving a ton of space in between while keeping both images in focus. Seconds is a weird movie, and it's made even weirder by the stylized cinematography of James Wong Howe.
The music for Seconds was done by another Hollywood legend, the inimitable Jerry Goldsmith, who scored everything from The Omen and Magic to Alien and Poltergeist. Keeping with the retro look of the film, Goldsmith's score is full of spooky pipe organ and moody piano pieces that recall the live music feel of the old silent gems like The Phantom of the Opera and Dr. Jekyll and Mr. Hyde. There are plenty of trademark Jerry Goldsmith flourishes and crescendos as well, but it's far from a typical Goldsmith score. The soundtrack to Seconds is a unique one, even for one of Hollywood's most versatile composers.
Serial killers and evil demons have their place in horror, but some of the scariest movies deal with human thoughts and ideas. Seconds has no overt antagonist, but its subliminal horror makes it as scary as any dark-and-stormy-night movie.