Synopsis: An aging widow from New York City follows her daughter to Los Angeles in hopes of starting a new life after her husband passes away.
Release Date: April 29, 2016     MPAA Rating: PG-13
Genre(s): Comedy, Drama
Film Review

Never one to shy away from controversy, actress Susan Sarandon (Thelma & Louise, The Rocky Horror Picture Show) has been in the news a lot lately, taking stances on political issues and throwing her support behind underdog Democratic presidential candidate Bernie Sanders. But, amidst all of her politicking, everyone should remember that she also makes movies. She's even got a new one out, a silly, non-political comedy called The Meddler.
The Meddler stars Sarandon as Marnie Minervini, a recent widow who has relocated from New Jersey to Los Angeles to be near her television screenwriter daughter, Lori (Rose Byrne from Bridesmaids). In L.A., Marnie smothers Lori, butting into her personal life and never letting her have a moment of privacy. When Lori heads off the New York for a job, Marnie stays behind to take care of Lori's dogs – and promptly inserts herself into Lori's friends' lives. Lori's friends don't seem to mind, as Marnie does nice things like babysit and give rides.and pay for dream weddings. Nevertheless, Lori's friends accept Marnie as one of their own, and Marnie gets so caught up in other people's happiness that she neglects her own – even when a handsome ex-cop named Zipper (Whiplash's J.K. Simmons) takes a romantic liking to her.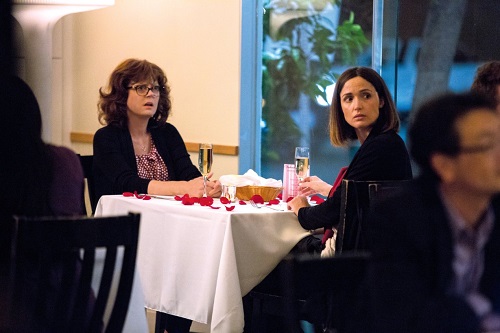 Writer/director Lorene Scafaria (Seeking a Friend for the End of the World) based the character of Marnie on her own mother. The raw outline of The Meddler is semi-autobiographical; Lorene is the Lori character, and her real-life mom, Gail, actually moved across the country to be near her when her father died. Gail had a natural way of charming her daughter's friends, causing them to become her friends, too. And that is exactly what Marnie does in The Meddler.
The Meddler is more than just a story about a woman and her daughter, although not that much more. It's full of stock characters in typical situations, and the plot doesn't really go anywhere, but it does do a good job at illustrating Marnie's search for her own identity and purpose in life after the passing of her husband. Sometimes, the results of those searches aren't definitive, and neither is the narrative arc of The Meddler.
Susan Sarandon absolutely carries the movie on her shoulders, but what makes The Meddler enjoyable is more in the character than in the actress. Of course, Sarandon is great, but it's easy to imagine another talented actress, say Julianne Moore, in the role with the same effectiveness. Similarly, it wouldn't be a stretch for someone like Jennifer Lawrence to step into Rose Byrne's part, or for a hunk like Sam Elliot to take over for J.K. Simmons. The point is that the performances of the cast are good, but The Meddler isn't reliant on them; any stars could be plugged in, and the film would be just as good.
In the end, The Meddler is a cute movie about a mother who tries to love her daughter too much, and that love spills out all over the other aspects of the daughter's life. Don't read too much more into it, just enjoy the ride.

While The Meddler is by no means a laugh-a-minute slapstick romp, there is plenty of comedy in the movie. Some of the gags are derived from the typical verbal misunderstandings, such as when Marnie, upon flying home from visiting Lori on the job in New York, explains to the TSA agents that her daughter "shot a pilot" – of course, meaning that she made a television show, but the security officers take her statement in a very different way. Then, there's situational humor, like when Marnie accidentally gets high and ends up hanging out with a bunch of Zipper's police officer pals. There's nothing groundbreaking in the humor that's found in The Meddler, but it's still funny enough to generate more laughs than groans.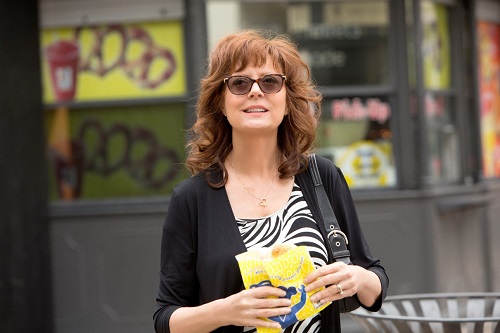 Cast and Crew
Director(s): Lorene Scafaria
Producer(s): Paul GreenJoy Gorman Wettels
Screenwriter(s): Lorene Scafaria
Story: 
Cast: Susan Sarandon (Marnie)Rose Byrne (Lori)J.K. Simmons (Zipper) Jerrod Carmichael (Freddy/Fredo)Cecily Strong (Jillian)Lucy Punch (Emily)Michael McKean (Mark)Jason Ritter (Jacob)Sarah Baker (Elaine)Casey Wilson (Trish)Amy Landecker (Diane)Billy Magnussen (Ben)
Editor(s): Kayla Emter
Cinematographer: Brett Pawlak
Production Designer(s):
Costume Designer: Annie Bloom
Casting Director(s): Nicole AbelleraJeanne McCarthyJeff Olan
Music Score: Jonathan Sadoff
Music Performed By: 
Country Of Origin: USA