TWEET TO DECIDE WHO IN THE WORLD SEES "PARANORMAL ACTIVITY 3" FIRST!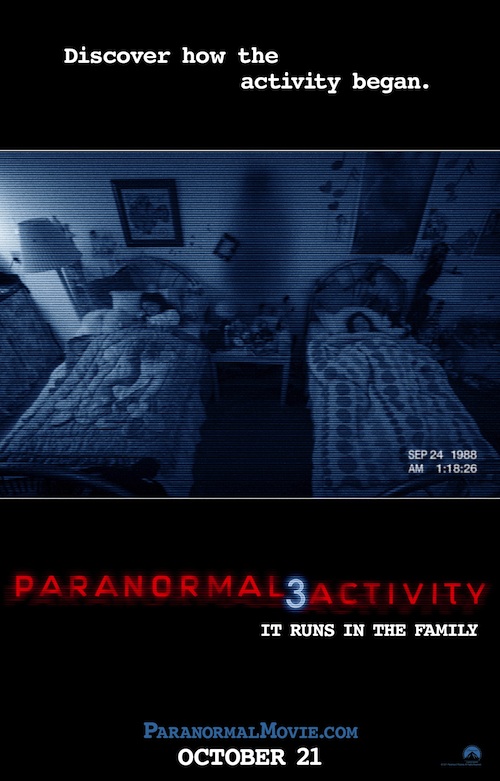 **Update** 10/14/2011
The winners have been announced, and the following cities will see Paranormal Activity 3 first on October 18th.
1. Houston
2. Vancouver
3. Phoenix
4. San Antonio
5. Melbourne, Australia
6. Fresno
7. Panama City, Panama
8. Los Angeles
9. New York
10. Mexico City, Mexico
11. Orlando
12. Dallas
13. Toronto
14. Tel Aviv, Israel
15. Chicago
16. Sao Paolo, Brazil
17. Austin
18. Miami
19. London, UK
20. Sheffield, UK
www.ParanormalMovie.com TO RSVP
FOR ONE OF THESE FREE EARLY SCREENINGS TO BE HELD ON OCTOBER 18th at 10:00PM!
**End Update**
Paramount Pictures announced today a very different method of deciding what cities to release Paranormal Activity 3 in first. Only 20 cities will open the film on October 18th before its global release on October 21st, based upon the most fans who, and I quote, "Tweet To See It First."
How does this work?
–To vote, fans can go to www.ParanormalMovie.com and select their city from a global map, which will also serve as the point of entry to create a tweet with a special set of hash tags that link directly to twitter. Once a tweet posts, it counts as a vote. A leader board will show the top 20 global markets in real-time.–
The "Tweet To See It First" competition is available to audiences worldwide and ends at 11:59 p.m. PDT on Thursday, October 13th. The top 20 cities will be announced on Friday, October 14th.
This is the first of its kind tweet participation between a Studio and the fans to actually make the decision on where the Studio will distribute a film. Will this work? It sure can, and for all of the Paranormal Activity fans it is a sure way to make sure you see the movie before anyone else around the world. Meaning, they will be the first fans to go without sleep for a night because…have you seen the bloody mary scene in the trailer? In case you have not, you can watch the trailer below.
If you want to know more about the first two Paranormal Activity movies you can read the reviews of the films by our very own Russell Espinosa:
Paranormal Activity (2009)
Paranormal Activity 2 (2010)
Paranormal Activity 3 Trailer:
PARANORMAL ACTIVITY 3 is produced by Jason Blum, Oren Peli and Steven Schneider and directed by Henry Joost and Ariel Schulman from a screenplay by Christopher Landon. Follow PARANORMAL ACTIVITY 3 on Twitter at www.Twitter.com/TweetYourScream for audience reactions and important announcements.