There are movies that are hits from the start, and there are movies that fade away into obscurity. And then there are movies that find their audience years later by playing to packed theaters at midnight to viewers who come back night after night, despite having seen the films several times over. The ultimate midnight movie is The Rocky Horror Picture Show, but movies like The Room and Night of the Living Dead have also brought people out in the middle of the night. And so has the 1977 cult film Eraserhead.
Eraserhead is about a man named Henry Spencer (The Blob's John Nance) who is invited over to the home of his girlfriend, Mary X (Charlotte Stewart from Tremors), to have dinner with her parents (Allen Joseph from Saturday the 14th and Jeanne Bates from The Soul of a Monster and The Strangler). Once there, it is revealed to him that Mary has recently borne a child, which comes as a complete shock to Henry, since he never even knew she was pregnant.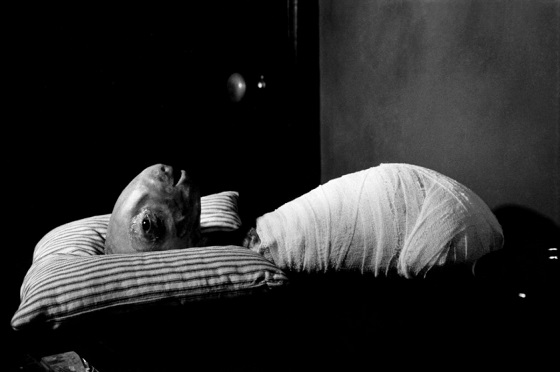 Henry agrees to marry Mary and the couple moves into his tiny apartment with the "baby," which is actually a reptilian-looking alien-type creature. The baby cries all night, causing Mary to move out, and that's when things get really weird, with the lonely and desperate Henry fantasizing about his sexy neighbor (Silent Night, Deadly Night's Judith Anna Roberts) and having dreams about a facially disfigured variety singer (Laurel Near, who has appeared in nothing besides Eraserhead) who he believes lives inside his radiator.
While it's a bit of a stretch to call it a pure horror movie, Eraserhead does contain some of the most bafflingly horrifying imagery ever put on film, and much of it seems to make no sense in the grand scheme of the loosely constructed narrative. It's a polarizing movie, with just as many hardcore fans as people who have walked out before the end of the first reel. While there are actual dream sequences in the movie, the line between fantasy and reality is often blurred, and the whole thing feels like one long fever dream. It's not pointless, however, as the film is full of analogy and metaphor, exploring themes of sex, parenthood, conformity, loneliness, and temptation. The themes are masked in craziness, though, making Eraserhead easily one of the most surreal movies of the seventies, if not of all time.
Eraserhead is the first feature length film from writer/director/cinematic auteur David Lynch (Wild at Heart, Mulholland Drive). Not only did Lynch write and direct Eraserhead, he also produced, edited, and scored the film, as well as handled the sound design, production design, art direction, and special effects duties. It is truly a singular vision from a very distinct filmmaker, and one that was a labor of love, taking five years to complete, using finishing money invested by actress Sissy Spacek (whose husband, filmmaker Jack Fisk, is a childhood friend of Lynch and has a small role in the film as "Man in the Planet"). And leading man John Nance kept the same hairstyle the whole time.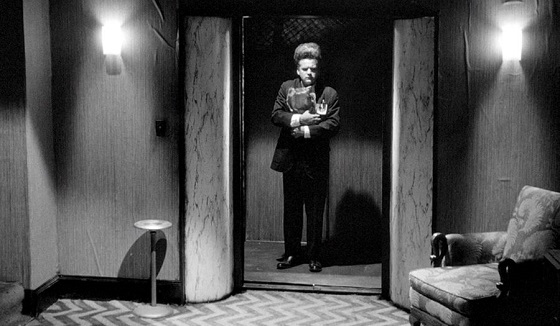 The only thing that Lynch seemingly did not do with Eraserhead is the cinematography. The movie was shot by Frederick Elmes (River's Edge, Permanent Record) and his partner Herbert Cardwell (who mysteriously died before he could shoot any more feature films) in high-contrast black and white. There is a clear German expressionist influence to the photography, with plenty of wide shots, long shadows, and canted angles. The blacks are black and the whites are white, making many images nearly impossible to see in places. The visual effects are done practically and in-camera, with clever double exposures and slick-and-deliberate editing. Because it's a David Lynch movie, nothing is left to chance; he may not have shot the film, but the photography in Eraserhead is no accident. Everything looks just as Lynch intended it to look.
Both the sound design and the musical score for Eraserhead are credited to David Lynch himself, and there's a reason for that – the sound and music are perfectly and seamlessly connected and intertwined into a cacophonous, industrialized aural soundscape of noise and racket. With a bit of help from sound editor/close pal Alan Splet (The Black Stallion), Lynch went old school with the sound effects, using analog pitch shifting and multi-track layering to construct an abrasive soundtrack of hissing machinery and humming electronics. There is some traditional music in the film, most notably a handful of tunes by jazz pianist Fats Waller and a haunting original song – written by Peter Ivers with lyrics by Lynch, of course – called "In Heaven" ("In Heaven, everything is fine"), but most of the soundtrack is made up of a wonderfully crazy atonal wash of mechanized madness.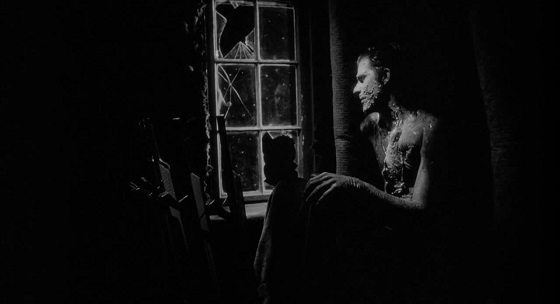 David Lynch used Eraserhead as a calling card into the film industry, parlaying its artistic success into high-profile (and Oscar-nominated) directing gigs on movies like The Elephant Man and Dune. As for Eraserhead itself, it may have been misunderstood in its time, but it has gone on to become one of the biggest cult films of all time. And being a midnight movie that is still fondly remembered forty years after its release is better than being a flash-in-the-pan box office hit.