Synopsis: In the seventeenth century, two Jesuit priests face violence and persecution when they travel to Japan to locate their mentor and propagate Catholicism.
Release Date: January 6, 2017     MPAA Rating: PG-13
Genre(s): Drama, History
Film Review

It seems like every talented filmmaker who finds a bit of success tends to get overly indulgent with their films over time, as if it were their duty to produce three-hour historical epics for their fans. Steven Spielberg went from Duel to Lincoln. Brian De Palma went from Phantom of the Paradise to Black Dahlia. However, the best example of this is Martin Scorsese, who went from Mean Streets to The Wolf of Wall Street. And he continues the trend of beautiful-yet-bloated movies with Silence.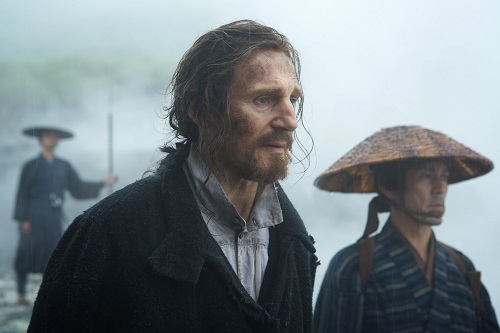 Silence is about a pair of seventeenth century Portuguese Jesuit priests named Rodrigues and Garrpe (Andrew Garfield from Hacksaw Ridge and Adam Driver from Star Wars: The Force Awakens, respectively) who have stopped receiving correspondence from their mentor, Father Ferreira (Third Person's Liam Neeson), who was on a mission in Japan propagating Catholicism. Rodrigues and Garrpe are understandably concerned for Ferreira's safety, since Catholicism has been outlawed in Japan, so they set out to find their friend and comrade. Using pockets of covert Japanese Catholic villages to move around the country, the pair searches for the missing priest, hoping to locate him before they are detected and apprehended.
The screenplay for Silence was written by Martin Scorsese himself along with Jay Cocks (who also worked with Scorsese on Gangs of New York), based upon the novel by Shûsaku Endô, which was adapted by the author into a movie way back in 1971. So, essentially, Silence is a remake. A long, drawn-out, self-indulgent Scorsese remake of an early seventies Japanese film. That's an art film enthusiast's dream.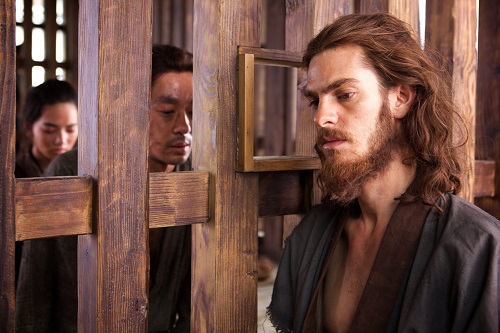 Of course, Martin Scorsese knows how to make a movie, and the beginning of Silence is outstanding. It grabs the audience's attention and holds it like a vice – for about another 45 minutes. Around that time, the shock and awe turns to melodrama and disbelief (and not the good kind). Even the religious imagery, which is pretty profound and powerful in the first third of the film, turns campy and corny. What starts off in the same vein as an Apocalypse Now becomes a Logan's Run and, finally, in a completely superfluous third act, goes full on Unbroken.
There'd be a lot to like in Silence if there just wasn't so much of Silence. It looks fantastic, Garfield and Driver are both great, and there's a compelling story in there somewhere. It just gets bogged down with all of the cinematic tropes and ideas that Scorsese can cram into a single two-hour-and-forty-five-minute epic. There's also a deep message in there somewhere, but by the time it comes out, the audience has been lulled into submission and, frankly, just doesn't care.

For what it's worth, Silence is an aesthetically beautiful film. The role of seventeenth century Japan is convincingly played by different parts of Taiwan, with Scorsese's cinematographer of the moment Rodrigo Prieto (Passengers, Argo) taking full advantage of the gorgeous scenery with wonderfully sweeping landscape shots. Silence is a cold and dark movie, full of rain and fog so that the locations don't ever look too beautiful – even amidst the lush mountains and stunning beaches, Scorsese doesn't let the audience forget that the movie itself is a tragic and horrific story. The religious imagery also doesn't let the film get too bright, with most of the color palette leaning towards the stark blandness of differing shades of grey. The photography in Silence is nothing if not stylistic, and that's the best reason to sit through the movie.
Cast and Crew
Director(s): Martin Scorsese
Producer(s): Randall Emmett
Screenwriter(s): Jay CocksMartin Scorsese
Story: Shûsaku Endô
Cast: Andrew Garfield (Rodrigues)Adam Driver (Garrpe)Liam Neeson (Ferreira) Tadanobu Asano (Interpreter)Ciarán Hinds (Father Valignano)Issea Ogata (Inoue)Shin'ya Tsukamoto (Mokichi)Yoshi Oida (Ichizo)Yôsuke Kubozuka (Kichijiro)Nana Komatsu (Monica)Ryô Kase (Juan)Kaoru Endô (Uneme)
Editor(s): Thelma Schoonmaker
Cinematographer: Rodrigo Prieto
Production Designer(s):
Costume Designer: Dante Ferretti
Casting Director(s): Ellen Lewis
Music Score: Kathryn & Kim Allen Kluge
Music Performed By: 
Country Of Origin: USAMexico