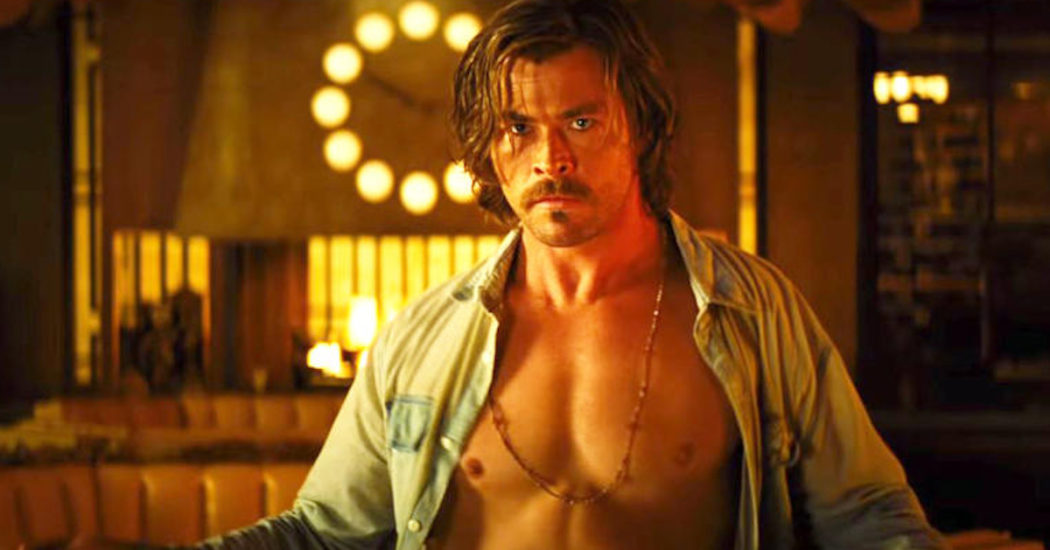 'Bad Times at the El Royale' Review
'Bad Times at the El Royale' is anything but standard movie fare.
Release Date: October 12, 2018
In Bad Times at the El Royale, seven strangers, each with a secret to bury, meet at Lake Tahoe's El Royale, a rundown hotel with a dark past. Over the course of one fateful night, everyone will have a last shot at redemption – before everything goes to hell.
Director: Drew Goddard
Screenwriter(s): Drew Goddard
Producer(s): Drew Goddard, Jeremy Latcham
Cast: Dakota Fanning (Emily Summerspring), Jon Hamm (Laramie Seymour Sullivan), Jeff Bridges (Father Daniel Flynn), Lewis Pullman (Miles), Cynthia Erivo (Darlene Sweet), Chris Hemsworth (Billy Lee)
Editor: Lisa Lassek
Cinematographer: Seamus McGarvey
Production Designer: Martin Whist
Casting Director(s): Carmen Cuba
Music Score: Michael Giacchino

After creating the hit TV series "Lost," writer/director Drew Goddard jumped into feature filmmaking with both feet in 2012 and made The Cabin in the Woods, which is easily one of the best movies of the twenty-first century. Since then, he's settled into screenwriting by working on scripts for big budget Hollywood fare like The Martian and World War Z. But now, after four years of writing for others, Goddard makes a triumphant return to the director's chair with the pulpy Bad Times at the El Royale.
The titular El Royale in Bad Times at the El Royale is a seedy hotel in Lake Tahoe that sits right on the state line – guests can either spend the night in Nevada or, for a dollar more, in California. A priest named Father Daniel Flynn (Hell or High Water's Jeff Bridges) rolls up at the same time as a lounge singer named Darlene Sweet (Cynthia Erivo from Widows), and inside the lobby, they meet a vacuum salesman named Laramie Seymour Sullivan (Jon Hamm from Baby Driver and Nostalgia).
Before anyone can get checked in, however, young vamp Emily Summerspring (Fifty Shades of Grey's Dakota Johnson) arrives with her little sister, Ruth (Cailee Spaeny from Pacific Rim: Uprising). Eventually, the hotel clerk, Miles (Lewis Pullman from The Strangers: Prey at Night and Lean on Pete), gets everyone settled into their respective rooms. The suspicious calm is broken when dark stranger Billy Lee (Thor himself, Chris Hemsworth) shows up later, turning the already-strange evening into a night no one will ever forget.
Bad Times at the El Royale is the type of movie that could only have come from the mind of Drew Goddard. He's created a Tarantino-esque twist-a-minute thrill ride where there's a surprise around every corner and none of the characters are who they seem to be – the one genuine character undergoes a physical transformation that is just as shocking as anything else in the movie. It's a rollercoaster ride that keeps feeding the audience little bits and pieces of plot, slipping in and out of non-linear timelines until the viewer just hopes and prays that it all pays off in the end. And believe me, faithful reader, it does.
Watching Bad Times at the El Royale is like reading a dime store pulp noir novel. The setup is familiar, so much so that the audience finds itself suspiciously believing that the movie might go the whole Identity route. Thankfully, and unsurprisingly, it doesn't. Drew Goddard is better than that. Remember; this is the guy who brought us The Cabin in the Woods. He's no stranger to subverting cinematic tropes. It's best to go into Bad Times at the El Royale as blind as possible (hence the vagueness of the above synopsis), but even the images that seem to give away important plot points in the trailers and promos are only spoilers in retrospect – out of context, it just looks like another day at the office for Drew Goddard.
At two hours and twenty-one minutes, the runtime of Bad Times at the El Royale looks daunting for what appears to simply be a standard motel mystery. The film is deceiving on both counts; it's a briskly paced story that absolutely does not overstay its welcome, and it is anything but standard.

The music in Bad Times at the El Royale absolutely drives the film. One of the seven strangers, Darlene Sweet, is a soul singer, and Cynthia Erivo does all of her own singing in the film. Which is great, because much of her performance consists of a cappella renditions of classic souls hits like "This Old Heart of Mine" and "You Can't Hurry Love," and having her lip sync would be devastating to the continuity of the movie. Luckily, Erivo is a world-class vocalist and commands the screen every time she opens her mouth to sing. Her renditions become a huge part of not just the soundtrack, but the story as well. Add in other musical material like a creepy-in-context cover of Frankie Valli's "Can't Take My Eyes Off Of You" and the jukebox rock of Deep Purple's "Hush," and there's nothing but hits in Bad Times at the El Royale.