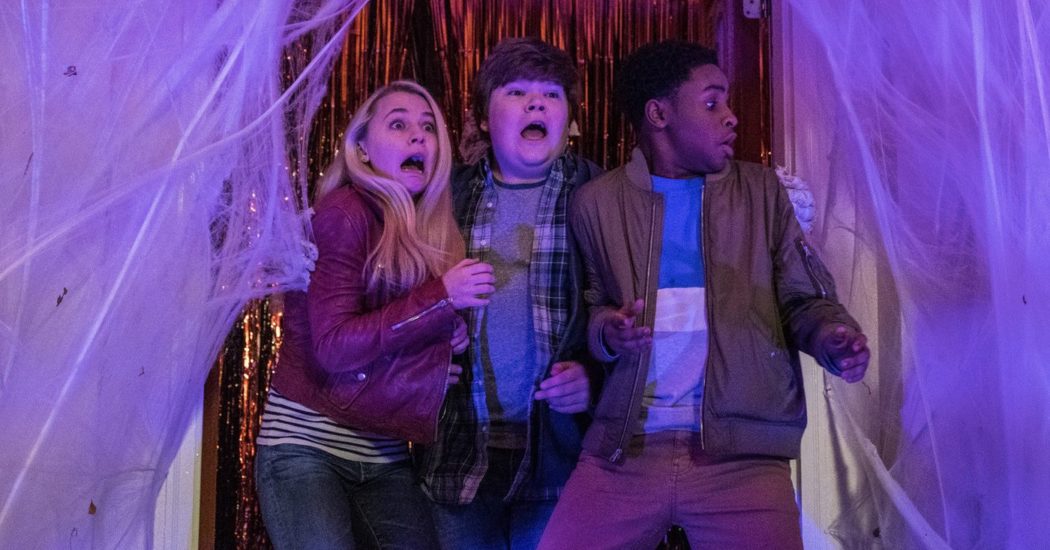 'Goosebumps 2: Haunted Halloween' Review
A worthy comedy adventure for Halloween is found in 'Goosebumps 2: Haunted Halloween,' based on R.L. Stine's series of books.
Release Date: October 12, 2018
Halloween comes to life in Goosebumps 2: Haunted Halloween, a comedy adventure based on R.L. Stine's 400-million-selling series of books.
Director: Ari Sandel
Screenwriter(s): Rob Lieber, Darren Lemke
Producer(s): Deborah Forte, Neal H. Ortiz
Cast: Jack Black (R.L. Stine), Madison Iseman (Sarah Quinn), Jeremy Ray Taylor (Sonny Quinn), Caleel Harris (Sam Carter), Wendi McLendon-Covey (Kathy Quinn), Shari Headley (Mrs. Carter), Peyton Wich (Tommy Madigan), Jessi Goei (Maya)
Editor: Keith Brachmann, David Rennie
Cinematographer: Barry Peterson
Production Designer: Rusty Smith
Casting Director(s): Rich Delia, Tara Feldstein
Music Score: Dominic Lewis

After the Goosebumps movie a few years ago delighted both kids and adults, a sequel seemed all but guaranteed. Now it's here. But can Goosebumps 2: Haunted Halloween live up to the standard set by its predecessor? The short answer is yes. Yes it can.
Goosebumps 2: Haunted Halloween is about two friends named Sonny Quinn (Jeremy Ray Taylor from the It remake) and Sam Carter (Caleel Harris from "Castle Rock") who, as the "Junk Bros," clean out people's garages and attics for extra money after school. At one job, they find a hidden trunk with a locked book inside. They pick the lock and open the book, and a card falls out. Sonny stupidly reads the mysterious words on the card, and next thing they know, a ventriloquist dummy named Slappy (voiced by Jack Black from The House With a Clock in Its Walls) appears.
At first, the dummy is a blessing, protecting the boys from bullies and treating them like a brother. Soon enough, though, Sonny and Sam figure out that the dummy has a diabolical plan to create a family of its own by bringing all of the Halloween decorations and costumes in town to life. With the help of Sonny's older sister, Sarah (Madison Iseman from Jumanji: Welcome to the Jungle), the boys have to figure out a way to get Slappy and the monsters back into the book and save their town from all of the creepy crawlies.
Basically, Goosebumps 2: Haunted Halloween is more of the same fun that moviegoers got from Goosebumps. The premise is even the same, although director Ari Sandel (The Duff) and screenwriters Rob Lieber (Peter Rabbit) and Darren Lemke (Jack the Giant Slayer) tackle the escape-from-the-book concept on a much larger scale. Since the book that has unleashed the mayhem is one of R.L. Stine's "unfinished manuscripts," the movie is not limited to just Goosebumps monsters. Literally anything Halloween related in the town comes into play.
For not being based on any specific Goosebumps books, Goosebumps 2: Haunted Halloween is incredibly on-brand. There's a cool wannabe Amblin vibe to the movie, where kids are both heroes and villains, and while parents are present, they're relegated to supporting roles, important to the events but not dependable or authoritative. The action is, at times, predictable, but as a whole, the movie is a ton of fun, not just for children, but for the parents who wind up taking them to see it as well.
One does not need to be a Goosebumps reader to appreciate Goosebumps 2: Haunted Halloween. All you need to know is that a book series called Goosebumps exists and was written by R.L. Stine. The movie is loaded with Easter eggs (an entire display of Goosebumps Halloween costumes comes to life, including The Haunted Mask, The Werewolf of Fever Swamp, and The Abominable Snowman of Pasadena), and spotting them will be fun for eagle-eyed Stine fans, but none of that is necessary to enjoy the movie. The wide-eyed spectacle and the almost-scary monsters make Goosebumps 2: Haunted Halloween a perfect gateway fright flick, and an instant Halloween classic for children of all ages.

Because of its PG rating, Goosebumps 2: Haunted Halloween is more funny than it is scary. The movie is packed with silly, laugh-out-loud gags, most of which stem from the juvenile behavior of Sonny and Sam, as well as those of their classmates and bullies. A good chunk of the comic relief in the film is supplied by Ken Jeoung (The Hangover), who plays an overzealous Halloween decorating neighbor whose front yard display, of course, turns into a house of horrors once Slappy's chaos starts. There's nothing risqué or dirty about the humor – it's safe for all ages. But it's still pretty funny, even without the filth.

Goosebumps 2: Haunted Halloween is geared towards a younger audience, so there's nothing terribly scary in it. Some of the monsters are creepy, such as Slappy himself or a trio of faceless green witches that fly above the town in the night. And one scene in particular involving Slappy, a ladder, and a kid who wronged Sonny's sister Sarah is very suspenseful, even a tad on the horrifying side. But, as for real scares, that's it. The movie is too much fun to be frightening.