Synopsis: Five interlocking tales of terror follow the fates of a group of weary travellers who confront their worst nightmares – and darkest secrets – over one long night on a desolate stretch of desert highway.
Release Date: February 12, 2016     MPAA Rating: PG-13
Genre(s): Horror, Sci-Fi
Film Review

One of the most talked-about horror films of recent times has been the anthology collection V/H/S. It had its detractors, but also found enough fans to warrant not one, but two sequels (V/H/S/2 and V/H/S Viral). Well, instead of just popping out another V/H/S movie, a bunch of the producers and filmmakers from the series have gotten together and made an all-new movie – yes, an anthology – called Southbound.
Southbound opens with a segment from filmmaking collective Radio Silence (who were responsible for one of the more memorable segments in V/H/S before they went off and made Devil's Due) called "The Way Out" in which two friends on a road trip get caught in a weird loop that keeps taking them back to the same gas station time after time. There are also some crazy skeleton-looking monsters that are stalking them, waiting for them to come back each and every time.
Next up is "Siren" from Roxanne Benjamin (who was one of the producers of V/H/S), a tale about a girl band who gets a flat tire while driving through the desert to their next gig. They are picked up by a couple of helpful strangers who take them to their home, but the girls soon learn that their saviors have ulterior motives for helping them out.
Then comes "Accident," a segment from David Bruckner (another V/H/S alum who also made The Signal) about a man who hits a girl with his car while driving along a lonely isolated road. He calls 911, and they tell him to drive her to a hospital himself, but the hospital he finds is deserted. The 911 operator gives him instructions on how to save the girl's life, but he soon realizes that he is being told to do more harm than good.
The next sequence is "Jailbreak" from Patrick Horvath (The Pact II), a grim little story about a man who bursts into a bar, shotgun blazing, looking for his sister. After grilling the locals, he finds her, but he also finds out the reason that she went missing.and why he hadn't found her before.
Which brings us to "The Way In," also by Radio Silence, about a family who is having one last vacation together before their teenaged daughter goes off to college. Their good time is interrupted by a group of masked intruders who break in and torment them, home invasion-style.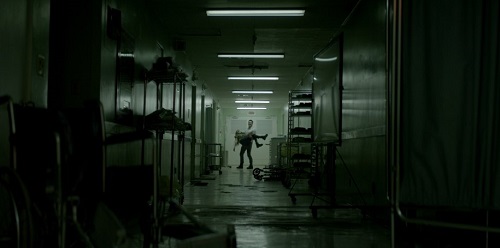 On the surface, Southbound is just a typical modern horror anthology movie, not unlike V/H/S. What sets Southbound apart is the seamless integration of each segment into the next. Even though each story has its own unique style that reflects the personality of its respective filmmaker, the movie as a whole feels, well, very whole. It's a smooth and coherent timeline, with each segment overlapping into the next. For example, the girl that the driver in "Accident" hits with his car is one of the band girls from "Siren," and the person who is talking the driver through trying to save her life hangs up and walks into the bar in "Jailbreak." Each story centers on the same desert road, with characters and settings overlapping, and the entire timeline is held together by the ever-present voice of a faceless D.J., played by We Are Still Here's Larry Fessenden, who broadcasts over the airwaves throughout the day and night. The different segments are also more consistent in both quality and tone than one usually finds in the average anthology film. After a while, the viewer hardly even notices that it's an anthology at all.
Of course, because the creative minds behind both films are essentially the same, there's bound to be comparisons between Southbound and the V/H/S movies, and many are valid. One big difference, and it's one for which we can all be thankful, is that Southbound is not a found footage movie. Not that there's anything wrong with found footage movies, but audiences have already seen what these guys and gals can do in that arena, so it's great to see them work in a more traditional filmmaking format. The cleaner and tighter production values give the film more of a sense of legitimacy. Southbound is more than just a solid horror anthology; it's a sold horror film.

Southbound is full of dread and despair, but there's not a whole lot to be afraid of in it. There's an energy and an attitude to the movie, but the horror is derived more from the ideas in the film rather than from the actual situations. There aren't many jump scares, if any at all. The little bit of fright that is inspired comes from the vibe and atmosphere. The dark and disturbing mood of the picture is a testament to the ability of the filmmakers, but it doesn't generate many scream-out-loud scares. Southbound is more of a creep-you-out kind of a movie than a make-you-jump one.
Cast and Crew
Director(s): Roxanne Benjamin
Producer(s):
Screenwriter(s): Matt Bettinelli-OlpinSusan BurkeDallas Richard Hallam
Story: 
Cast: Kate Beahan (Cait)Matt Bettinelli-Olpin (Jack)Susan Burke (Betty) Gerald Downey (Daryl)Dana Gould (Raymond Kensington)Hassie Harrison (Jem)Davey Johnson (Dale)Nathalie Love (Kim)Hannah Marks (Ava)Tipper Newton (Jesse)Maria Olsen (Sandy)Larry Fessenden (The D.J.)
Editor(s): Matt Bettinello-Olpin
Cinematographer: Tarin AndersonTyler GillettAlexandre NuafelAndrew Shulkind
Production Designer(s):
Costume Designer: Dominique Dawson
Casting Director(s): 
Music Score: The Gifted
Music Performed By: 
Country Of Origin: USA