In case you've missed it, Cinema Fearité has been on a "Maniac" binge for the past couple of weeks. First, we examined Dwain Esper's 1934 scaresploitation classic Maniac, then we explored the 1963 Hammer Pictures thriller Maniac. This week, we conclude our trilogy with the movie that most horror fans think of instantly when they hear the word "maniac"; the 1980 psycho-slasher Maniac.
The titular maniac in Maniac is Frank Zito (played by Joe Spinell, who was in quality films like Rocky and The Godfather, but also did time in low-budget pictures such as Forbidden Zone and The Last Horror Film), a mentally unhinged man living in New York City whose nights are spent finding and killing young women. Once they're dead, he scalps them and attaches his trophy to the head of its own mannequin back at his apartment. While in the park one day, Frank notices a photographer named Anna D'Antoni (Caroline Munro from Slaughter High and The Spy Who Loved Me) taking his picture. He snoops around and is able to find her address, but instead of attacking her, he asks her out. As he dates Anna, he continues to kill women, even using his new girlfriend as an unwitting accomplice to locate and meet potential victims. All the while, Frank tries to keep his psychotic tendencies secret from Anna, but before long, he turns his aggression towards her.
Made just a couple of years after the original Halloween and the same year as the first Friday the 13th, Maniac is a textbook example of a golden age slasher movie. Directed by schlock king William Lustig (Maniac Cop, Uncle Sam) from a screenplay by Joe Spinell (who also plays Frank Zito), the surreal film is actually nothing more than an homage to Psycho. A bloody, gory, tasteless-at-times homage, but an homage nonetheless.
The most obvious similarity between Maniac and Psycho can be found within both movies' anti-heroes. Like Norman Bates, Frank Zito is a sympathetic killer; he seemingly has no control over what he does and just wants to live a normal life, but he hears voices that tell him to kill women. Also like Norman, Frank's internal voice is that of his mother, and he frequently will answer her, having complete two-sided conversations with himself. Unlike Norman, however, Frank knows that he himself is doing the killing (as opposed to blaming it on his mother), but that fact actually makes him more sympathetic in that he often breaks down and cries after he kills. For all of the murder and mayhem that he causes, it's kind of hard for the viewer to not feel sorry for him.
Of course, because of the time period in which it was made, Maniac has that classic slasher sensibility to it. The special effects are all masterfully designed and executed by the legendary Tom Savini (Deranged, Alone in the Dark, Monkey Shines) and the equally legendary Rob Bottin (The Fury, Humanoids from the Deep). The killings include everything from various slit throats to a shotgun blast to the head (for which Savini used his old Dawn of the Dead dummy bust), and in true Savini fashion, every trick splatters a ton of blood and guts all over the screen. There's nothing quite like good practical makeup effects in slasher movies, and Maniac features some of the best.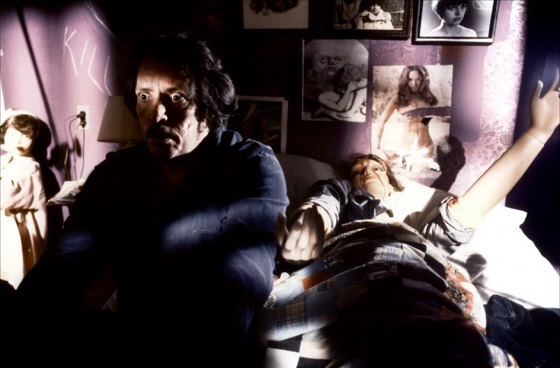 The impressive makeup effects are supplemented by the eye-popping cinematography of Robert Lindsay (The Prowler, A Night to Dismember). Lindsay shoots Maniac with an obvious Italian influence, using bright primary colors that still manage to look dirty – a good visual metaphor for the beautiful filth that was New York City in the eighties. Taking a cue from Halloween, Lindsay utilizes the typical slasher POV shots, but does creative things like spill blood over the lens to spice it up a bit. When he really wants to get surreal, Lindsay does things like flood the set with fog or shoot from irregular angles, techniques which give parts of Maniac a comic-bookish look that would be used to greater lengths a few years later in movies like Madman and Creepshow. It may look trite by today's standards, but for 1980, the photography in Maniac was ahead of its time.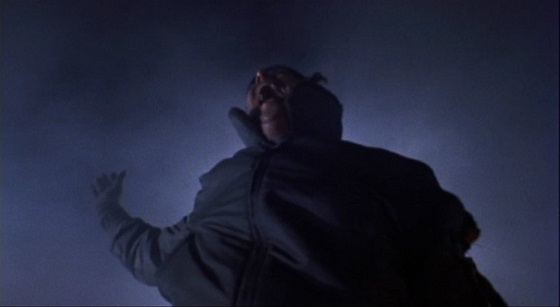 The music in Maniac is also influential; the score, composed by Jay Chattaway (Maniac Cop, Silver Bullet), is full of the same type of eerie synth-based textural beds on which many of the horror film scores of the eighties were built. Chattaway's creepy keyboard melodies and thick walls of white noise seamlessly blend with the sounds of footsteps and breathing, audio effects that were designed by Sandy Rakow (who worked on hits like Dog Day Afternoon, Kramer vs. Kramer, and Network) and mixed by Gary Rich (The Burning, The Prowler), letting the music work in tandem with the sound design to create one big sonic landscape for the film. It's easy to get lost in Maniac's soundtrack.
This week concludes Cinema Fearité's Maniac trilogy, and we hope you have enjoyed it. If you still want more, you can check out the immersive 2012 Maniac, a remake of this William Lustig film. It's incredibly visceral, and you'll never be able to picture Elijah Wood as Frodo Baggins again. Next week, we'll be back with more of the regularly scheduled horrors. Until then – stay on the road, keep clear of the moors, and beware the moon.