The Legendary Costumes of Travis Banton…
featuring I'm No Angel, Nothing Sacred, and The Scarlett Empress.
Introduction:
The TCM Classic Film Festival is known for screening rare, formerly out of print, and all-time classic movies for an over-eager crowd of festival attendees. People come from all over the country to the festival, now in its third year, to watch classic films, discuss them, and revel in the greatness of cinema. The festival is not only about watching movies, it also teaches attendees about the films; interesting tidbits about the stars, the filmmakers, or the industry at the time of a film's release are covered in the introductions given before each film. If one is lucky a special appearance will be made by the Director, Writer, or Movie Star. Travis Banton is one of the least known names to the casual movie-watcher. Why? He is a costume designer, and while everyone loves to watch screen sirens waltz into frame wearing a decadent ensemble little notice is given to the person who designed the costume said star is wearing and how it reflects the character. The TCM Classic Film Festival took the initiative to recognize Travis Banton's work in a section this year–aptly titled "The Legendary Costumes of Travis Banton". His creations are nothing short of legendary, and his legacy unforgettable for screen sirens such as Claudette Colbert, Carole Lombard, Marlena Dietrich, and Mae West, to name a few.
Six films were showcased for the Travis Banton section of the festival, I'm No Angel (1933), Nothing Sacred (1937), The Scarlett Empress (1934), Letter From An Unknown Woman (1948), Cover Girl (1944), and Cleopatra (1934). Introducing each film, Oscar-nominated costume designer Deborah Nadoolman Landis. Landis made a point to educate the audience on just how Travis Banton made his way to Hollywood. After moving from Texas to New York Banton was working at the famous couture house 'Lucille Limited' when Mary Pickford just happened to buy a dress for her wedding to Douglas Fairbanks. The designer of the dress was Travis Banton and from that point on his achievements in costume design would be seen on the bevy of beautiful ladies who graced Paramount Pictures films. Banton would go on to be Edith Head's boss at the studio, leaving a legacy in his own work and her's that would follow under his tutelage. The creations on screen of Travis Banton are breathtaking, even in black-and-white; maybe more so in black-and-white since the clothes overcome the lack of color and luster with their impeccable artistry, imagination, and awe-factor. Watching Marlene Dietrich enter the frame in one of Banton's creations in The Scarlett Empress makes your heart skip a beat. In a three-part analysis the works of Travis Banton, as presented at The TCM Classic Film Festival, shall be profiled. The first of which is I'm No Angel (1933), starring Mae West and Cary Grant.
I'm No Angel
Mae West…the feisty screen siren who defied the dictated societal norms placed upon women and was brash, to-the-point, and oh-so sexualized in every movie she made.
Teaming up with Cary Grant for the second time, Mae wrote the screenplay for I'm No Angel, a movie about a woman working in the circus who has a non-stop parade of boyfriends who keep her in nice things that are far above her social status. With one-liners to die for rolling off Mae's lips and a story that is sweet if not audacious in its execution of sexual innuendos, I'm No Angel is a romantic comedy featuring the undeniably sexy West and enough men to keep her occupied. The movie is hilarious, sweet natured, and evokes many a temptation in the viewer. To call I'm No Angel sinful is the greatest of compliments.
I'm No Angel was released just as the Production Code was being enforced so it just missed the strict censorship guidelines that would have put a damper on the sexy wardrobe Mae wears as lion tamer Tira. The first film Mae West and Travis Banton worked together on, I'm No Angel would not be their last at Paramount Pictures. As Deborah Nadoolman Landis stated in the film's introduction, Mae stood a mere 4 feet six inches tall–a shocking revelation to those who do not know everything Mae West. In order to appear taller, and slimmer, Mae wore stiletto platform shoes and required that all of her clothes on screen, including daytime attire, be floor length.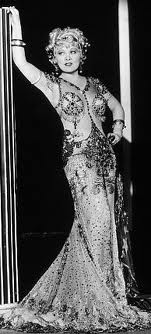 You would never see Mae West's ankles, even if the fashion of the time was mid-calf length dresses and skirts. I'm No Angel strictly abides by Mae's rules, but if you look closely in a couple scenes, specifically when she is riding on the elephant, you can see the dangerously tall heels she is wearing (but not her ankles).
Bringing to life the character Tira was definitely rooted in her costume design. The sexy lioness is present in the dialogue West wrote for the part, in her sultry body language and the unforgettable looks she gives, almost breaking the fourth wall to wink at the audience who know exactly how devious she is being with her men. At the end, with all of the memorable moments, the costuming sticks in your mind. The first time West appears on screen to sing the song "They Call Me Sister Honky-Tonk," she is wearing a full-length gown with strategically placed sequence beading to cover what must be covered while accentuating her assets (spoiler: even the stuffed bodice). The light shines from behind her on stage and the sheer fabric of the dress reveals the outlines of her legs and waist. The body hugging sheath contours every inch of Mae West as she dances her pseudo strip-tease and immediately the viewer is clued in to the type of character Tira is, full of sex appeal and plenty of tease.
There is also the more demure side of Tira. A simple black dress with polka-dot accents in white, covered by a white jacket with black polka-dots to match, plus a sailor-type hat. The three-piece ensemble is understated yet still oozes the sexiness of Tira. This is a woman who bathes herself in nice things, playing the part of temptress and lady, depending on the situation and the man in her midst. Travis Banton created her costumes with this variance in mind. Tira is a temptress but she is also a woman who wants to be respected and adored by her audience while finding a place in high(er) society. She is not willing to give up her boldness or tawdry comments dripping with sarcasm and sexy venom while reaching a new level in high society–much to the enjoyment of the audience. At the height of her stardom in the film and nearing her engagement to Cary Grant's Jack Clayton, she dons a black dress with attached shawl strewn with beading creating spiderwebs. The look is divine on West's Tira, and the analysis of the scene is one of showcasing the web Tira has created for herself between her career, her love for Jack, and her need for independence.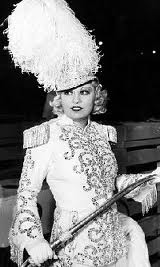 She is a woman caught up in having to decide whether to keep on with her manipulative ways with men or settle down and find a new role as wife. The costuming by Travis Banton could not be more perfect.
There is one unforgettable outfit West wears, marking her rise to stardom in the new act as a lioness. Riding out on an elephant to great the circus crowd she is in a white ensemble of skin tight bell-bottom like pants and a tunic dress that stops just below her buttocks. The skin-tight pants reveal her curvy legs, while the top shines and sparkles under the lights of the circus. West is a vision in white, with the feather headdress and fringe accents. Her act is no typical circus act, and this woman is about to entice, excite, and paralyze the audience with her performance. The same may be said for Mae West as an actress in all of her films, and with the help of Travis Banton she became a spectacle to be seen in her costumes, perfectly accented at every moment and every angle.