Synopsis: When Thomas wakes up trapped in a massive maze with a group of other boys, he has no memory of the outside world other than strange dreams about a mysterious organization known as W.C.K.D. Only by piecing together fragments of his past with clues he discovers in the maze can Thomas hope to uncover his true purpose and a way to escape. Based upon the best-selling novel by James Dashner.
Release Date: September 19, 2014     MPAA Rating: PG-13
Genre(s): Action, Fantasy
Film Review

The Maze Runner, like most movies featuring a cast of young relative unknowns, is an adaptation of a wildly popular young adult (YA) novel. Its story focuses on a series of mysteries that slowly unfold over the course of the book/film, before opening up to an overarching world far bigger than the individual premise let on. However, it is in the unraveling of that central mystery that The Maze Runner film loses a lot of its luster. What was once intriguing eventually becomes confusing, and what was once substantial starts to lose all its weight. This is a case where the story itself cannot hold up to the telling of said story, and as a result the film mostly falls flat.
The basic premise of The Maze Runner's story is that a series of young boys find themselves at the center of a mysterious maze. Every month a new boy enters the maze, and over time the young men have formed a Lord of the Flies-style society where everyone has a purpose. Some boys serve as leaders, others farmers, while a select few are chosen to be runners. Thomas (Dylan O'Brien) is the latest chosen for the runner position – a task that requires daily navigation of the ominous and ever-changing maze, in the hopes of discovering a way out. However, Thomas' new role as a runner draws both hope and serious criticism, as some think his appearance will finally break them free while others believe he will doom them all.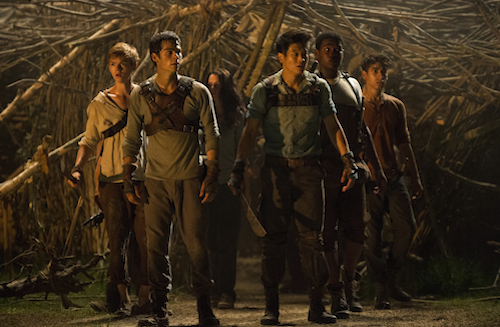 With such a unique and engaging premise, it's hard to believe that The Maze Runner falls so flat so quickly. What starts out as a movie with a ton of promise, inevitably becomes mild entertainment with a weak resolution. To make matters worse, the film suffers from tell-not-show syndrome, where almost every important reveal is slathered across sloppy dialogue. There's little discovery in the film that isn't haphazardly side-loaded into a conversation. It isn't natural, and it makes the film's open-ended, monologue-heavy resolution all the more dissatisfying.
Visually, though, The Maze Runner is a striking piece of work. Its massive maze walls and genuinely horrifying creatures (because why wouldn't there be monsters inside the maze) are well realized. Most importantly, there's a sense of scope to the maze that, despite being dizzying by nature, gives the audience a clear understanding as to where characters are at all times. Granted, the film is fairly light on action, and is mostly character and story-driven, but nothing about the effects or stunt work is undercooked. It all has purpose and looks believable on screen.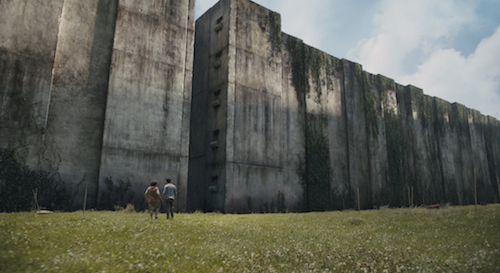 But, for a film whose ultimate goal is building suspense and concluding with some satisfying payoff, The Maze Runner doesn't hit its mark. There are some flashes of intrigue peppered throughout, as the true nature of the maze and the reasons for these boys' predicament start to come into focus, but it's only surface level. Even when a mysterious girl named Teresa (Kaya Scodelario) enters the fray, the film spends far too much time telling more than showing. The Maze Runner hopes to springboard into the next big YA franchise, but its foundation is too weak to see casual audiences clamoring for more. Instead, they'll come away somewhat entertained, but not drawn in like the filmmakers hoped. The film is a casual rental at best, but could have been much better.

For a cast filled almost exclusively with relative unknowns – and young ones at that – The Maze Runner's ensemble is more deserving of accolades than your average YA adaptation. Leads Dylan O'Brien and Will Poulter carry the protagonist and (semi) antagonist roles well, more so than you would expect, and have a fun dynamic when on-screen. In fact, most of the supporting cast does well to flesh out a series of side characters that are mostly just trite stereotypes. This is a case where the cast actually outshines the material, which is a strength considering there isn't much action to the film.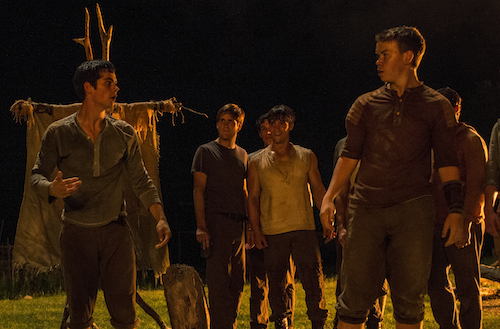 Cast and Crew
Director(s): Wes Ball
Producer(s):
Screenwriter(s): Noah OppenheimGrant Pierce MyersT.S. Nowlin
Story: 
Cast: Dylan O'Brien (Thomas)Ami Ameen (Alby)Ki Hong Lee (Minho) Blake Cooper (Chuck)Thomas Brodie-Sangster (Newt)Will Poulter (Gaily)Dexter Darden (Frypan)Kaya Scodelario (Teresa)
Editor(s): Dan Zimmerman
Cinematographer: Enrique Chediak
Production Designer(s):
Costume Designer: 
Casting Director(s): 
Music Score: John Paesano
Music Performed By: 
Country Of Origin: USA