Synopsis: Mia Hall (Chloe Grace Moretz) thought the hardest decision she would ever face would be whether to pursue her musical dreams at Juilliard or follow a different path to be with the love of her life, Adam (Jamie Blackley). But what should have been a carefree family drive changes everything in an instant, and now her own life hangs in the balance. Caught between life and death for one revealing day, Mia has only one decision left, which will not only decide her future but her ultimate fate. If I Stay is based on the best-selling novel of the same name.
Release Date: August 22, 2014     MPAA Rating: PG-13
Genre(s): Drama
Film Review

It's said that your life passes before your eyes in the moments before you die. So, what if you could look back upon the events of your life and make the decision as to whether or not you want to go towards the light of Heaven? That question is the main plot point of If I Stay.
If I Stay stars Chloe Grace Moretz (Carrie, Kick-Ass) as Mia Hall, a shy yet popular high school student who seemingly has the world at her feet. She's a talented cellist who has just scored an audition for The Juilliard School of Music. Her boyfriend, Adam (Snow White and the Huntsman's Jamie Blackley), is the frontman of the most popular band in the hip Portland music scene. Her parents (played by Mireille Enos from World War Z and Joshua Leonard from The Blair Witch Project) are aging ex-rock & rollers who treat her with respect and trust, giving her a freedom that makes her the envy of all of her friends. Mia's apparently perfect life is turned completely upside down one snowy afternoon when her family is involved in an automobile accident that kills her parents and leaves Mia in a coma. Mia has an out of body experience at the hospital where she can not only see the doctors working furiously to save her life, but she is able to look back on key moments in her life, remembering both the joy and pain of her experiences. While watching the hurt and suffering of her family and friends, Mia must decide how much she wants to fight to survive. Whether she wants to live or die, her fate is in her own hands.
Not surprisingly,
If I Stay
is based on Gayle Forman's book of the same name that was adapted for the screen by Shauna Cross (
Whip It
) and brought to visual fruition by director R.J. Cutler ("Nashville"). As far as plot goes, it's got all of the ingredients of a YA film – a cool young cast, a somewhat chaste love story, a rocking soundtrack, and all of the elements of the supernatural over which the post-"Twilight" kids of today go crazy. It hits a bit of a snag in that it panders to its audience rather than catering to it; the film doesn't give its target demographic the intellectual credit that it deserves. In short, the film talks down to its audience. Sure, there's some clever writing, and the flashback/reality structure is an effective way to tell the story, but the dialogue and exposition is much too juvenile, even for a young adult film, as if it was written by someone who is completely out of touch with the youth of today. Add in the fact that most of the sappy romance stuff is downright cringe-worthy, and there's a lot about
If I Stay
that just doesn't work.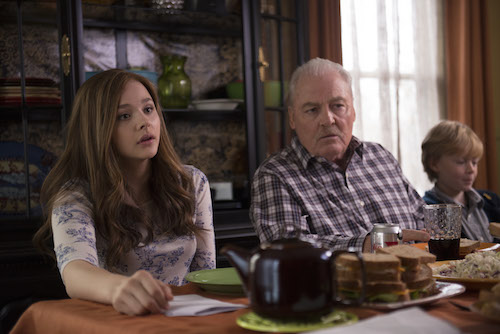 What does work are the tearjerker parts. There are sections of
If I Stay
that are absolutely heart-wrenching. One scene in particular really gets the waterworks flowing; veteran character actor Stacy Keach (
Nebraska
), as Mia's grandfather, gives a stirring speech to the comatose girl that is nothing short of devastating. Keach's role in
If I Stay
is fairly small, but he earns his keep in that one pivotal scene; there are not many actors who could pull the emotional strings that he does. The teenagers' dialogue in the film may sound like it was written by a sixty-year-old man, but the sixty-year-old man's dialogue is right on target. Stacy Keach provides an almost movie-saving scene. Almost.

Since just about every main character in the film is a musician of some sort, the musical selections in If I Stay are important elements of the film. There are three different levels of music involved in the soundtrack. First, there is the classical music that Mia loves, and selections by Beethoven and Bach are peppered throughout the narrative to illustrate her influences. Because Mia's parents are old rockers, the music of their youth is ever-present as well, represented in the film by songs from rock icons like Iggy Pop, Blondie, and The Buzzcocks. Finally, there's Adam's music: the post-punk, alt-rock sound characterized by modern artists like Beck, Sonic Youth, and Hope Sandoval, as well as the music of Adam's celluloid band, Willamette Stone, who contribute a half dozen or so songs to the soundtrack which, frankly, aren't half bad. The mix of music in the film is a little eclectic, but it fits the different styles of the characters well, and the soundtrack sounds cohesive without ever getting boring. The music to If I Stay holds up its end of the bargain.
One of the most standout scenes in the film is completely music driven; Mia's family and friends are having a cookout, and all of her parents friends and her boyfriend's band members are there with their instruments. Someone brings Mia her cello, and the whole lot of them start playing Smashing Pumpkins' "Today," with the lyrics "can't wait for tomorrow, I might not have that long" taking on a special meaning for the spectral, comatose Mia who watches the festivities through her memories. It's a rousing scene of everything important in Mia's life coming together, and it's all because of the tunes. It's an important moment in the film, one that is both jovial and heartbreaking, and one that sums up the musical themes of
If I Stay
very nicely.
Cast and Crew
Director(s): R.J. Cutler,,,
Producer(s):
Screenwriter(s): Shauna CrossGayle Forman
Story:
Cast: Chloe Grace Moretz (Mia Hall), Mireille Enos (Kat), Jamie Blackley (Adam), Joshua Leonard (Denny), Liana Liberato (Kim), Stacy Keach (Gramps), , , , , ,
Editor(s): Keith Henderson
Cinematographer: John de Borman
Production Designer(s):
Costume Designer:
Casting Director(s):
Music Score: Heitor Pereira
Music Performed By:
Country Of Origin: USA