When Valentine's Day Hits, Movie Escapism May Be The Healthiest Thing You Can Do
The most stressful time of the year is said to be that of the holidays, beginning around Thanksgiving in the States and leading up to New Year's Eve.  In January everyone takes a breath, heads to the gym to work off the holiday weight and eases into the cold winter months. Then February hits and the stress of the holidays seems like a welcome vacation over the dreaded day of love–Valentine's Day.
People go into panic mode trying to decide what they should buy for their sweetheart; they then panic even more when they realize how much it is going to cost them to buy a dozen roses, or take their partner out to dinner with the deluge of pre-planned Valentine's Day menus (restaurants take full advantage on this day).
For the single people of the world, Valentine's Day feels like a slap in the face; a cruel joke being played out for weeks ahead of time as every store is laden with themed decorations and all of the commercials on television advertising all the things you should buy for the one you love.
Being alone on New Year's Eve is a cakewalk compared to surviving a day at the office on February 14th; where the smell of roses and the sounds of giggling girls in their cubicles is nauseating. They should really sell Valentine's Day survival guides or kits for people.
Let's face it, Valentine's Day is a Hallmark holiday.  It is a day you are supposed to celebrate the love you have with another person, but that should be every day–or a random day in September.  Like it or not Valentine's Day is happening, and the stress of pulling off the perfect evening is imminent.
While I cannot, and will not, give you advice on where to take your special one or how to have fun even if you are single, I can offer some suggestions in the way of movies that may help make the evening better, for both those in love and those cursing the entire idea of love this year.
The Valentine's Day Movie Survival Guide
1. We hate Valentine's Day!!! – True Romance
Not only is True Romance one of the greatest films you could ever see, but it is also an alternative love story.  Nothing says "I Love You" more than taking a bullet.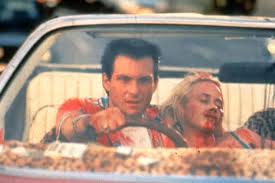 You won't find any lovey-dovey nonsense in True Romance; it's an action movie where everything goes wrong for a couple, but their love will survive.
2. We're so in love it sickens everyone around us (we no longer have any friends, just each other). – The Notebook
By far the most overly romantic, tear-inducing, sure to make it a given you get lucky afterward, movie of the past ten years.
3. I miss them; I know they were the one, and if only I could win their heart back. – (500) Days of Summer.
For anyone who has ever second-guessed a relationship, romanticized far too long what could have been, or spent years yearning for the one that got away this is the movie for you.  Just remember, autumn is just around the corner.
4. I'm single, and loving every minute of it. – Girl's Just Want To Have Fun
The 80s, hair and all, make this one too funny and way too much fun to not make it a must-watch on Valentine's Day.
5. Cougar time. – Harold and Maude
Dating a younger man has become popular in the past few years, and wholly accepted.  Take a trip in movie world with the woman who made all of the cougar's look like amateurs, Maude.  But I will warn you, Harold is not your average young man and Hal Ashby's film is one of the greatest achievements in dark comedy ever produced.
6. I'm divorced, my heart is still broken, and I really wish a cowboy would come and sweep me off my feet. – Hope Floats
For those who have been hurt, in ways immeasurable and to the point you believe you will never love again Hope Floats is perfect for Valentine's Day.  It is a love story, but oh so much more.  "A dance is just a conversation between two people, talk to me."– gets me every time!
7. I'm in love with the popular girl, and she doesn't know I'm alive. – Can't Buy Me Love
Patrick Dempsey, before he was McDreamy on "Grey's Anatomy," was a VERY popular actor in teen-focused films of the late 1980s.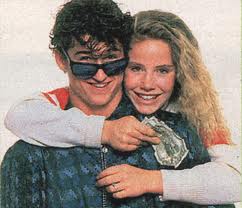 Can't Buy Me Love is a classic when it comes to the high school nerd winning the heart of the most popular girl in school.  This movie will give you hope that it is all possible, even if you drive a lawnmower.
8. It must be fate that brought us together, but what if we never had met at that coffee shop? – Sliding Doors
Deny it all you want but everyone believes in fate just a tiny little bit.  We all get goosebumps once in a while, or the feeling we have been here before or were meant to be here now.  Sliding Doors is the movie for lovers wrapped up in the likelihood that fate brought the two of them together.  It will make you believe in fate, and love every moment.
9. Dear men, I hate you, love angry women everywhere. – Hard Candy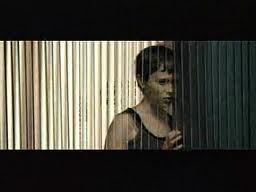 You want to see a man go through excruciating pain and maybe get mutilated as well?  Hard Candy is the movie you have been waiting to see–I will warn you, this one is tough to watch no matter how much you hate men.  Ouch!
10. We like our romance a little risque (with spanking). – Secretary
A little kinkiness never hurt anyone, and James Spader and Maggie Gyllenhaal are all sorts of kinky in Secretary.  Working late at the office has never been sexier.
11. We have tons of food in the fridge that needs to be eaten before we leave on vacation…9 1/2 Weeks.  This movie may be a but much for some people, as it is very erotic at times and oozes sex.  But it has the most iconic food as sexual foreplay's scenes in movie history.  It's hot to see Kim Basinger and Mickey Rourke (pre-face changes) do things with food that should be illegal.  The rest of the movie is pretty great too.
12. If it's not in black and white it can't be good. – It Happened One Night
An all-time classic, a film everyone should see in their life, is It Happened One Night.  Full of witty banter, mischief, sauciness, romance, and it broke the rules on what ladylike behavior was for the era.  Those ankles are scandalous!
13. We like a little science fiction with our romance. – Happy Accidents
The greatest loves span time, and in Happy Accidents, it is all about traveling in time to save the woman you love.  The movie is sweet, honest, and oh so romantic.
14. I'm hitting the bars tonight, there will be desperate single ladies everywhere. – Swingers
This is a movie for the men and is full of devilish tricks to pick up the ladies.  It should help put you in the mood.
By far not as good as the book it is based upon, the movie is still a sweet romantic ride through time.  Watching this with your sweetie over the phone, via Skype, or whatever device you fancy is sure to be romantic.
16. I love ghost stories, my other half not so much. – Ghost
One part romantic drama about love lost and one part thriller makes Ghost a great compromise.  It is a modern classic and may make you want to spin some clay.  Wink, wink.
17. I wish I lived in a Jane Austin novel.
Well, this is an easy one, watch any Jane Austen adaptation.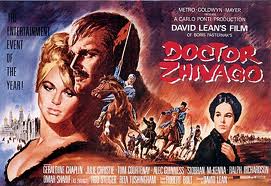 18. I am alone, I don't care, but dammit I want to weep like a baby. – Dr. Zhivago
Love found, love lost, and complete devastation at the end make Dr. Zhivago the right choice.  It is LONG, epic long, but fear not, the story is incredible and the romance one you will never forget.  What an ending!
19. I hate women, all women.
You should never hurt a woman, and women should not hurt men either, so I won't give you any suggestions for a film that promotes harm to anyone.  But if you are in the mood for voyeurism you can always watch Psycho, or any Hitchcock film, really.
20. My ex-husband is a dead beat, is there hope? – Murphy's Romance
The same plight is the base of the story and hope comes in the form of a strikingly good looking, perfect gentleman, who is a tad bit older.  Trust me, you won't care.  The film is simply lovely.
That does it for the Valentine's Day movie survival guide. Happy Valentine's Day or Happy February 14th, or Screw You Valentine's Day or I Bloody Hate Valentine's Day…whatever makes you smile.