When a film has a bit of success, it's inevitable that other films will try to ride the coattails and cash in on the windfall. The best example is John Carpenter's Halloween and its ushering in of the golden age of the slasher film. Years before, Alfred Hitchcock's Psycho inspired scores of filmmakers to pump out quick and cheap movies in an attempt to exploit the new psychopathic killer fad. One of the more interesting of these films is Robert M. Young's 1962 horror mystery Trauma.
Trauma is set in the town of Oakmont, where a killer is on the loose. The film begins with Emmaline Garrison (The Magic Sword's Lorrie Richards) returning home from identifying the body of her murdered friend.
On her way in, she encounters the creepy Warren Clyner (John Conte from The Carpetbaggers), who reveals to her that he has just asked her rich, wheelchair-bound Aunt Helen (B-movie legend Lynn Bari from Shock and The Amazing Mr. X) to marry him and has been turned down. Emmaline goes to bed, but is soon awakened by the sounds of a struggle outside. She investigates and walks down to the pool in her backyard where she sees Helen thrown into the pool and drowned by a shadowy man. The murderer escapes and Emmaline blacks out, losing her memory completely. Six years later, she returns home as the sole heir of the Garrison estate, but only after marrying Warren, the very man who Helen turned down (although, of course, she doesn't remember this). The happy couple moves into the house that, in her absence, has been taken care of by a handyman named Luther (Warren Kemmerling from Close Encounters of the Third Kind) and his architect nephew, Craig (television actor David Garner), hoping that the familiar house will jar her memory.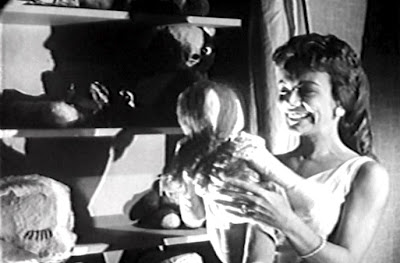 While Warren seems all too interested in making sure Emmaline's inheritance comes through, small things around the house begin to trigger memories for the girl and, with Craig's help, she begins to put her past back together. Things get even more bizarre when Craig discovers a secret room on one side of the stable that hides another big surprise. Craig and Emmaline struggle to figure out the identity of Helen's killer and how the hidden chamber and its contents fit into the story.
Other than the hard-hitting, two-syllable title and the Saul Bass inspired advertising poster, Trauma does not have much in common with Psycho. Written and directed by Robert M. Young (who never directed again, but went on to have success as a writer with The Crawling Hand, Escape to Witch Mountain and dozens of television screenplays), Trauma tries to be more of a straight-up horror film than the suspenseful Psycho. That's no to say that Trauma is not suspenseful, but Young is no Hitchcock. Psycho takes a fairly simple storyline and turns it into a masterpiece while Trauma is more complex and layered yet not as well executed.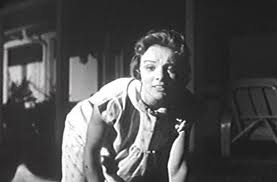 And Trauma does not have the advantage of a Bernard Herrmann score, instead opting for a jazzier, hip Buddy Collette (the orchestra leader on "You Bet Your Life") soundtrack. So, while Trauma may not live up to Psycho standards, it is an engaging film in its own right.
Trauma is more than just a film about a girl trying to regain her memory; it's a compelling mystery. The pieces are put together not only by Emmaline's memory slowly coming back, but by Craig's diligent research. The Scooby-Do type plot takes the viewer through twist after turn until it reaches a conclusion that is as shocking as it is entertaining, and it does it all in the framework of a classic ghost/murderer horror tale.
Part of what gives Trauma more of a horror feel than a typical mystery is the noir style of the photography.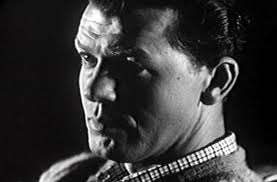 Cinematographer Jacques R. Marquette uses high contrast lighting to give the film a darker, more brooding look than normal gumshoe films. The estate and its grounds are a perfect horror movie setting, with its sprawling landscape and confusing architecture. The sets are dressed in the eeriest way possible, too, with out-of-place props and Aunt Helen's old wheelchair as part of the scenery. There may not be many purely terrifying moments in Trauma, but the overall look of the movie just creeps and crawls.
In many ways, Trauma succeeds in spite of itself. The script is clever despite the corny dialogue. The cast overacts frequently, but still gets the point of the performance across. The plot is needlessly complex, but still wraps itself up nicely. As far as B-movie horror goes, Trauma is great – just as long as the viewer isn't expecting another Psycho.