Most people recognize actor Peter Billingsley from his greatest contribution to popular culture – he played Ralphie in the yuletide classic A Christmas Story. After appearing in the traditional 24-hours-marathonable holiday tale, Billingsley's lovable geek look got him more work, mostly on television in sitcoms like "Who's the Boss" and "Punky Brewster." However, the youngster had made movies before landing his signature role. He even made a horror movie in 1982, the year before A Christmas Story, called Death Valley.
Death Valley stars Billingsley as Billy Stanton, a young New York boy whose mother, Sally (Catherine Hicks from "7th Heaven"), takes him on a summer vacation to Arizona so that he can meet her high school sweetheart and new boyfriend, Mike (Paul Le Mat from Puppetmaster and Strange Invaders). In order for Billy and Mike to get to know each other, Sally plans a road trip to Death Valley. Along the way, the trio stops for the night at a motel, and Billy wanders off to explore. He comes across what appears to be an abandoned RV and goes inside where he finds a necklace with a frog charm on it. When the RV turns up later, burned out and full of dead teenagers, Billy comes clean about having been there earlier and turns the necklace over to the town sheriff (The Thing's Wilford Brimley). The sheriff recognizes the necklace as belonging to a local man named Hal (Stephen McHattie from Watchmen and A History of Violence). While the sheriff goes to question Hal, the killer of the teenagers starts to stalk Billy and his family as they tour a Wild West Ghost Town tourist attraction. At first, Billy thinks the cowboy hat-wearing, bandana-masked bandit is all part of the show, but he soon learns that the killer is not an employee of the park. Mike and Billy are forced to work together to protect Sally and get away from the masked murderer.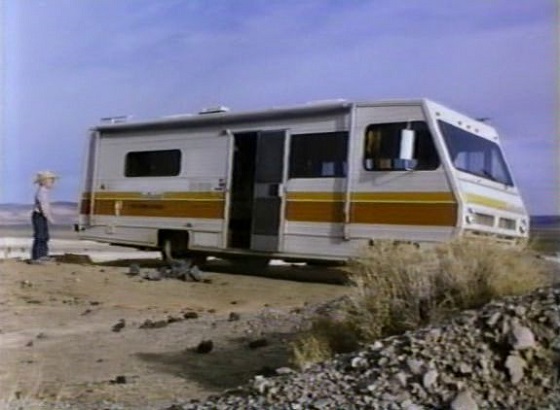 Released during the golden age of the slasher movie, Death Valley is often overlooked in the vast onslaught of films that were made at the time. Directed by Dick Richards (Farewell, My Lovely) from a script written by Richard Rothstein (creator of "The Hitchhiker" for HBO), Death Valley combines the slasher subgenre with the road movie, drawing as much influence from Steven Spielberg's Duel as it does from John Carpenter's Halloween. Death Valley has a surprising amount of suspense in it, considering that both the killer's identity and the film's big climactic twist are telegraphed very early on in the movie. Once the viewer puts together the pieces to the puzzle, the film becomes more about the journey than the destination. And the journey is a lot of fun.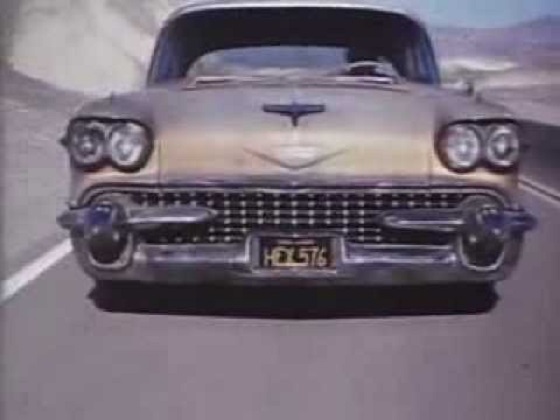 Because Death Valley was made just a year before A Christmas Story, Peter Billingsley's look in the film is pretty much the same; he's got the toe-headed bowl cut paired with the glass bottle-bottom spectacles that would become his signature. Billingsley's character even plays with a toy six-shooter for much of the movie, just daring the audience to warn him that he'll shoot his eye out. Although he went on to become a cultural icon, Peter Billingsley is not the only actor from Death Valley to go on to bigger things. Before becoming the matriarch of the Camden Clan in "7th Heaven," Catherine Hicks would play the mom that buys Chucky for her son in Child's Play. Wilford Brimley ended up hocking Quaker Oats Oatmeal and educating people about diabetes after starring in films like Cocoon and The Natural. Writer Richard Rothstein would end up using both Paul Le Mat and Stephen McHattie in episodes of "The Hitchhiker." Death Valley even features well-known character actor Edward Herrmann, who would go on to star in "Gilmore Girls" and The Lost Boys, in a small role as Billy's real father. The familiar faces in Death Valley do not stop with Peter Billingsley – to a 21st century audience, just about every actor in the film is recognizable from somewhere.
As strange as it sounds, Death Valley is a very family-friendly horror movie. It's not as kid-oriented as Paperhouse or Something Wicked This Way Comes, but the main character is a young boy who has very typical kid problems. The film deals heavily with the theme of divorce and family breakup, something that can be relatable to many children. Billy is thrust into the role of third wheel on the trip, but his mother and Mike are also uncomfortable with the replacement-dad situation. As the city fish in a country pond, Billy provides a lot of comic relief throughout the film, but his character is also a little sad. Mike is also sad; he comes off as desperate to find some common ground with the boy, but Billy is both smarter and better educated than his mother's boyfriend and looks down upon the man. They have nothing in common, which gives the pair an air of awkward unhappiness. It's only when the two conveniently find the common enemy of the killer that they finally come together. There's a lesson to be learned from Death Valley, and it goes beyond simply how to not get killed by a maniacal murderer on the loose.
For a slasher movie, the effects in Death Valley are pretty tame. Despite the relatively low body count, the film has plenty of blood, yet the actual kills are nothing spectacular. The special effects were designed by Roy L. Downey (the 1988 remake of The Blob, Escape from L.A.), and they seem more like magic tricks than slasher kills; the classic bleeding-blade knife trick makes more than one appearance. The film's got lots of throat slashing and stabbing, and even a pick-axe to the chest at one point, but it's all just streaming karo syrup and not much latex or foam – all blood and no wound. Because the effects are so limited, the kills have to rely on photography to make them effective. Director of photography Stephen H. Burum (Body Double, The Outsiders) and editor Joel Cox (from Clint Eastwood's camp, with credits that include everything from The Enforcer to Jersey Boys) show just enough violence to convince the viewer that it's there, but shows it quickly and sparingly enough to hide the lack of detail in the effects. It's the same trick used by Alfred Hitchcock in Psycho and emulated by John Carpenter in Halloween; show them only what they need to see and let their imaginations make up the rest.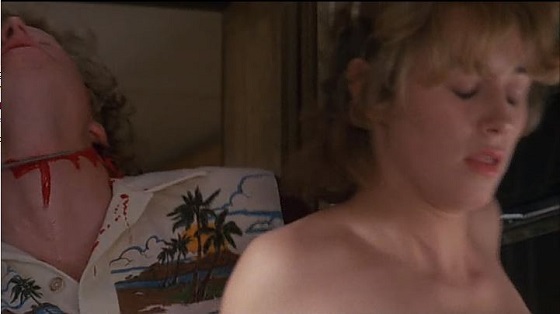 The musical score for Death Valley was written by prolific composer Dana Kaproff (When a Stranger Calls, Empire of the Ants), and it consists of everything from sparse piano pieces to heavy orchestral stabs. Kaproff illustrates the dichotomy between Billy's father and Mike by inserting cultured, refined classical music in the scenes with the father while using more downhome, countrified jams in Make's scenes. The soundtrack also borrows and quotes freely; Kaproff uses a variation on John Williams' Jaws theme to add suspense to certain scenes, and a player piano can be heard pounding out "Streets of Laredo" from Bang the Drum Slowly as well. Whether original or liberated, the music that Kaproff comes up with serves Death Valley well, helping to breathe added life into the scenes.
Little Peter Billingsley is still acting today, although he looks nothing like the blond nerd he was back then. In addition to producing, directing, and generally palling around with Jon Favreau, Billingsley has played modest on-screen parts in big Hollywood movies like Iron Man and The Break-Up, and even hilariously parodied his A Christmas Story past in Elf. To this day, Death Valley has been his only horror movie, and it's not a bad legacy to leave if he happens to never make another.