At every film festival there always seems to be one movie that strikes you as a viewer more so than any other. For the 2012 Los Angeles Film Festival the honor goes to Director Mads Matthiesen's Teddy Bear. The promotional image for Teddy Bear displays a hulking figure of a man, bodybuilder Dennis (real-life super-heavyweight bodybuilder Kim Kold), curling his biceps in front of a mirror with a barbell weighted far more than most people could carry with both hands.
Dennis is covered in tattoos, rippling with muscles, and looks nothing like the gentile man you come to know in Teddy Bear–a juxtaposition of a title if there ever was one to the striking figure of the man it refers. But Dennis is all heart, a sweet-natured man who yearns for love but is painfully shy. His overbearing mother Ingrid (Elsebeth Steentoft) stands in the way of his happiness as she becomes jealous with the slightest idea that Dennis may date a woman. Being that Dennis is 38 years-old and still lives at home tells a great deal about their relationship. His mother's jealous outbursts and passive aggressive behavior when Dennis does not do as she pleases speaks volumes to her insecurities; she treats Dennis more like a lover, or husband, than a son. The complicated relationship between them is unsettling, a reaction that only creates a more interesting story in Teddy Bear.
Teddy Bear revolves around Dennis' search for love while having to overcome his suffocating relationship with his mother. The simplicity of the story is only a facade, as the emotional depth is greatly affecting. Dennis' search for love takes him to Thailand, a place he is told the women are much nicer and easier to interact with. His trip is one done in secret, as his mother cannot know his intentions. He lies, telling her he is going to a bodybuilding competition in Germany and will return in a week or two. Dennis' mother is not that easily duped, so to speak, and it is clear she knows he is not being completely honest with her and her reaction is to fall-back on the passive aggressiveness she excels at by ignoring his phone calls while he is away. Her attempts to guilt her son into returning fail as Dennis continues his trip.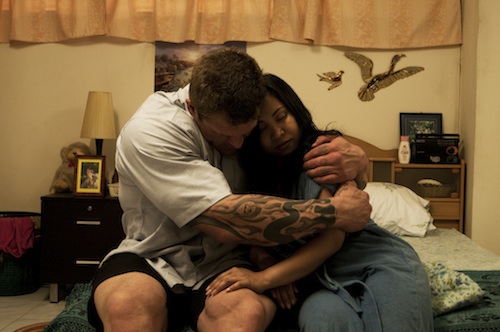 In Thailand Dennis discovers that the form of love he is looking for is not one where money is exchanged. His attempts at intimacy with two prostitutes, who may be interested in more depending on the terms, ends with his insecurities and shyness, as well as his desire for pure sentiment getting in the way of pleasure. Dennis is a sweet, gentile soul, who is not akin to the outwardly blunt actions of the Thailand sex-tourism culture he at firsts encounters. It is when he finds himself in his own element, at a gym where Taiwanese bodybuilders welcome him graciously that he meets the owner Toi (Lamaiporn Sangmanee Hougaard), a widower who is a kind and genuine Taiwanese woman with strong morals and cultural beliefs. Toi is perfect for Dennis, and together she assists him in coming out of his shell, while he gives her the possibility to love again. As Dennis and Toi embark on their friendship and tender love affair the ever-presence of his mother lingers over the entire story, causing emotional stress and a level of fear for both the viewer and Dennis as a character because the need to express his own desires and wants for his future will ultimately culminate in a disastrous encounter.
Watching Dennis break-free of his mother in small steps is done with an incredible level of realism under Matthiesen's direction. There is not a great deal of dialogue in Teddy Bear, the emotions and changes with characters occur in their demeanor, the way in which they shrug, smile, or recoil at a touch.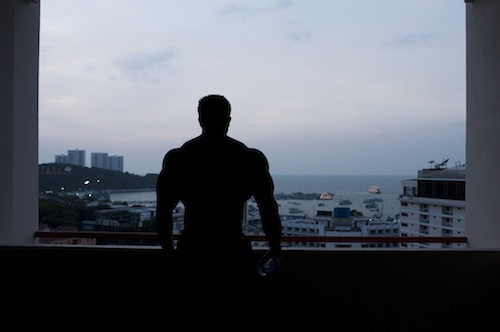 The expressive nature of Kim Kold's Dennis is astonishing; made even more so by the unexpected range found in this gentle giant of a man. The opposite of which is found in his frail mother, whose eyes are filled with condemnation at Dennis' actions, and are quick to manipulate when possible. Teddy Bear is a piece of filmmaking that relies on the intimate relationship between character and audience to propel the story and cause affection. It succeeds immensely, as it blends into its startling realism humor, tenderness, and pain into a beautiful coming-of-age story for a man who should have broken free of his familial bondage years before. Mads Matthiesen has a slow and methodic hand at directing. Each choice made in Teddy Bear is deliberate and the end result is a perfectly polished emotionally rich film that showcases the talents of his entire cast and himself as a Director.
For more information on Teddy Bear at The Los Angeles Film Festival and to purchase a ticket for the film go here. Teddy Bear screens again on Saturday, June 23, 2012.
Teddy Bear is Danish Director Mads Matthiesen's first feature-length film. Teddy Bear is a continuation of Dennis' story as first seen in the award winning short film Dennis (2009), available on YouTube at the following link: http://youtu.be/V1zFeHJzS5E, or view it below.
More about Mads Matthiesen's filmography: http://www.madsmatthiesen.com/.
Synopsis:
The 38-year-old Dennis is a painfully shy bodybuilder who would really like to find true love. He has never had a girlfriend and lives alone with his
overbearing mother in a suburb of Copenhagen. When his uncle marries a girl from Thailand, Dennis decides to try his own luck on a trip to Pattaya, as it seems that love is easier to find in Thailand. He knows that his mother would never accept another woman in his life, so he lies and tells her that he
is going to Germany for a competition. Dennis has never been out traveling before, and the hectic Pattaya is a huge cultural shock for him. Quickly
thrown into the seedy underbelly of Thailand's sex tourism scene, he nearly gives up on finding a bride of his own. He is about to lose hope when a visit to a local gym turns into an unexpected night on the town with the Thai woman of his dreams. Dennis finds that there may be hope for him yet, if only he can confront his mother.
Credits:
(Denmark, 2012, 92 mins)
In Danish, English, Thai with English subtitles
Directed By: Mads Matthiesen
Executive Producers: Karoline Leth, Birgitte Skov, Michael Fleischer, Morten Revsgaard Frederiksen
Producer: Morten Kjems Juhl
Screenwriters: Mads Matthiesen, Martin Zandvliet
Cinematographer: Laust Trier-Mørk
Editor: Adam Nielsen
Music: Sune Martin
Cast: Kim Kold, Elsebeth Steentoft, Lamaiporn Sangmanee Hougaard