Synopsis: A man's nervous breakdown causes him to leave his wife and live in his attic for several months.
Release Date: June 16, 2017     MPAA Rating: PG-13
Genre(s): Drama,
Film Review

Unlike some actors who need a rest coming off of hit television series, Bryan Cranston is showing no signs of slowing down after "Breaking Bad." Between Trumbo, Godzilla, and The Infiltrator, Cranston's post-Walter White career has included some interesting role decisions. The latest of these decisions is as the title character in Wakefield.
Wakefield stars Cranston as Howard Wakefield, a New York lawyer with a museum curator wife named Diana (Jennifer Garner from Dallas Buyers Club) and two adorable teenage daughters. Howard and Diana are going through a rough patch in their marriage, and when he returns home from work late one night, he comes across a raccoon digging through his trash. He follows the raccoon up to the attic above his garage, and notices that he can see his family eating dinner from the window. He can tell from Diana's body language that she's mad at him, so he stays up in the attic…all night. From his hideaway the next morning, he can spy on his family and watch their reactions to his "disappearance." As the days become weeks and the weeks become months, Howard stays in the attic, only coming down to scavenge for food at night, all the while spying on his family from the window. After a while, however, he realizes that there may be no way for him to go back to his old life again.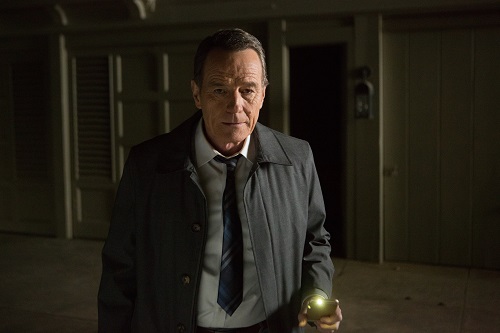 Wakefield is a strange movie. Adapted from an E.L. Doctorow short story by writer/director Robin Swicord (The Jane Austen Book Club), it seems to go nowhere and everywhere, all at the same time. Howard just hunkers down in his attic, seemingly enjoying watching his wife and daughters freak out while he's hiding just a few dozen feet away. As time goes on, he watches them go through the different stages of grief, assuming that he has either left them or that he has met some untimely fate. He also gets to the inevitable point where the family has moved on, and he has to ask himself seriously if they are better off without him. And that is when his mind starts to crumble.
Very little happens externally, but the slow unravelling of Howard is fascinating to watch. At one point, he asks the viewer in a voiceover "are you accusing me of making a game of this?" and the answer, of course, is yes. We are. He sits up in the attic, spying down on Diana, chiding her to himself for standing near the window naked when he's the one doing the peeping. He tries to predict what she'll do next, and after so many years of marriage, he's usually right. It is a game to him, whether he wants to admit it or not.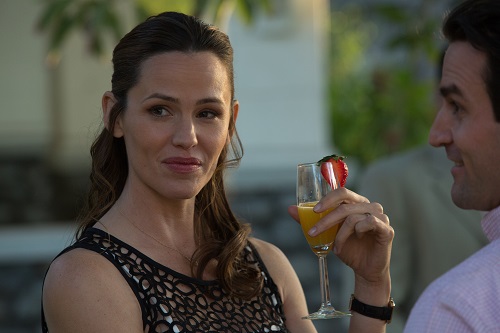 So, Wakefield is a creepy little movie. It's disturbing, unsettling, unnerving…and impossible to not watch. It's basically one man's existential crisis played out in front of an audience, with his family as collateral damage. It doesn't quite stick the ending, but it also seems as if it doesn't even try – it's a bit of a copout. But, as disappointing and unsatisfying as the conclusion may be, the journey that gets you there is worth the price of admission.

Although there are plenty of supporting players, Wakefield is a one man tour-de-force, and Bryan Cranston carries it. He is in just about every scene, and those in which he is not, he narrates via voiceover, so his presence is still felt. As Howard tells his story in present tense, he flashes back to stories from his and Diana's past, and Cranston makes each viewer feel as if he is speaking directly to them instead of to an entire audience. Also, as Howard's time in the attic goes on and he begins to see his options dwindling, Cranston skillfully and subtly plays him a little crazy, not off the deep end totally, but desperate enough to consider desperate measures. And, as "Breaking Bad" taught us, no working actor does quiet desperation quite as well as Bryan Cranston. Wakefield is Howard Wakefield's story, and Cranston has a field day playing him.
Cast and Crew
Director(s): Robin Swicord
Producer(s): Bonnie CurtisWendy FedermanJulie LynnCarl Moellenberg
Screenwriter(s): Robin Swicord
Story: 
Cast: Bryan Cranston (Howard Wakefield)Jennifer Garner (Diana Wakefield)Beverly D'Angelo (Babs) Jason O'Mara (Dirk Morrison)Ian Anthony Dale (Ben Jacobs)Pippa Bennett-Warner (Emily)Ellery Sprayberry (Giselle)Isaac Leyva (Herbert)Victoria Bruno (Taylor)Monica Lawson (Ellen)
Editor(s): Matt Maddox
Cinematographer: Andrei Bowden Schwartz
Production Designer(s):
Costume Designer: Kim H. Ngo
Casting Director(s): Amy Lippens
Music Score: Aaron Zigman
Music Performed By: 
Country Of Origin: USA