Synopsis: The remarkable love story inspired by the lives of artists Lili Elbe and Gerda Wegener. Lili and Gerda's marriage and work evolve as they navigate Lili's groundbreaking journey as a transgender pioneer.
Release Date: December 11, 2015     MPAA Rating: PG-13
Genre(s): Biography, Drama
Film Review
Production
Sometimes, a movie will bring together a bunch of great elements, yet the movie itself will still be mediocre. The Danish Girl is one of those times.
The Danish Girl is about a couple of married artists named Einar and Gerda Wegener (Eddie Redmayne from The Theory of Everything and Alicia Vikander from Ex Machina, respectively) living in Copenhagen in the 1920s. Einar is a successful and respected landscape painter, while Gerda is a talented-yet-struggling portrait artist. One afternoon, Gerda's model cancels on her, so she persuades Einar to pose for her, wearing the leggings and skirt of her subject.
Einar decides that he likes the feel of the feminine apparel and takes to wearing it underneath his own clothing when he goes out. Soon enough, Einar begins dressing as a woman and attending gatherings with Gerda, posing as his own cousin, Lili Elbe. Meanwhile, Gerda has found a muse in Lili, continuing to paint beautiful portraits of her that attract enough attention for the couple to be able to relocate to Paris. As Einar continues to be Lili, he confesses to Gerda that he has always identified as a woman, and decides that he wants to have gender reassignment surgery, a procedure that, in the 1920s, is very risky, both medically and socially.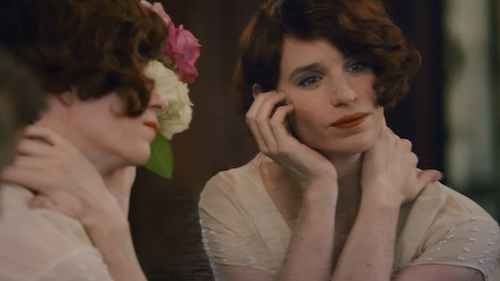 Based on a true story,
The Danish Girl
was adapted for the screen by Lucinda Coxon (
Wild Target
,
The Heart of Me
) from a novel by David Ebershoff (
The 19th Wife
). Director Tom Hooper culls together an all-star crew from his last two movies,
The King's Speech
and
Les Misérables
, to make a technically impressive movie; Hooper's cinematographer Danny Cohen, editor Melanie Oliver, production designer Eve Stewart, and costume designer Paco Delgado are all back, they know exactly what the director wants, and they deliver it in spades.
There's even a wonderful score from another one of Hooper's favorites, Oscar bait composer Alexandre Desplat. From an aesthetic standpoint, The Danish Girl is beautiful. Unfortunately, the beauty stops there.
There's some weird tonal stuff going on in The Danish Girl. The first half of the movie is enjoyable enough, with Einar discovering himself and Gerda, as confused as she is, helping him through it. It's when Einar decides to physically become Lili by way of surgery that the film takes a dark turn, and this shift in focus and tone loses the audience a bit.
It's a serious movie, but there are pockets and snippets of humor peppered throughout. The humor is mostly due to the characters laughing at themselves, but the comedy still feels awkward, like the viewer is laughing at something that they shouldn't think is funny. It's just a little too heavy to be classified as a dark comedy, but that doesn't stop it from trying.
Essentially, The Danish Girl is a quirky little love story. Gerda and Einar are obviously soulmates, very much in love, but circumstances come between them. Gerda ends up being Einar's biggest confidante and supporter, no matter what he chooses to do with his life and body. And her heartbreaking devotion to him is kind of sweet, in a tragic way. And that little analysis right there makes the film sound way more interesting than it actually is. With The Danish Girl, Tom Hooper has made a gorgeous movie with very little substance, and that's a shame because the subject matter is very substantial.
Acting
Despite The Danish Girl basically being Einar/Lili's story, it is Alicia Vikander who steals the movie as Gerda. It's Einar's journey, but it's seen and told through Gerda's eyes, and Vikander captures every ounce of the love, frustration, admiration, and courage that her character requires. She masterfully uses subtle facial expressions and body language to convey simple emotions such as jealousy or heartbreak in a very powerful way.
Eddie Redmayne does a good job as well in the very gutsy choice of a role, but he's not given nearly as much to work with, and a great deal of his performance is aided by makeup and costuming. Vikander is emotionally naked throughout The Danish Girl, and the young actress lives up to all of the movie star hype that she has been generating as of late.
Cast and Crew
Director(s): Tom Hooper
Producer(s): Tim Bevan, Eric Fellner, Anne Harrison, Tom Hooper, Gail Mutrux
Screenwriter(s): Lucinda Coxon
Story: David Ebershoff
Cast: Alicia Vikander (Gerda Wegener), Eddie Redmayne (Einar Wegener/Lili Elbe), Amber Heard (Ulla) Adrian Schiller (Rasmussen), Ben Whishaw (Henrik), Emerald Fennell (Elsa), Henry Pettigrew (Niels), Richard Dixon (Fonnesbech), Pip Torrens (Dr. Hexler), Matthias Schoenaerts (Hans Axgil), Jake Graf (Henri), Sophie Kennedy Clark (Ursula)
Editor(s): Melanie Oliver
Cinematographer: Danny Cohen
Costume Designer: Paco Delgado
Casting Director(s): Nina Gold
Music Score: Alexandre Desplat
Country Of Origin: UK, Germany