The horror world lost another one of its icons this past weekend when Gunnar Hansen passed away at the age of 68 from pancreatic cancer. Hansen is, of course, best known for playing the cannibalistic killer Leatherface in Tobe Hooper's original The Texas Chain Saw Massacre in 1974. After that, he made one more movie, 1977's The Demon Lover, then backed away from acting for about a decade. His return to the screen came in 1988 when he took a role in the campily, yet appropriately, named Hollywood Chainsaw Hookers.
Hollywood Chainsaw Hookers is the sordid story of a Hollywood private investigator named Jack Chandler (B-movie workhorse Jay Richardson from Slash Dance and Teenage Exorcist) who is hired to track down a teenaged runaway from Oxnard named Samantha Kelso (legendary scream queen Linnea Quigley from Night of the Demons and Sorority Babes in the Slimeball Bowl-O-Rama). He finds her in one of the seedier parts of town, but the situation is not what he originally had believed it to be; Samantha ran away to avenge a friend of hers who had been killed by a cult of chainsaw-wielding prostitutes led by an enigmatic figure known only as The Master (Hansen). With Samantha already entrenched in the cult, Jack has to figure out a way for both of them to escape with all of their limbs intact.
If it's not obvious from the title, it should be clear from that synopsis that Hollywood Chainsaw Hookers is a corny movie. It was directed by Fred Olen Ray ("The Lair"), who also wrote the screenplay along with his frequent writing partner T.J. Langford (Scalps, Deep Space), and the film shot in less than a week for about $25,000. And it looks every bit like a cheap-and-quickie. It clocks in at a brisk 75 minutes, and much of that feels like padding. And, of course, it's got just as much T&A as one would expect from a movie called Hollywood Chainsaw Hookers. In short: it's a perfect B-movie.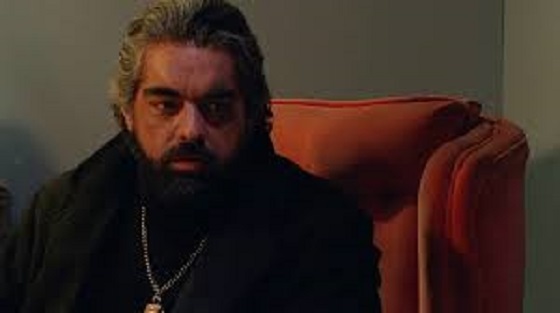 During his time away from acting, Gunnar Hansen was not just sitting idle. He already had a Master's Degree in English and Scandinavian Studies from the University of Texas at Austin when he made The Texas Chainsaw Massacre, so the man was not the simpleton that his breakthrough role might have implied. He spent the late seventies and early eighties writing and editing for various books and magazines, and even teaching a bit of college here and there. His role as the intelligent and manipulative Master in Hollywood Chainsaw Hookers is closer to his real personality than Leatherface ever was. Hansen is only in a handful of scenes in Hollywood Chainsaw Hookers, but he takes control of each one, completely commanding the viewer's attention. There's even a little dig at his legendary past role during the climax of the film where Hansen – the original chainsaw killer – can't get his chainsaw started. Thanks to Hansen and Fred Olen Ray, there's a classic sense of humor in Hollywood Chainsaw Hookers.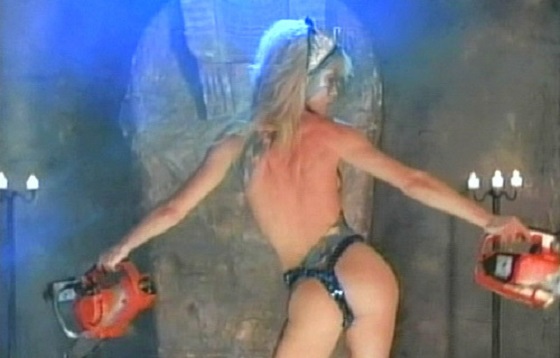 Although Gunnar Hansen doesn't get to actually wield a chainsaw in Hollywood Chainsaw Hookers, there are still plenty of the power tools to go around. As the title indicates, most of the chainsawing is done by the prostitutes themselves. A cult hooker named Mercedes (played by iconic B-movie/softcore porn actress Michelle Bauer from Virgin High and Nightmare Sisters) draws first blood, carving up a john early in the film after first doing a silly little strip-tease for him. Not to be outdone, Linnea Quigley's Samantha does the sweet-and-sexy "Virgin Dance of the Double Chainsaws," which is exactly what it sounds like – a ceremonial dance with a chainsaw in each hand. And the best is saved for last, as Samantha and Mercedes engage in an epic chainsaw duel during the climax of the movie. It may not have Leatherface at the controls, but there's obviously plenty of chainsaw action in Hollywood Chainsaw Hookers.
Hollywood Chainsaw Hookers is told through the first-person narration of its lead character, Jack Chandler, and the lines are written like a bad crime-noir novel. Sometimes he gets clever, saying things like "I find missing people, not pieces." Other times, he's full of puns, like when he tells his girlfriend that "Being a Dick is a 24-hour-a-day job." Still other times, he likes to state the obvious – "This building isn't zoned for human sacrifices." Finally, there are times when even he doesn't know what the hell he's saying, such as when he spits out gems like "that kid talked like a frosted flake…but she had the nicest set of knockers that I'd seen in a long time." Jack Chandler is not exactly Raymond Chandler when it comes to witty detective talk, but the attitude is the same, and the poor attempts at hard-boiled monologues are a big part of Hollywood Chainsaw Hookers' charm.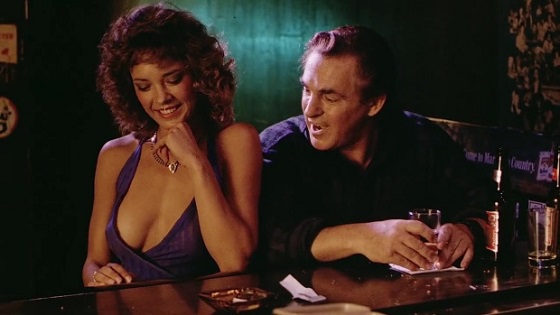 The music in Hollywood Chainsaw Hookers rocks pretty hard. The soundtrack alternates between the synth-dance score of Michael Perilstein (The Deadly Spawn, Winterbeast), the power pop tunes of punk rock band The Fugitive Kind, and the rockabilly stylings of crooner Jesse Hawkins, and it all sounds great, but there's one musical act that the film couldn't get. At one point, when Mercedes is doing her striptease before the inaugural kill, she puts on a record. That record is supposed to be an Elvis Presley song, as evidenced by the poster of The King on her wall and by her introduction of the record – "he really sends me" – but the modest production budget couldn't afford an actual Elvis song. So, an Elvis impersonator named Rick Preston was brought in to sing an original song called "In My Mind," and the problem was solved. It's a bit awkward, but so is the rest of Hollywood Chainsaw Hookers.
Gunnar Hansen kept making movies after Hollywood Chainsaw Hookers, but he never became the same type of instantly recognizable face as a Robert Englund or a Kane Hodder. His last role was in the 2013 Texas Chainsaw 3D, not as Leatherface (except in the archival first movie footage), but as Boss Sawyer, another member of the cannibalistic family. And that's fitting, because, to horror fans everywhere, Gunnar Hansen's name was synonymous with The Texas Chainsaw Massacre. He will be sorely missed by the horror world.