Synopsis: In the cold, wintery fields of New England, a lonely old house wakes up every thirty years – and demands a sacrifice.
Release Date: June 5, 2015     MPAA Rating: PG-13
Genre(s): Horror,
Film Review

Haunted house movies can be tricky things. When done poorly, they're really bad. When done right, however, they can be unforgettably chilling. The Amityville Horror got it right. So did What Lies Beneath. And The Conjuring. Now, we can add We Are Still Here to that list.
We Are Still Here is the story of Anne and Paul Sacchetti (Barbara Crampton from You're Next and Andrew Sensenig from Upstream Color), a married couple who, after the untimely death of their son, moves into a secluded house in the middle of nowhere in an effort to start anew. As soon as they move in, Anne and Paul start experiencing strange things – typical haunted house things like picture frames breaking and the basement heating up to scorching temperatures. A neighborhood couple, Dave and Cat McCabe (Monte Markham from Life Partners and Connie Neer in her first screen role), stop by to introduce themselves and, over the course of the conversation, reveal that the house used to be owned by the local undertaker, a man named Dagmar who was caught up in a body selling scam and run out of town by the locals, many of whom wanted to burn the place down. Anne's friend, a psychic named May (Silent Night's Lisa Marie), comes to visit along with her stoner husband, Jacob (Larry Fessenden from Late Phases, among other things), and confirms that the spirits of the undertaker and family are in the house. But, the spirits may not be what Anne and Paul have to fear most about their new home.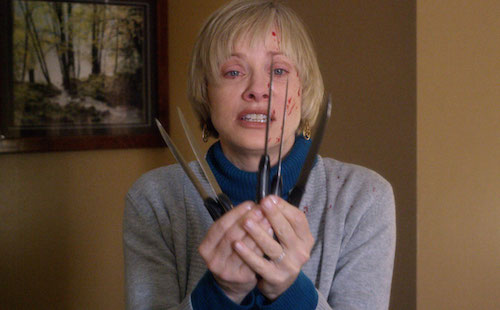 Written and directed by Ted Geoghegan (known primarily as being one of the producers of The ABCs of Death 2) from a story by Richard Griffin (Splatter Disco, Pretty Dead Things), We Are Still Here masterfully takes everything that is cool about the classic haunted house genre and spins it into a more modern, hip tale of terror. Yeah, it's got the creaking noises and the dusty cobwebs, but it's not your grandfather's spooks that rattle the chains in this attic (or basement, as the case may be). There's a cool little mystery to go along with the ghosts, and it's one that is actually mysterious, filled with false flags and red herrings. There are also plenty of terrifying scares along the way, and more than a touch of humor. Add in some near-perfect performances from Barbara Crampton and Larry Fessenden, and We Are Still Here is the total package.
Interestingly enough, We Are Still Here's attempts to be mysterious almost lead to its downfall. A lot of questions are left unanswered and story elements are purposefully kept ambiguous, which results in a little bit of confusion on the part of the viewer by the end of the movie. Fortunately, many of the gaps in the story are filled in by exposition that takes place, of all times, during the closing credits. It's a lengthy process, but necessary, so those who find themselves a little perplexed by what they've just seen should stick it out.
There are many things about We Are Still Here that horror fans will recognize; it seems to reference both Italian and American classic fright films from the seventies and eighties, yet still manages to put forward its own fresh take on the often-tired haunted house subgenre. In the years to come, We Are Still Here will likely be considered just as much of a classic as the movies that influenced it.

We Are Still Here has a lot of the archetypical creepy haunted house tropes, things like doors that open by themselves and pictures that fall off the walls, all of which create a pretty decent atmosphere of dread. The movie is full of jump scares, but not the garden variety, in-your-face ones. The jump scares in We Are Still Here are incredibly surprising and come out of nowhere, so they're more effective than those found in the average bump-in-the-night horror movie. When the ghostly threats are finally revealed, they're pretty unique, too; without giving too much away, it's pretty obvious that the ghostly ghouls were killed in a fire. Once the film gets past its slow-burn, expositional first act, We Are Still Here gets nice and bloody, employing fun and squirty makeup effects that transform the movie from a suspense tale into a real splatterfest. Top it all off with an eerie scene-stealing possession-channeling performance from Larry Fessenden, and We Are Still Here includes something that will scare just about everyone.
Cast and Crew
Director(s): Ted Geoghegan
Producer(s): Travis Stephens
Screenwriter(s): Ted Geoghegan
Story: Richard Griffin
Cast: Barbara CramptonAndrew SensenigLisa Marie Larry FessendenMonte MarkhamConnie NeerSusan GibneyMichael PatrickKelsea DakotaGuy Gane IIIElissa DowlingZorah Burress
Editor(s): Aaron Crozier
Cinematographer: Karim Hussain
Production Designer(s):
Costume Designer: John C. Houston
Casting Director(s): 
Music Score: Wojciech Golczewski
Music Performed By: 
Country Of Origin: USA