Great directors are not born, they're made. They hone their craft through years of putting all of their blood, sweat and tears onto a thin strip of celluloid, often with embarrassing results. It's no surprise that a director of Oliver Stone's caliber would have a debut like Seizure. Seizure was written (along with acclaimed horror writer Edward Mann) and directed by Stone in 1974, long before he made Platoon and JFK. While his promise as a director shines through, so does his lack of experience.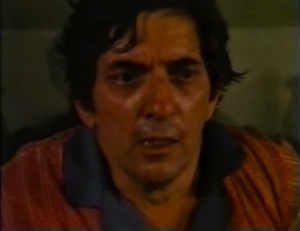 Seizure is the story of a horror writer named Edmund Blackstone (played by Johnathan Frid from "Dark Shadows") who is plagued by chronic nightmares about three of his characters – a sadistic tramp known simply as the Queen of Evil (British sexpot and Bond Girl Martine Beswick), a strongman named Jackal (Henry Baker, also from "Dark Shadows") and a dwarf called Spider (Herve Villechaize, Tattoo from "Fantasy Island"). While in the middle of trying to finish a new book, Edmund's wife supplies him with an unnecessary distraction when she invites a large group of friends to their secluded home for the weekend (one of them played by teenage heartthrob Troy Donahue). As the guests begin arriving, Edmund starts to see the trio from his nightmares around his home. Sure enough, the guests are systematically caught, tortured, berated and killed by the three villains. Edmund is trapped now in a dream from which he can't wake up, and even he questions whether the events are fantasy or reality.
Seizure is a great idea. It's such a great idea that it would be done to death ten years later by Wes Craven in the Nightmare on Elm Street franchise. Where Seizure suffers is in the execution. Seizure looks like it was made by a film student in one week with no budget using his friends and family as his cast and crew. The acting in Seizure is terrible. With the exception of Frid as Edmund, the actors are stiff and flat. The players show so little emotion that they seem to be reading cue cards instead of acting. It's hard for a film to be taken seriously when the acting is as bad as it is in Seizure.
While it gets a little bogged down at times (it seems like a short that has been padded to feature length), Seizure is not poorly written. Some of the dialogue seems contrived, but the story works and the plot flows along well. The overall look of the film shows Stone's future potential as a director. Despite having virtually no resources at his disposal, the film is shot fairly well, using mostly available light with just enough shadows to make the house look creepy and to provide places for Villechaize's Spider to hide.
It would be a more frightening film if the editing was a little tighter. The timing is completely thrown off by the awkward pauses and slight gaps in the shots. The action sequences are laughable. Every fight scene is a quagmire of bodies and every kill scene is a drawn out snorefest. The interesting thing about the editing is that Stone is credited (along with Nobuko Oganesoff) as one of the editors, which means that what the audience sees is probably pretty close to Stone's vision. Unfortunately, the results are more B-movie camp than Hollywood scare. The viewer can almost see the silhouettes of the MST3K
guys at the bottom of the screen laughing and talking back at the film.
Despite its flaws (or maybe because of them), Seizure is an enjoyable film. The only real scares come when Spider the Dwarf hops out from some dark corner that he's been lurking in, and even then it's more comical than it should be. Seizure is unintentionally funny, which makes it more of a tongue-in-cheek cult movie than a full-on frightmare. By having a small budget for his first film, Oliver Stone has given the world a movie that rivals the best of the worst from directors who made bad movies their mission in life, guys like Roger Corman and Ed Wood. Given the resources that Oliver Stone can command these days, a remake of Seizure would probably be slicker, but not necessarily any better.